Were you on Facebook yesterday?  Did you happen to stop by my page?  If so, you may have noticed that we hit a HUGE milestone: 100,000 fans!!!  I can hardly believe it.  I absolutely love this community of friends and appreciate you all so much.
So what should we do for a milestone like this?  Celebrate with a super discount of course!
TODAY ONLY you can get 40% off YOUR ENTIRE ORDER in my printables shop!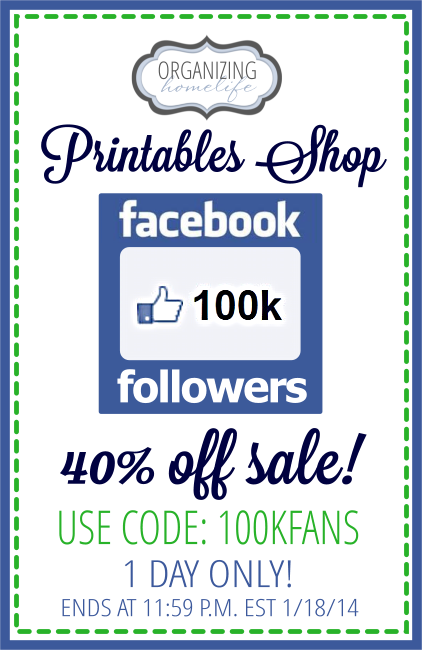 Are you beginning to think about planning your vacation this summer?  You may want to check out my Vacation Planner Printable Kit.
Would you like an easy way to get your recipes organized and meals planned?  You may want to check out my Recipe Binder Kit.
Are you focusing on organizing your family's schedules, contacts, and financial information?  You may want to check out my Home Management Binder Printables.
Do you have a blog?  Would you like a planner to keep organized?  Check out my Blog Planner.
Check out my shop here to see all of my printables.