This giveaway is now closed.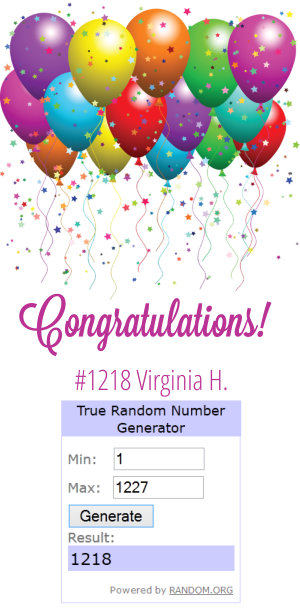 Winner has been notified by email.
This post is brought to you by Post-it® Brand.  I received compensation and products to review in exchange for this post.  I only recommend products I truly love and use in my home.  My opinions are entirely my own.  See my full disclosure policy here.
Some of my very favorite organizing products are made by Post-it® Brand, Scotch® Brand, and Command™ Brand.  I use Post-it® Notes almost every day and I use Command™ hooks and hanging strips all over my house.  I cannot rave about them enough.
Recently, I was contacted by these awesome companies to review some of their brand new Home Collection products.  Yes, please!  I really enjoyed reviewing these new products, and I'm so happy to tell you that you have an opportunity to try some, too!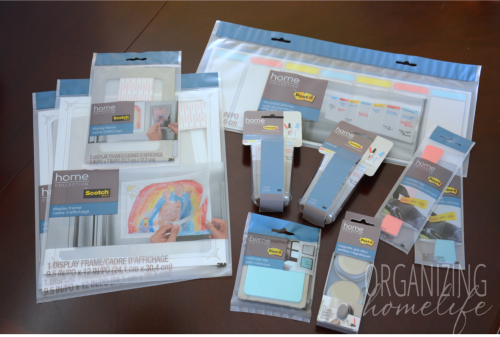 Do you use your fridge to keep organized?  I do!  I try to keep the front cleared off as much as possible so it looks neat.  However, it seems to be a favorite place for little ones to want to display their artwork.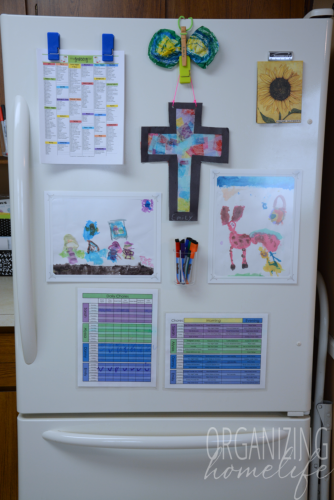 The new Scotch® Display Frames are perfect for keeping it neat!  In fact, because of the removable mounting squares, these frames can be stuck to many smooth surfaces and removed without causing damage.
Available in white and platinum with decorative borders
Available in two sizes: 9 1/2″ x 12″ and 5″ x 7″
Price: $4.99 – $6.99
The Post-it® Dry Erase Planner is great for keeping track of meals, chores, or schedules.  The planner sticks practically anywhere, yet removes cleanly.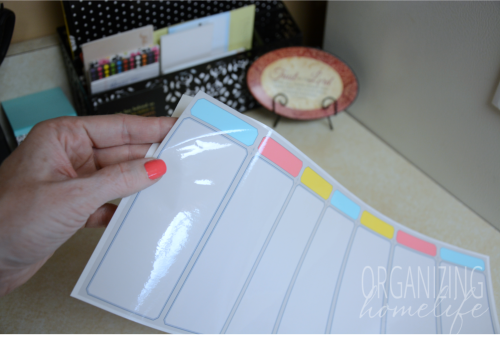 Mount vertically or horizontally
Sticks practically anywhere, yet removes cleanly
Price: $8.99
I also like to keep organized using the side of my fridge next to my kitchen command center.  When I have pending papers that I don't want to lose like a reminder note or a sale ad I'm about to use, I like to clip it to the fridge.
The Post-it® Magnet Grip Discs are so nice!  When I first saw them, I thought they might have a sticky surface or pinch open and closed like regular clips.  But, they're not like that at all!  Their unique design holds papers by the pressure of a thick plastic center.  It's simple to insert or remove paper one handed.
Unique design allows for one handed insertion
Easily hang schedules, menus, and other documents
Price: $6.49
I'm also loving the Command™ Clear Caddy!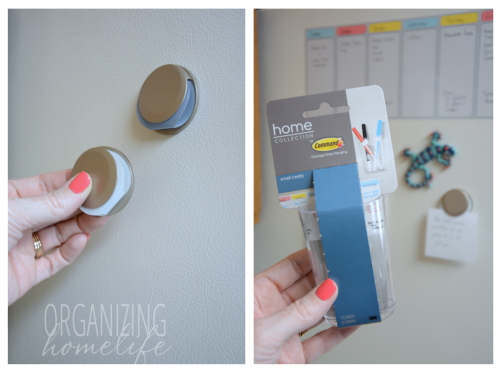 It attaches with Command™ Clear Adhesive Strips so it holds strongly but comes off cleanly.  I put my wet erase markers in it.  I love it!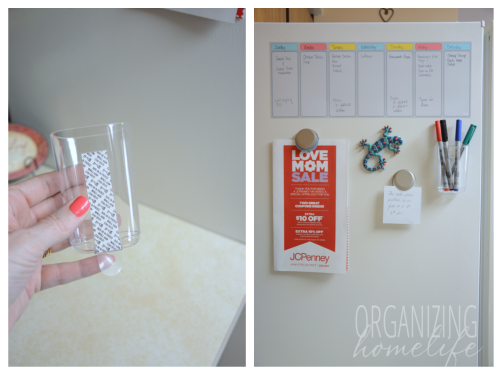 Command™ Clear Adhesive Strips hold strongly on variety of surfaces, yet remove cleanly
Available in small and medium
Price: $5.99 – $6.99
Everyone loves Post-it® Notes, right?  I use them constantly!  I love these new Post-it® Reminder Tiles.  They hang with Command™ Picture Hanging Strips so you can hang it wherever is convenient.  What is nice about the Reminder Tiles is they use Post-it® Full Adhesive Notes.  The adhesive covers the whole back of the note.  Nice, right?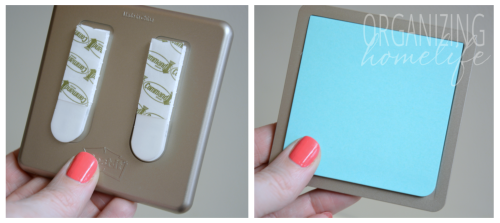 Includes 25 sheet pad of Post-it® Super Sticky Full Adhesive Notes
Available in Platinum and Aqua Wave
Price: $8.99
I have to say that of all the new Home Collection products, the Post-it® Reminder Tags are my absolute favorite!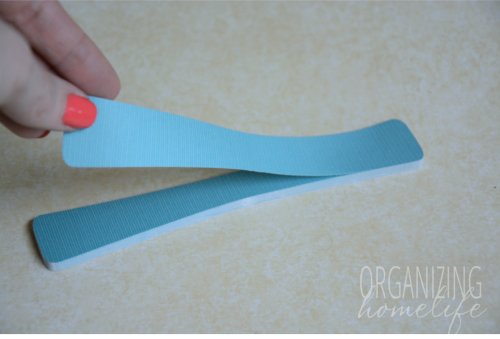 Adhesive sticks securely
Available in Teal, Coral, Yellow, and Platinum
Price: $3.99
They are on a "pad" like regular Post-it® Notes, but as you can see they are long and thin which makes them perfect for wrapping around things like backpacks, purses, or even…the steering wheel!  If your hubby is anything like mine, he has so much on his mind, he occasionally forgets to pick things up on his way home.  I have to guess when he's leaving his office and try to catch him before he gets home.  Check this out: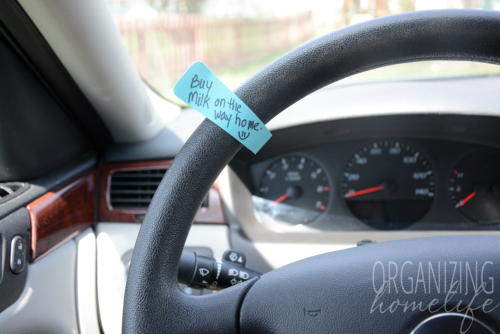 These are fantastic!  Believe me, I've texted, called, and texted again to remind him of things, but there is just nothing like a Post-it® Reminder Tag in your face! :)  I love it!
How would you like to win a bundle of these products?  All you have to do is leave a comment below telling me which product you're most excited about.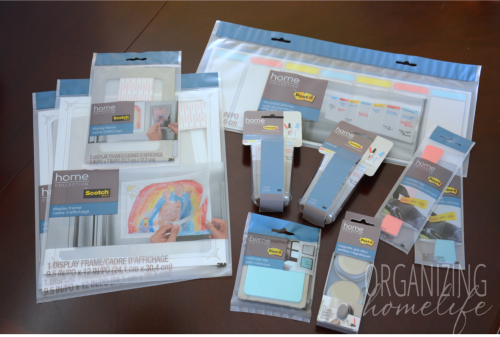 To see all the Home Collection products, visit www.postit.com/home.
The Fine Print:
One winner will be chosen randomly using Random.org to receive a bundle of Post-it® Brand Home Collection products.
No purchase necessary.
Entrants must be 18 years or older.
Open to U.S. residents only.
Giveaway begins Monday, May 12, 2014 and ends Sunday, May 18, 2014 at 11:59 p.m. EST.
Winner will be e-mailed and announced here on Monday, May 19, 2014.
Winner has 7 days to respond to e-mail.