I was recently contacted by the office supply company, Poppin.  I honestly hadn't heard of Poppin before, but I love office and organizing products, so I checked out their website.  I was very pleasantly surprised to find a super attractive and modern line of products!

Do you get tired of using a drab old tape dispenser?  How about your ruler?  Not much style going on, huh?  Poppin has a crazy passion for turning drab office products into fun and functional workstyle products!  I love their slogan: "Work Happy".
Who doesn't love pretty things to make their work happier?  Do you like color?  Poppin's got you covered!  Check out all the colors their products come in:

They have just about every office product you can think of: pens, pencils, rulers, staplers, tape dispensers, calculators, mousepads, and SO much more!  And, oh yes, they are all super stylish!
They also have iPad and iPhone cases and covers, laptop bags, and more to style up your technology!
Check out just a few of my favorites:
Poppin was so awesome to send me a few of their products to try out.  They are EXACTLY what I was looking for!  I recently updated my command center (I'll be sharing that with you soon!), and I wanted to get some new essential office products like a stapler, ruler and tape dispenser.  But, I really wanted them to be stylish and match since I use my command center regularly, and pretty things make me happy!

Here's a sneak peak into my command center.  See how perfectly they match?  I love it!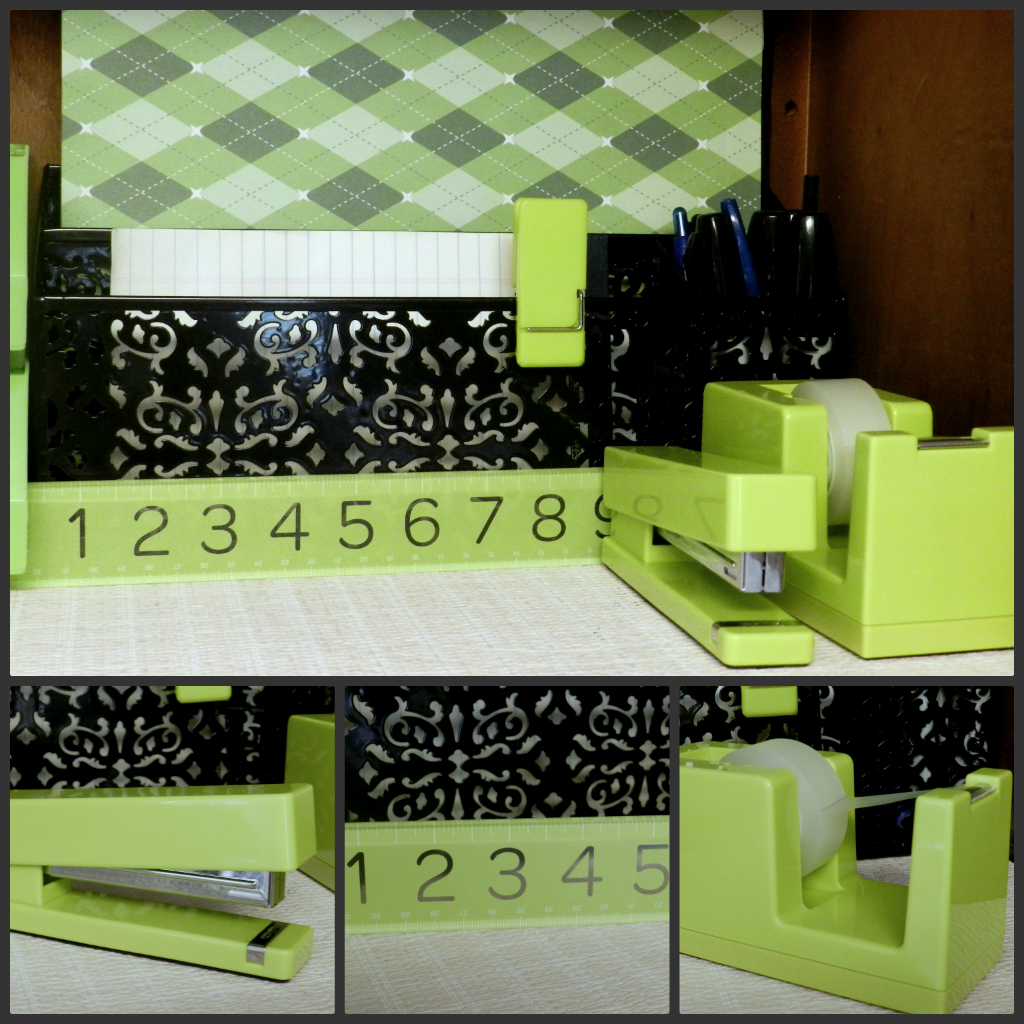 And now the most exciting news!!!…
YOU have the chance to win $50 in products of your choice from Poppin!!!
Do you need a new iPhone case?  How about a hip laptop bag?  Or, do you need to update your office products from drab to fab?
Check out Poppin's site and their fantastic products!
All you have to do to enter the giveaway is login in with Facebook, or just use your email.  Entries are super simple, so have fun!
The Fine Print
Giveaway is open to U.S. residents only.
No purchase necessary.
Giveaway begins Monday, September 24, 2012 and ends at midnight eastern time, Sunday, September 30, 2012.
Winner will be e-mailed and announced here on Monday, October 1, 2012.
Winner has 7 days to respond to e-mail.