Recently, ARM & HAMMER™ contacted me to review some of their products.  Did you know that ARM & HAMMER™ makes all kinds of products beyond the "little yellow box" of baking soda we're all so familiar with?  I'll be working with them over the next few months to try out and let you know what I think about these products.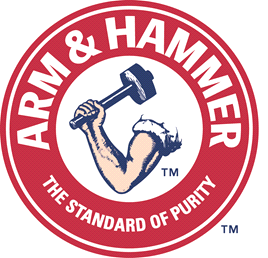 This month they sent me a box packed full of goodies that will come in handy when the inevitable cold season begins – and by "cold" I don't mean the weather.  You know how it is every fall when kids go back to school, it's only a matter of a week or two before the first one comes home with a cold.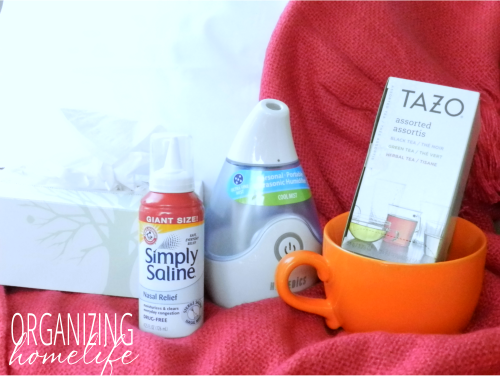 Easy Breathing with ARM & HAMMER™
I always feel so bad for my kiddos when their noses are stuffy, but I'm just not that big on nasal decongestants.  I don't know, they just don't ever seem to work that well.  If the congestion is really bad, I give them a decongestant, but then we have to deal with dried out and stuffy noses.  One thing that has worked well for us and has been recommended by our pediatricians over the years is saline nasal drops.  My kids never like when I put saline in their noses (who does?), but even my littlest one realized the last time she was sick that it actually did bring her some relief.
I know it sounds crazy, but I'm actually really happy about the Simply Saline Nasal Relief mist that ARM & HAMMER™ makes.  Of course I had to test it out before telling you if I like it or not (you'll always get my honest opinion here).  While it did drip out of my nose a little when I sprayed it, the mist that goes in is very soft and doesn't make you flinch like full drops of water do.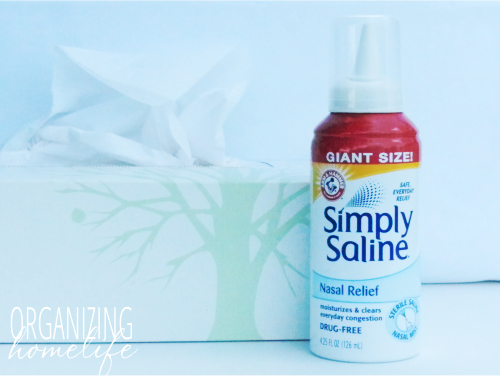 This saline mist brings relief to dry and congested nasal passages gently.  And in my opinion, that's a solution that means comfort – especially for little ones that don't feel well.
If you haven't tried saline for nasal decongestion, it is a drug-free, non-habit forming, non-addicting method that works.  ARM & HAMMER™ Simply Saline is a solution that brings relief gently.
How would you like to try some fabulous products?  I'll tell you what – the folks at ARM & HAMMER™ are generous!  Not only are they giving YOU the opportunity to win 2-3 products from their Seasonal Savings Gift Pack (pictured below), they are also giving away a $100 Visa Gift Card so you can purchase the ARM & HAMMER™ products of your choice!  Whoot!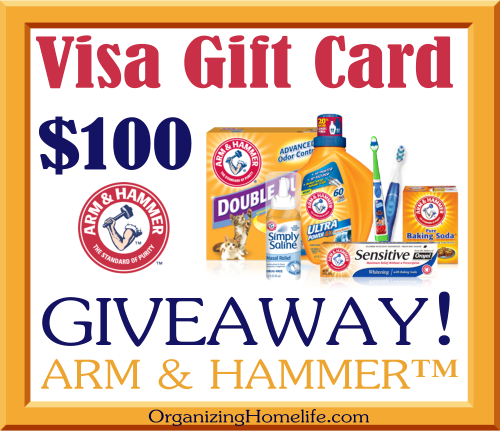 The Fine Print:
One winner will be chosen randomly using Rafflecopter to win:
One ARM & HAMMER™ Seasonal Savings Gift Pack including:

Two-Three (2-3) ARM & HAMMER™ products ** 2-3 products featured in the giveaway picture will be provided to winner based on product availability. Featured products include: ARM & HAMMER™ Sensitive toothpaste, from the makers of Orajel™, Spinbrush: ProClean Sonic, Tooth Tunes™, ARM & HAMMER™ Ultra Power 4X Liquid Laundry Detergent, ARM & HAMMER™ Baking Soda, ARM & HAMMER™ Simply Saline™ Nasal Relief, ARM & HAMMER™ Double Duty Clumping Litter
One (1) $100 Visa Gift Card for purchasing more ARM & HAMMER™ products

No purchase necessary.
Open to U.S. Residents only.
Entrants must be 18 years or older.
Giveaway begins Friday, August 23, 2013 and ends at 11:59 p.m. eastern time Friday, August 30, 2013.
Winner will be e-mailed and announced here on Saturday, August 31, 2013.
Winner has 7 days to respond to e-mail.
a Rafflecopter giveaway

This post was sponsored by ARM & HAMMER™.  My opinions are 100% my own and I was not influenced to write a positive review.  I only work with brands to promote products that I love.  If I don't like it, I'm not going to tell you to buy it. :)  See my full disclosure policy here.