Last year I participated in month long series of posting every day for the month of October.  I wanted to update my own home management binder, so I decided to make that my theme.  Every day for 31 days, I made a new printable or a group of printables to create 31 Days of Home Management Binder printables.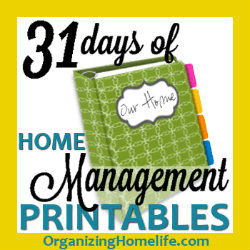 I offered them for free to help you, my sweet readers, get things organized in your lives.
Many of you have asked that I put the printables into a single download so you don't have to click through all 31 of the posts to get the printables.
I'm happy to announce that you can now get the Complete 60 Page Home Management Binder printable kit in a single download!  It is available in my shop for just $8.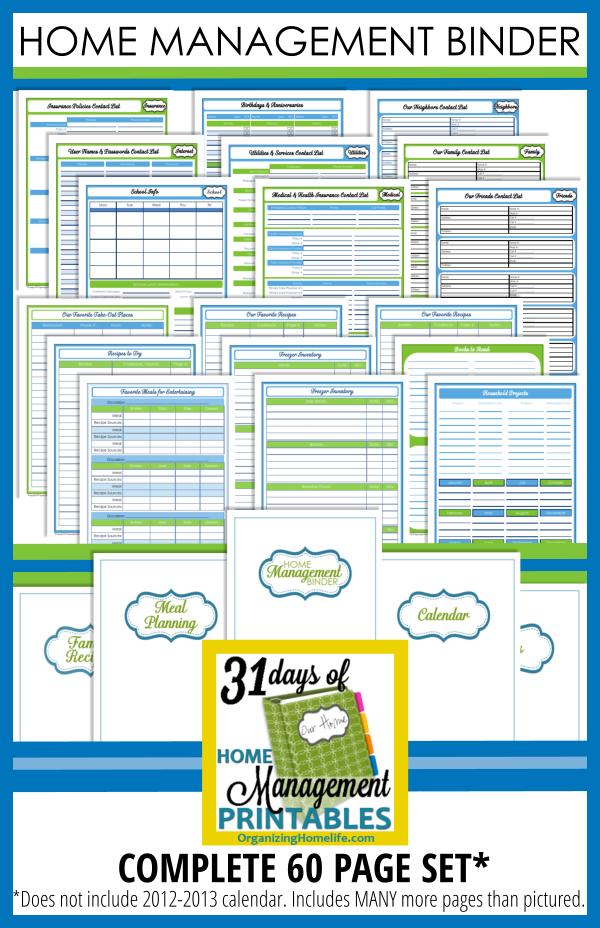 What's in the download?
60 PRINTABLE PAGES to help you organize your life including:
Cover Pages & Binder Spines
To Do List & Time Schedul
Daily & Weekly Chore Schedules
Monthly Zone Chores
Bill Pay Schedule
Budget
Contact Lists for Family, Friends, & Neighbors
Medical & Health Contact Lists
Insurance Policy Information
School Contacts & Schedules
User Names & Passwords
Book & Movies
Birthdays & Anniversaries
Household Project Planner
Babysitter Notes
Home Maintenance Schedule
Auto Maintenance Log
Weekly Meal Planner
Favorite Recipes
Meal Planner for Entertaining
Freezer Inventory
Favorite Take Out Places
Recipes to Try
Holiday Meal Planner
Section Dividers
Bonus Addition! My Grocery List
Feel free to check out the original post here for more details on each printable in this kit.
Check out the COMPLETE 60 Page Home Management Binder printables kit here.