Would you like a printable that will shorten your grocery shopping time and make it easy to remember what groceries you run out of?  One of my most popular printables is the Grocery List printable.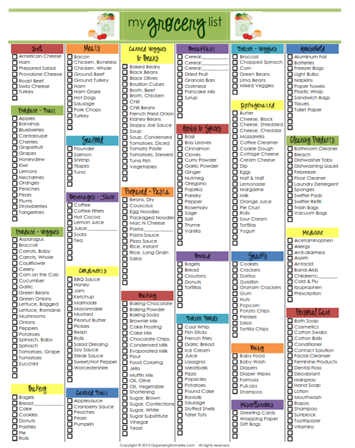 It's simple to use – just check off commonly used foods when you run out!  I print out several copies at a time and keep them on the side of my fridge.  Whenever we run out of something, it's easy for any member of the family to add it to the list with a little check next to the item.


My original list is categorized in the order that many grocery stores are set up so you can go down the columns as you walk through the store.  It saves SO much time when grocery shopping!
I am now offering two versions in my Printables Shop.
1.  One is a Blank Version that you can type YOUR most commonly purchased foods into.
2.  The second is a Filled In Version.  It has the same grocery items as my free list, but is fully editable.  Don't feel like typing in every item on the list, but want to change a few things?  Then this one's for you!
Category titles and all list text areas are fully editable.  Also, check boxes can be checked.
Want to check out the FREE version? Great! It's a free gift to all who "like" me on Facebook.