Welcome to Day 5 of my month long series "How to Organize Your Kitchen Frugally in 31 Days".  Every day during the month of October I will be sharing an organized space in my kitchen with you.  My goal is to inspire you and give you ideas on how you can organize your kitchen.
If you missed it, you may want to read why I'm embracing my outdated kitchen.  It might give you a little perspective on why the pictures of my kitchen organization won't be "magazine worthy", but helpful for real life organization.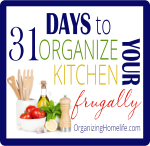 Yesterday I talked about how my kitchen is organized into "zones".  I described how planning your kitchen organization with a strategy is important to achieve the best functionality possible.  Who wants to keep walking backing forth from cabinet to counter, cabinet to counter, when you can have everything you need for the meal you are preparing right at your fingertips?
Here is a picture of the part of the kitchen we're working in today to give you the big idea of where I keep things.  You can see similar images of the rest of my cupboards in yesterday's post.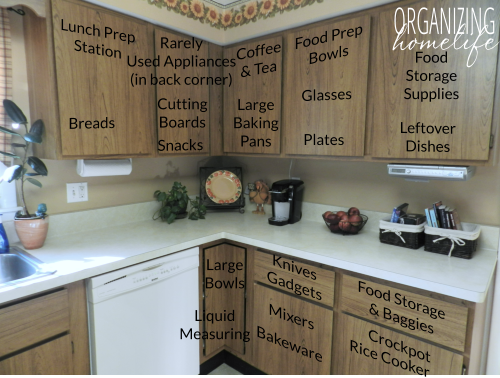 Today I'm sharing my "lunch" zone with you.  I do most almost all of my food prep on the countertops in this corner of the kitchen, so it makes sense to keep everything in one place.
Since I don't have unlimited cabinet space, I only keep things I use regularly at the front and center of each cupboard.  I keep the kids' lunch boxes/bags in our organized front hall closet on hooks with their backpacks.  That way they don't take up precious space in the cupboard.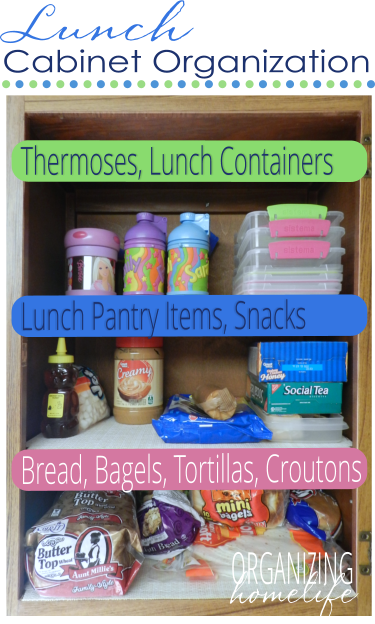 I keep everything I need to pack their lunches in this space.  I also keep all of our breads, bagels, tortillas, croutons, rolls, etc. in this space.  I have tried keeping bread in so many places over the years, but this location has been my favorite and has worked great for several years.  I love that it's low enough that (most) of my kiddos can reach it if they want to make a sandwich, and that it's right at my fingertips when making lunch.
Does it seem strange to you that I keep the croutons in the bread cupboard?  Well, again, this is the space where I do my food prep, so when I'm making salads for lunch or dinner (which we eat regularly), I don't have to go to the other side of the kitchen to get them from the pantry.  Keep things you use frequently in the place where you'll use them – it saves so much time.
That's it for today.  Where do you keep your bread?  Do you have a lunch station?
Join me tomorrow to see how I organize my dishes.