Thank you for your interest in sponsoring Organizing Homelife!
Organizing Homelife began in August 2011 as a creative way to share organizational inspiration, tips and ideas.  I offer detailed tutorials on organization, DIY projects, home decorating, free printables, as well as home organization schedules, charts, and calendars in my printables shop.
My readers are 89% women with the majority between ages 25-44 (32% are ages 25-34, 26% are ages 35-44).
By the Numbers
Sidebar Ads
I am happy to promote companies and products that fit the interests of my readers.  Your ad will be displayed in the sidebar of my blog and will be visible on every page resulting in high exposure for your business each time a page is loaded.
300 x 250 Ad
4 Shown at a Time
$100/mo. or $270/3 mos.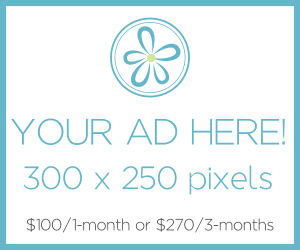 I will share your business via Facebook and Pinterest upon request.  I am happy to share your sales/promotions as part of our advertising partnership.  Please feel free to contact me for more details.
Ads are invoiced via PayPal and must be paid prior to ad placement. Ads will be approved solely at my discretion. I reserve the right to refuse any ad based on its relevance to my readership.
Giveaways and Product Reviews
I am happy to offer giveaways to my readers after reviewing the product.  Please be aware that I will only offer my honest opinion.  If I do not feel the product meets or exceeds expectations, I will not post about it.  Please contact me for my current rates.
Infographics, Text Links, and Guest Posts
I do not accept requests for sharing infographics, text links or guest posts (other than niche bloggers I have a relationship with).  Please understand that due to the number of emails I receive for these, I will not respond to these requests.
Contact
Thank you for considering partnering with Organizing Homelife.  Feel free to contact me using the form below or email me directly at ginny (at) organizinghomelife.com.