Welcome to Day 20 of my month long series "How to Organize Your Kitchen Frugally in 31 Days".  Every day during the month of October I will be sharing an organized space in my kitchen with you.  My goal is to inspire you and give you ideas on how you can organize your kitchen.
If you missed it, you may want to read why I'm embracing my outdated kitchen.  It might give you a little perspective on why the pictures of my kitchen organization won't be "magazine worthy", but helpful for real life organization.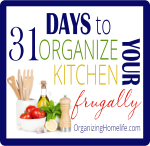 Yesterday I showed you Part 1 of How to Create a Kitchen Command Center.  I told you what I got rid of and what I moved to make space for a command center inside of my kitchen cupboard.  We also looked at how I quickly organize incoming mail to keep it from piling up.
Today, I'm going to show you what I keep in the rest of my command center.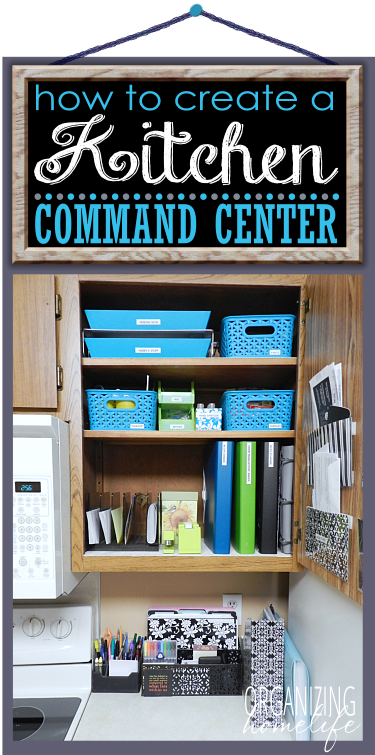 I absolutely love having a central space to keep my schedules, bills, pending paperwork, receipts, etc. so I can access them at a moment's notice.  But I especially love that it's hidden away inside a cupboard so my kitchen doesn't look like an office moved in and took over.
When guests unexpectedly drop by, I don't have to worry about piles of bills or other papers I need to file, stacks of mail, or other miscellaneous junk cluttering up my counters.  Is my counter always cleared off and perfect? No!  But it takes seconds to put it away with this set up.
So what do I keep in my command center?  Let's start at the top and work our way down.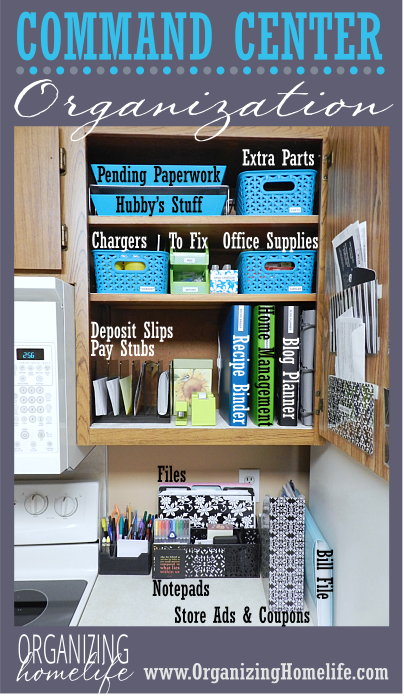 We have a steady stream of "temporary paperwork" coming and going: papers like birthday or wedding invitations, auto recall notices, field trip or youth group permission slips, etc.  I needed a place to keep important pending papers that was easily accessible.  So I made a "Pending Now" bin using a letter tray I picked up at Target.  There is high turnover in that space, but it's a great place to keep everything that will be happening soon.  When I need it, I know just where to look.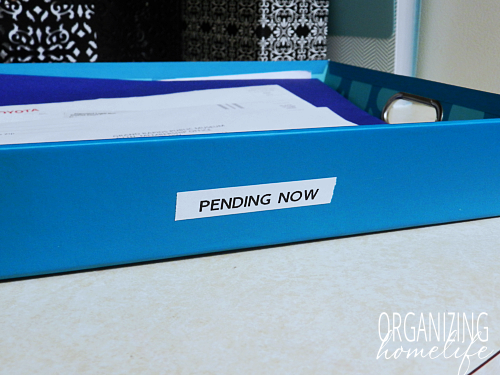 My hubby also seems to have a lot of pending paperwork that I can't give to him when he's at work.  He also tends to jot notes and to do lists that he likes to keep for when he has time.  I got another letter tray and labeled it "Hubby's Stuff".  Whenever I have something I need to give him, or a place to put his notes that he doesn't want to lose, I put them in his bin.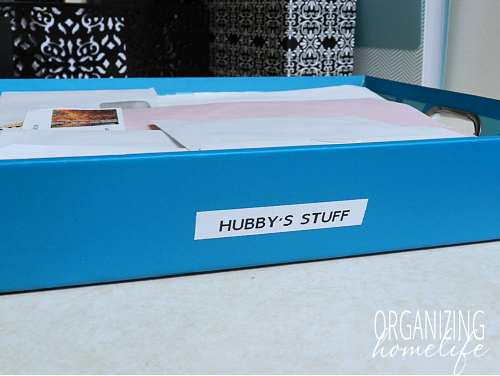 I bought a single, stackable letter tray and turned it upside down to hold our two bins.  It works fabulously!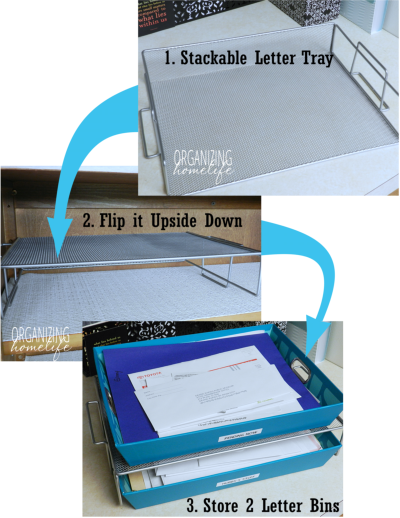 Next to the letter trays I keep a small bin that I also found at Target.  I LOVE these plastic basket weave bins!  They come in such pretty colors, too!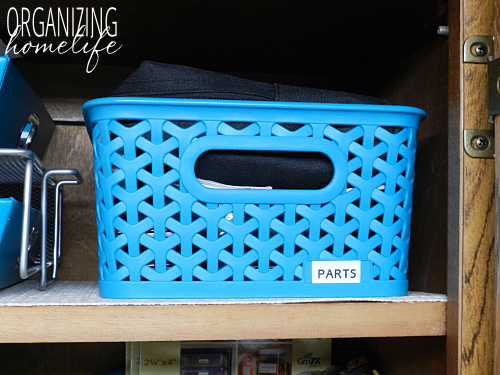 I labeled this bin "Parts".  This is the place I keep miscellaneous parts to things that otherwise wouldn't have a place to belong.  For instance, we have a toy organizing unit in our basement that has the ability to stack one on top of another.  Occasionally, I change the set up of the units and need the few extra pieces that we use if we want to separate them.  Instead of losing the parts in our garage, I keep a zip top baggie labeled with a permanent marker in the parts bin.  It's out of the way, but still accessible if we need those tiny parts.
I also keep our GPS and charger in a zippered case in the top of this bin.  It's out of the way but easy for my hubby or I to grab if we are going on a trip.  I don't keep it in the car because of the extreme temperatures we have here.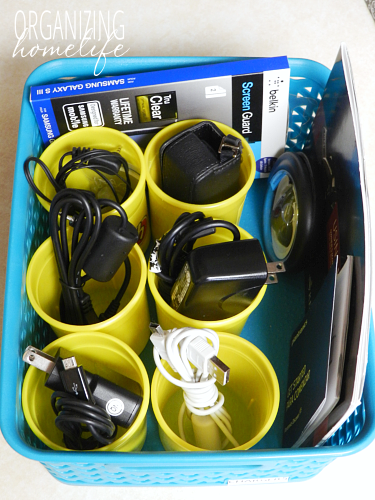 The bin on the left side of the middle shelf is where we keep our charging cords.  I repurposed Playdoh containers to store each cord individually.  I also keep extra earbuds and additional cell phone screen protectors in this bin.
In the middle of this shelf I have two small stackable bins that I found a while ago in the dollar section at Target.  I keep miscellaneous things that need fixing in the "Repairs" bin: things like the watch and the calculator that are waiting for me to buy new batteries and the Polly Pocket that needs her arm glued back on.  Instead of piling these types of things on the counters when I'm too busy to attend to them, I put them in their place.  When I get a minute, I can easily fix them and return them to where they really belong.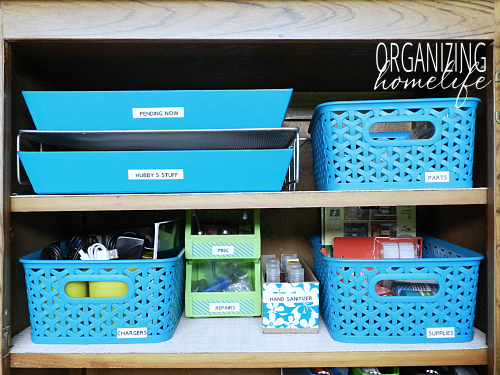 The top stackable bin is truly for junk.  Yep.  You read that right.  You know all that little stuff that appears and you have no idea what it is or where it belongs but know as soon as you throw it away you'll figure it out?  This is where I keep that stuff.  After a while I purge anything that we discovered wasn't really a necessary part to anything.
Next to these bins I have a little cardboard box where I keep mini hand sanitizers.  I covered the front with a little bit of duct tape to make it look pretty when the cupboard is open.  I know it's a a strange place to keep these, but it's easy to toss one in my purse when I run out.  My kiddos love giving these to me for presents. 🙂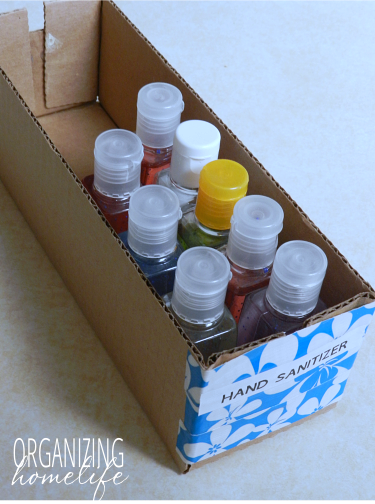 On the right side of the middle shelf I keep a bin of supplies that I use at my command center and in or near my kitchen.  Since I'm regularly labeling things, I keep my label maker (here is a newer, similar version), refills, and washi tape here.  I also have a space for chalk markers, a glue stick, some velcro fasteners, and some bin labels (since there is always a bin that needs a label 😉 ).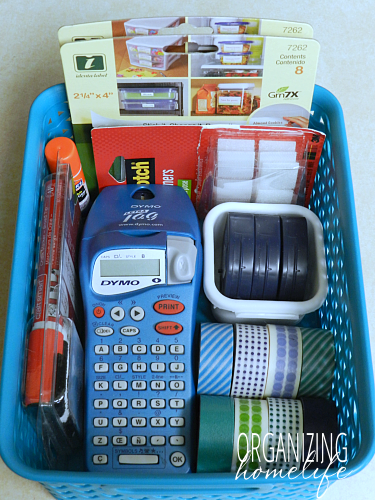 On the bottom shelf I have a letter organizer so I can easily keep paycheck stubs, expense reimbursement stubs, and bank receipts organized.  At tax time, I just grab the stack and file them away with our taxes.
I also have a little box where I keep some spare change and gift cards.  If we're going out to eat or going to a specific store, I can easily grab the gift card when we're running out the door.
And last, but certainly not least, I keep my Duo binders in my command center.  These are by far my favorite organizational binders.  They are a combination of a three ring binder on one side and a 7 pocket accordion file on the other side.  The elastic straps keep them neatly contained and allow you to open whichever side you want.
I use Duo's for lots of things, but in my command center I have one for my Recipe Binder, my Home Management Binder, and my Blog Planner.  This time of year I put my Vacation Planner in my desk, but during the summer, you would find it here in the command center.
Next to my Duo's I keep a coupon binder that I got at Target a few years ago.  Honestly, I don't have a lot of time to coupon, but when I do, this is where I keep them.
In Part 1 of How to Create a Kitchen Command Center, I showed you the pockets I made with scrapbook paper and stuck to the inside of the cupboard door.  See how to make the door pockets here.
I use these pockets to organize bills to be paid, papers/bills to file, and receipts.
Since my husband and I both have jobs that generate lots of tax receipts, I have a pocket where we can easily keep them separated from our other receipts.  In the middle, I made a pocket for return receipts.  I hate returns, but when you have a large family, they are inevitable (unless you like shopping with your entire family).  This is an easy spot for me to put receipts so they don't get lost in bags until I can make the return.
The top pocket stores the receipts we need to keep for important or expensive purchases.  I usually get rid of all unimportant receipts as soon as I get home from the store.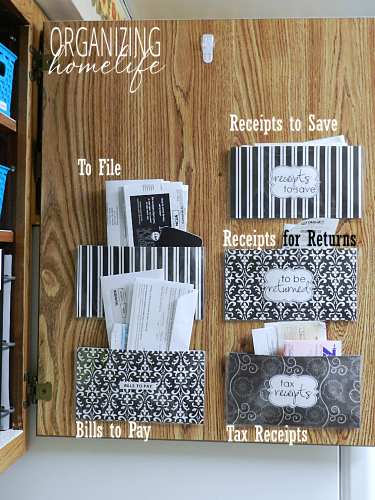 Well, I hope you enjoyed checking out my command center and are inspired to create an organized space of your own.  If you cannot come up with a spare cabinet in your kitchen, see if you can implement any of these ideas on a nearby shelf or bookcase.
Tomorrow I'm going to show you my meal planning schedule. Pssst…there's a printable!