When I shared my 31 Day series of How to Organize Your Kitchen Frugally, I showed you how I organize the constant stream of paperwork that comes and goes without letting it pile up by using a kitchen cupboard as a command center.
I made some pockets from scrapbook paper that I hung on the inside of the door, and today I'm going to show you how I made them.  It's super easy and can be done with or without a laminator.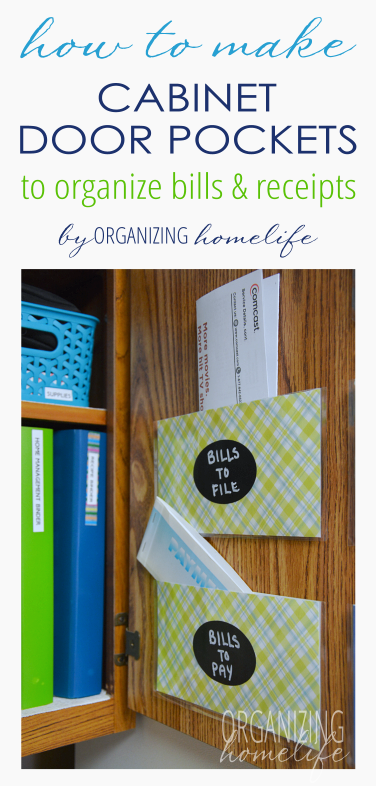 If you remember reading my command center post, you may remember that my door pockets were black and white.  I have been using them for a long time, so I decided to update them and show you the process of how to make them.
When I originally made them, I only made three for organizing receipts.  I printed some labels and laminated them right onto the scrapbook paper.  Later I wanted to make some for organizing bills, so I used my label maker and put the labels over the laminated surface in case I wanted to change the label.  (That was before chalkboard labels became so popular).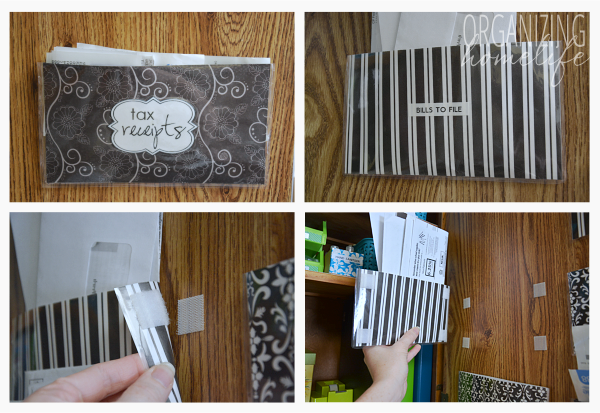 If there is one thing that has made such a difference in keeping paperwork under control in my house, it is definitely this!  These door pockets are a cinch to make and are even easier to use.
So let's get started!  I'm linking to the products I used (affiliate links), or you can easily find these supplies at a local store.
Materials: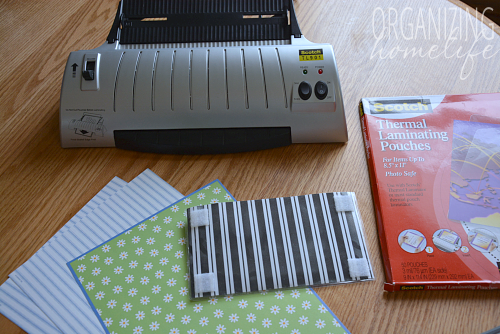 The Process:
Start by trimming your scrapbook paper so your pockets won't be too deep.  I cut off 2″ of the 11″ length to make my paper 9″ long.  Fold the paper in half so the printed side faces out.  This will make your pockets 4-1/2″ high and 8-1/2″ wide when complete.
Please note that you will not be able to put a full size 8-1/2″ x 11″ paper inside your pocket once it is laminated.  If you want your pockets wider so you can put a full piece of paper in it, consider using 12″ x 12″ scrapbook paper and trimming it slightly to fit through your laminator.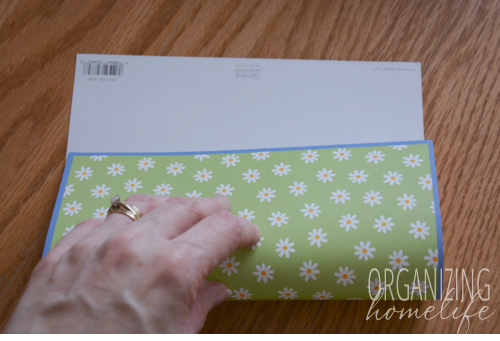 Two pieces measuring 4-1/2″ can fit in one thermal laminating pouch.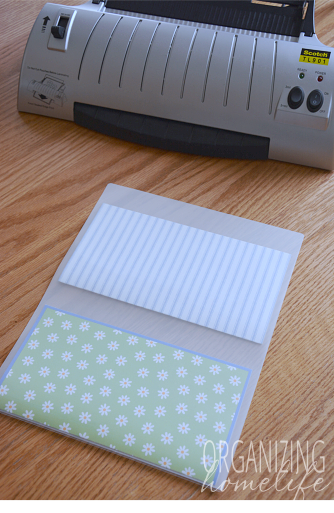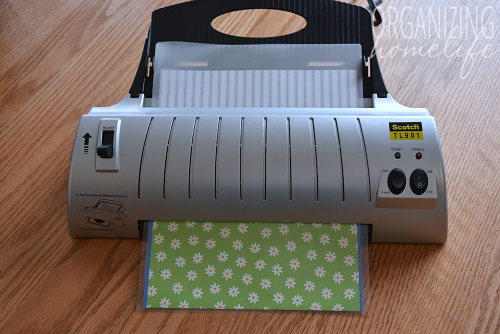 Trim around the pocket, but leave at least a 1/4″ edge on the left, bottom, and right sides so the lamination doesn't separate over time.  Trim the lamination right up to the paper on the top edge only.  Make sure you don't accidentally trim along the folded edge of your paper or it won't open.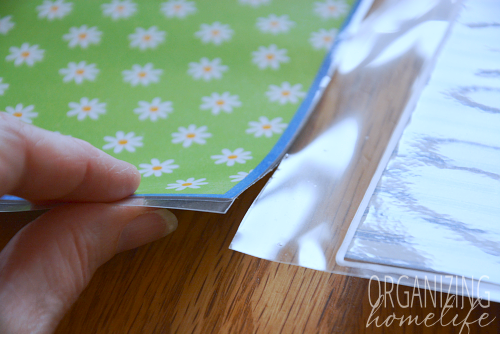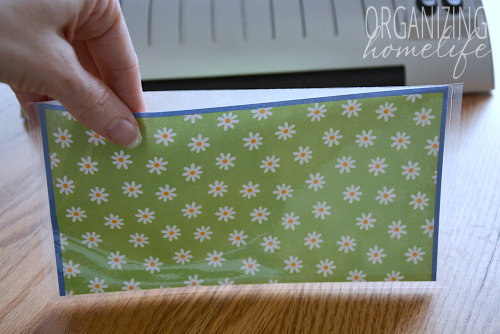 Flip your pocket over and put the reclosable fasteners (or 3M Command Picture Hanging Strips) on the back.  I recommend the 3M Command strips so they can be removed from your door if you want to down the road.  I used the reclosable fasteners because that's what I had, and my cabinets are old so I'm not worried about it.  Plus, they work so well, I'm not planning to remove them. 🙂  If you use the reclosable fasteners, put the soft side on the pocket and the scratchy side on your cabinet.  That way if you take the pocket off, it won't catch on things.  Note: Velcro dots don't hold as well as the squares.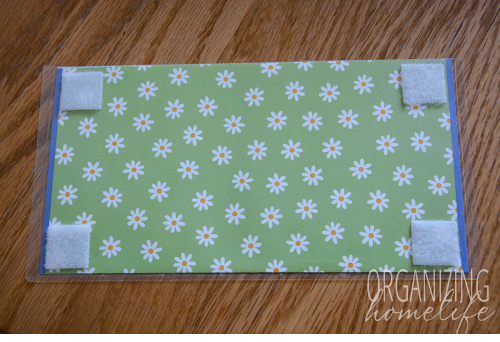 Put on your chalkboard label.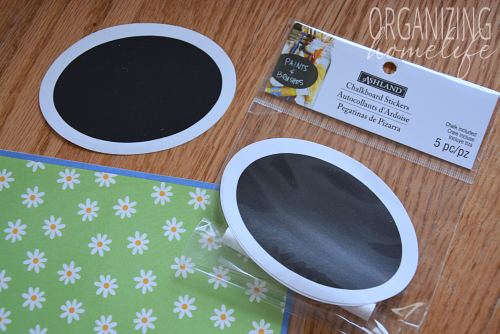 I LOVE chalkboard labels.  They are made of vinyl, so they can be removed or washed without leaving residue like a paper label would.  Plus, you can change what is on your label easily!  I found the labels in the picture at Michael's craft store.  If you don't have a Michael's close by, here are some other labels you might like.
In a few days, I'll be sharing a review of different chalk markers and an awesome tip for easily erasing chalk markers with NO evidence of previous writing.
Once you label your pockets, line up the other pieces of the reclosable fasteners or Command strips and hang them on your door.  That's it!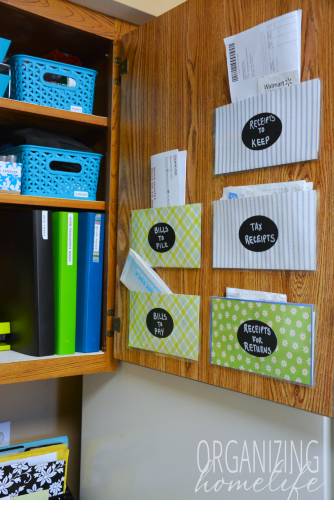 No Laminator, No Problem!
Are you wondering how you can make these if you don't have a laminator?  You can still do it!  All you have to do is fold your paper like I mentioned above, and slide it into a heavy duty page protector.  Trim along the top edge as I mentioned with the lamination.
You will need one page protector per pocket since you'll need the sealed edges around three sides.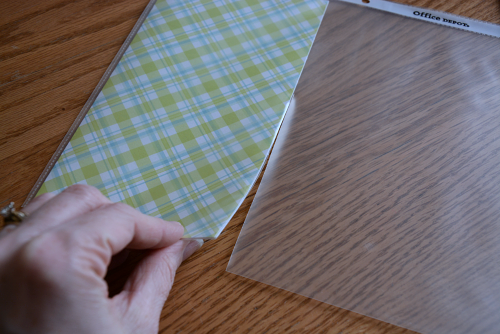 Trim off the side of the protector, but be careful not to cut open the binding.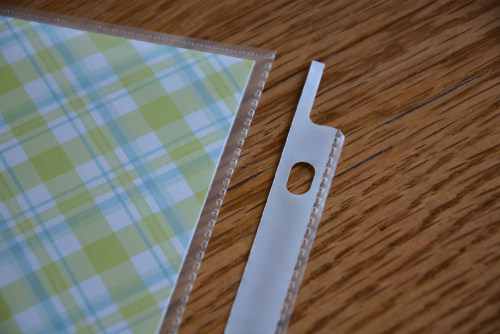 These pockets will work, but they will not be nearly as sturdy as a laminated set.  Also, since your page protector is not adhered to the paper, there will be space between the plastic and the paper.  A simple fix for that is to run a piece of tape along the top edge of the page protector and the paper.