This giveaway is now over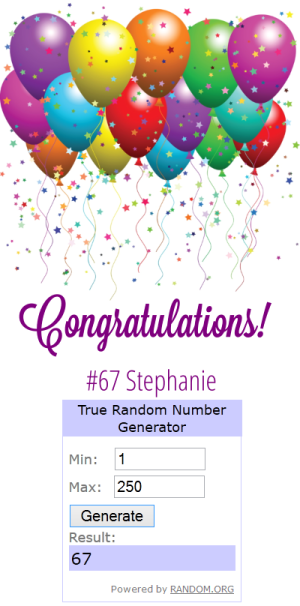 *winner has been notified by e-mail
With summer coming to an end and the back to school season beginning once again, many of us are working hard to get our homes organized and back into a cleaning routine.  A few weeks ago, Scotch-Brite contacted me about reviewing some of their new products and I was happy to do it!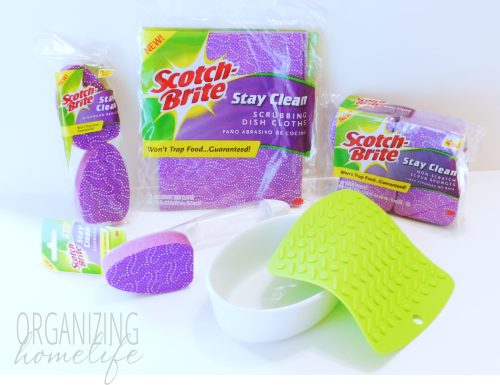 In my house, I do most of the cooking, but the one thing my hubby loves to cook are eggs.  Thankfully, he uses one of our non-stick pans so clean-up isn't difficult, but cleaning that egg gunk out of my sponge is never fun.
I've used dishwands in the past, but I love Scotch-Brite's new line of Stay Clean dishwands and sponges.  Some sponges really hang on to leftover food pieces, but the Stay Clean sponges don't trap food – even eggs and cheese!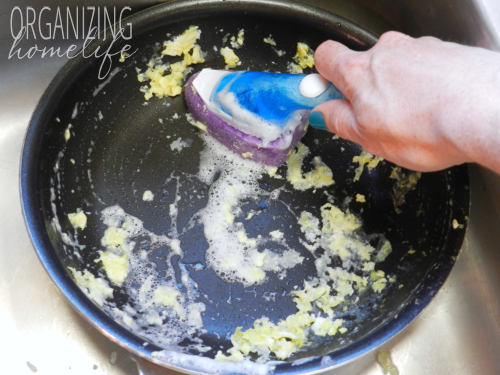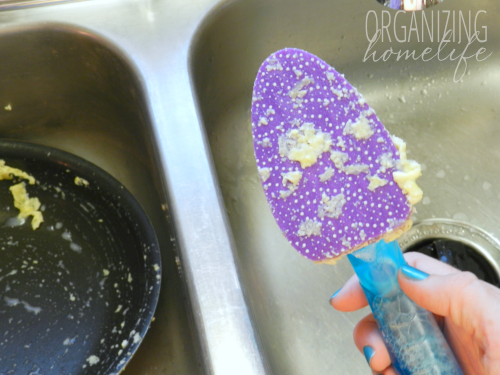 Just rinse it with water and the food pieces fall right off!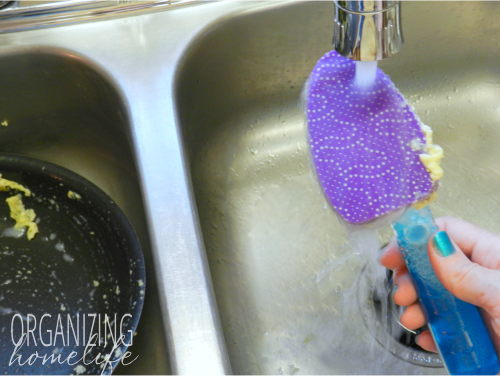 It's also super easy to change the sponge when it starts to wear out.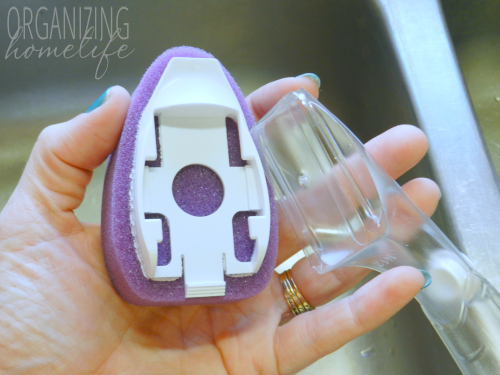 The Stay Clean non-scratch Scrubbing Dishcloths are also wonderful for scrubbing baked on foods or hard to clean pots and pans.  They safely clean all cookware including stainless steel, copper, and non-stick coatings.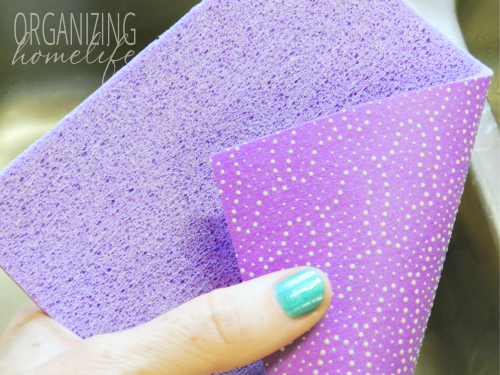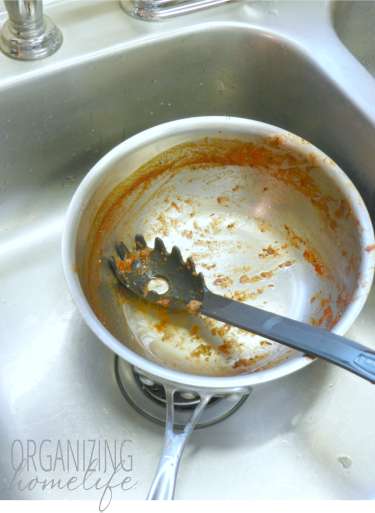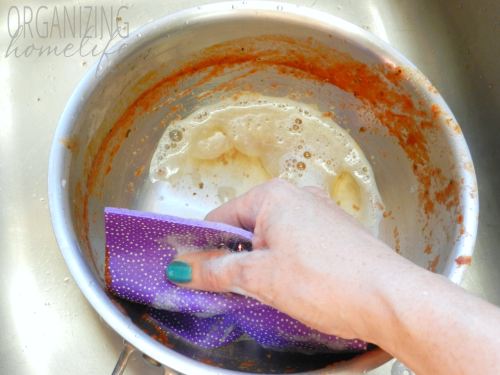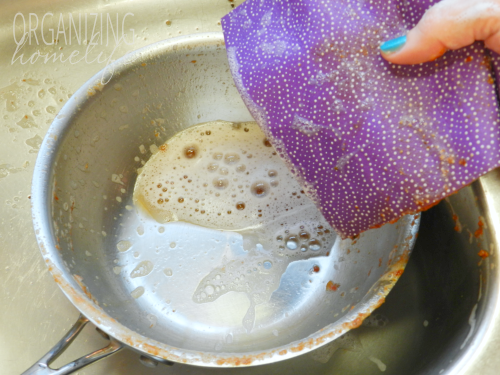 Food debris easily rinses away with hardly a trace left behind!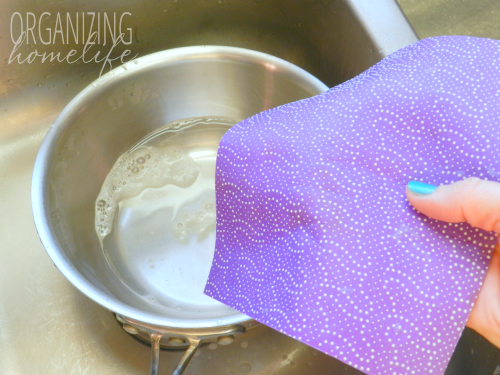 Here are a few of the great features of the Stay Clean products:
Food won't stick to the unique scrubbing surface
Non-scratch—safe for glassware
Cellulose is 100% plant-based and is better for absorbing than other materials such as foam
Comfortable, easy-grip shape
How Would You Like to Try It?
And now, I've got a challenge for you!  When you're cleaning up sticky messes, tell me how you like to make cleaning easier.  Simply leave a comment below with your best tip and you'll automatically be entered to win a Scotch-Brite Stay Clean bundle including:
Stay Clean Dishwand
Stay Clean Dishwand Refill
Stay Clean Scrubbing Dish Cloths
Stay Clean Non-Scratch Scrub Sponge
Baking Dish
Silicone Pot Holder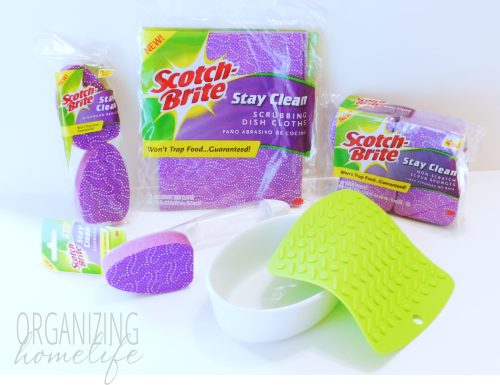 Scotch-Brite may choose some of the best tips from Organizing Homelife to feature on their site and social media channels!
The Fine Print:
One winner will be chosen randomly using Random.org to receive a Scotch-Brite Stay Clean bundle including a Stay Clean Dishwand, Stay Clean Dishwand Refill, Stay Clean Scrub and Wipe Pad, Stay Clean Non-Scratch Scrub Sponge, Baking Dish, and a Silicone Pot Holder.
No purchase necessary.
Open to U.S. Residents only.
Entrants must be 18 years or older.
Giveaway begins Wednesday, August 14, 2013 and ends at 11:59 p.m. eastern time Wednesday, August 21, 2013.
Winner will be e-mailed and announced here on Thursday, August 22, 2013.
Winner has 7 days to respond to e-mail.
This post was sponsored by 3M Scotch-Brite.  My opinions are 100% my own and I was not influenced to write a positive review.