One of the most popular printables in my Home Management Binder series is the Annual Bill Schedule.  So many of you have requested that I make my printables editable, so I am now offering editable printables in my shop!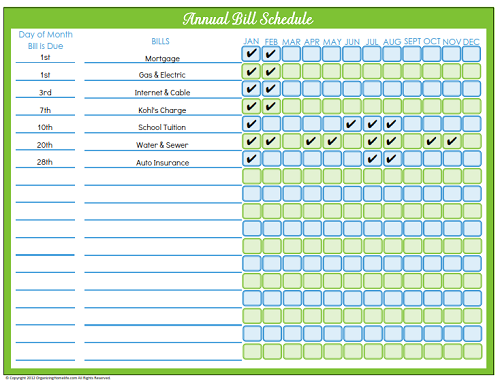 This bill payment schedule is designed to help you remember ALL of your bills throughout the year.  Some bills come monthly, quarterly, or even annually, and this is a great spot to keep track of every bill you'll need to pay.
How to use this schedule:
1.  Start by listing your bills by the day of the month that they are due. For example, let's assume your mortgage or rent payment is due on the first of the month, your cable bill is due on the third, and your auto insurance is due on the 28th.  List each bill according to the day it's due each month (example pictured above).
2. Quarterly and/or annual bills can either be listed at the bottom of the page, or mixed in to the list according to their due dates (as pictured).
3.  Next, check off months that the bills do not need to be paid. For example, for some reason our auto insurance is on a ten month bill schedule.  Therefore, we don't have to pay that bill in July or August.  So at the beginning of the year, I check off those two months.  Additionally, I don't have to pay school tuition during the summer, so I check off those months.  Some bills only come quarterly or annually, so check off the months that you don't need to pay them.
4.  Finally, each month as you pay your bills, go down the "month" column and check the boxes as they are paid. In the example above, all bills for January and half of February have been paid.  If you pay bills once or twice a month, simply check off all the bills you paid at a time.
5.  If you have many bills (which I hope you don't! :)), simply use two pages.
Now you'll never miss a bill or forget those bills that only pop up quarterly or annually!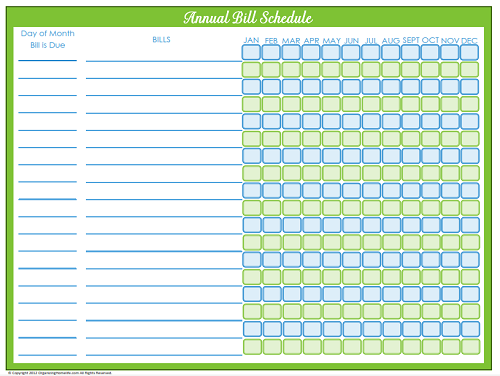 This Annual Bill Schedule is now fully editable and is available in my shop for just $3!  Upon purchasing, your download will be available instantly.  You will also receive an email receipt with the download link.  You may download this printable up to three times.
Important:
You will receive a .zip file which includes the Annual Bill Schedule in PDF format.  In addition, the Google font, Didact Gothic, is also included if you wish to install it.  Font installation is not necessary, but please be aware that if your computer does not have that font installed, your printable may not appear exactly as pictured in these examples.  Your computer will choose a similar font.
Please also note that your editable printable will have blue fields (to show you where you can type), but the blue will not appear when the document is printed.