This post brought to you by LEGO. All opinions are 100% mine.
Are your kids into LEGOS?  My kids are LEGO fanatics!  Ever since LEGO Friends came out, even my girls are crazy for them.  So when the folks at LEGO asked me to try their online LEGO Minifigure Family holiday cards, I couldn't resist checking it out.
Every year, I send Christmas cards and a family newsletter via snail mail, but I thought it would be fun to send a LEGO card to the LEGO fans in our family, including my kiddos.  It was so simple and fun to create and the kids LOVED it!
Check out our family as LEGO people!  Yes, we really do have that many different hair colors!  LOL.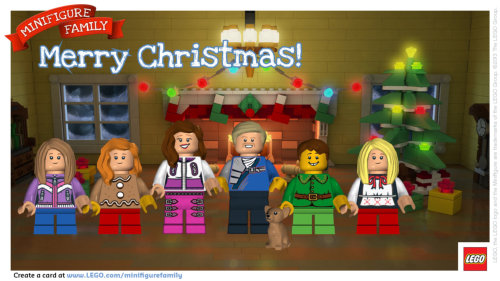 Want to make a free card for your family?
All you do is go to LEGO Minifigure Family holiday card site and select the people and pets you want on your card.  Each figure can be easily customized.  Choose: skin tones, hair styles and hats, and many outfit choices.
You can also choose from a number of backgrounds and holiday greetings to further personalize your card.  It's also super easy to share your holiday card on social media right from the Minifigure site.
Check out this little video to see how it works.
This was such a simple way to add some extra joy for our LEGO-loving family this year!  I hope you enjoy making a LEGO Minigifure Family holiday card for your family and friends to enjoy!