Hi there! Here we are with another update on the basement renovation after our basement flooded and had to be reconstructed. When I left you last week, we had ripped the paneling off the walls and tore out the drop ceiling. We also measured and cut insulation foam board for the outside concrete wall.
Now we are finally able to tackle one of the most exciting changes happening to our playroom/homeschool room: electric. I know. Am I seriously excited about electric? Oh, yes. We only had 2 outlets in this 350 sq. ft. room previously, so we measured and planned, and planned some more and I am so thrilled with how it worked out! Once the room is completed I'll show you why it's so exciting, for now I'll just have to tell you. We have Ikea desks for our kids that line this wall, and up until now there wasn't a single outlet on this side of the room. Now each kid will have an outlet right under their desk so they can plug in their laptops, tablet and phone chargers, etc. It's perfect for them as they are growing into middle and high school ages!
Our good friend and talented DIYer came to help us with this part of the reno.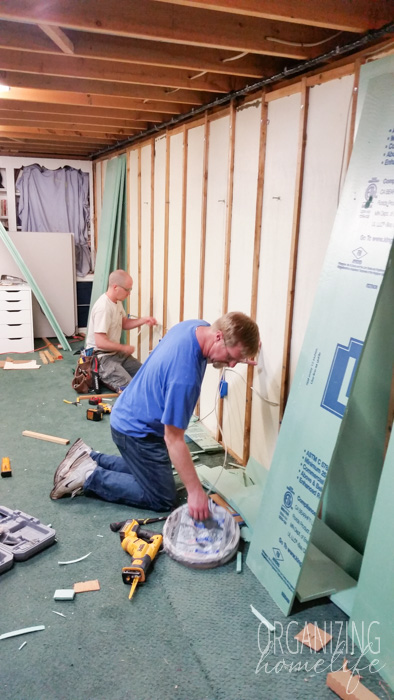 Insulation – done. Electric – done. I can't wait to see the difference in my heating bill this winter! All set for drywall!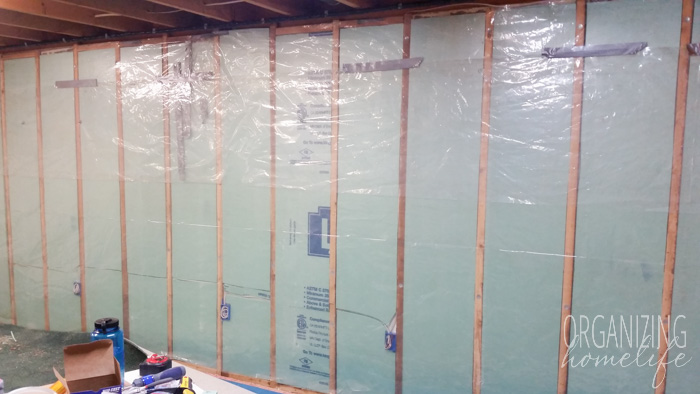 And finally the very first piece of drywall is going in!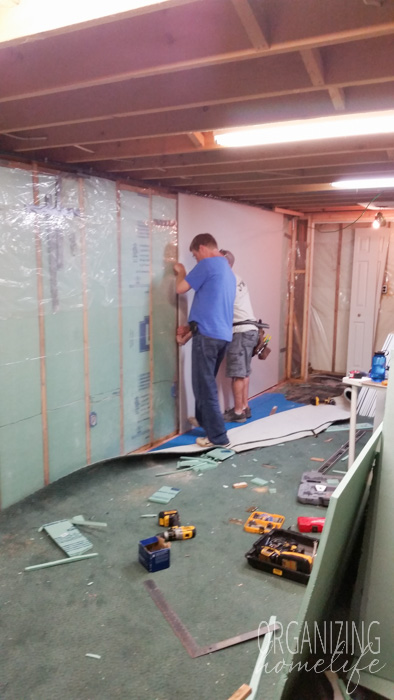 We stayed up until 3 a.m. installing the drywall before the carpet was supposed to be installed the following morning. Carpet first, you're wondering? What about paint? Well, you might remember how I told you we had a lot of company staying at our house. The guest room is directly next to this playroom, and I didn't want my guests staying in a room with a dirty concrete floor, so we bumped up the carpet installation and decided to paint afterwards.  #nervesofsteel #dontfailmedropcloths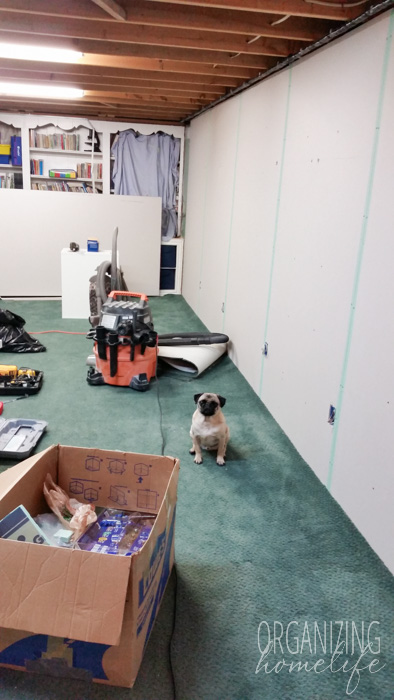 One last thing to install before the carpet arrived was the door to the guest room and the door to the laundry room.
Bright and early the morning after we installed the drywall, the carpet installation company came and removed the old, damaged carpet. They scraped the glue off the floor in preparation for a new, waterproof pad.
As you can see, just a few things got shoved on the bookcase. :/ Oh well. Organization is a coming!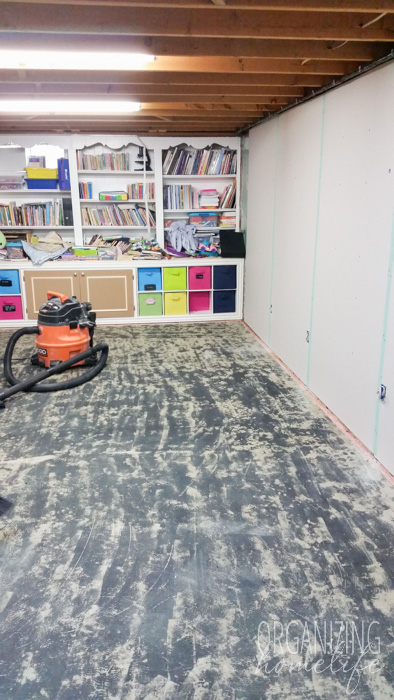 Oh, my am I happy to see new carpet going in! I chose Magic Isle by Mohawk in the color Anchor. It looked more gray on the sample board, but I really love the hint of blue/green in the gray. It looks even better in real life. It's perfect for a playroom for the ages of my kids and will easily transition into a more mature looking room as they move into their teen years.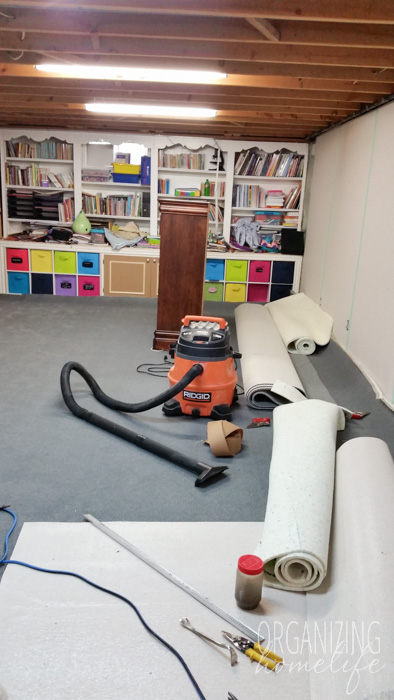 I asked for the steps to be bull-nosed and I think they turned out great.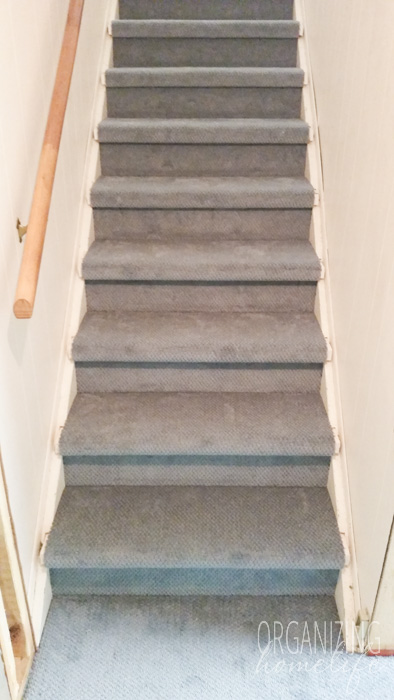 What an improvement over last week's update, huh? It's really coming together now!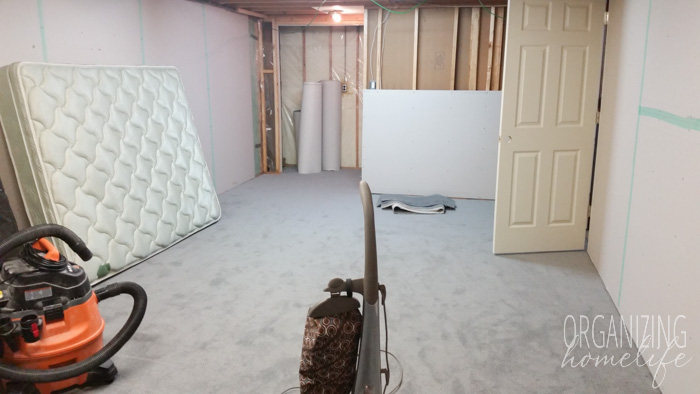 A few more things get crossed off the list!
PLAYROOM
Remove paneling in playroom
Remove drop ceiling
Add electric outlets
Move light switches
Add heat/air conditioning vents
Secure furring strips
Add insulation
Frame water pipe
Drywall ceiling
Add LED workspace lighting for desks
Drywall
Install new doors
Moulding and baseboard
Paint
Carpet
Re-imagine closet space
Re-build closet
Organize kids' desks and toys
GUEST ROOM
Replace bathroom floor
Re-install vanity
Re-install toilet
Moulding and baseboard
Carpet
LAUNDRY ROOM
Paint walls
New drywall
Install new electric outlets
Re-imagine shelving
Replace dehumidifier
Replace water softener
New wash tub sink
Move dryer and extent vent pipe
Replace area rug