This giveaway is now over.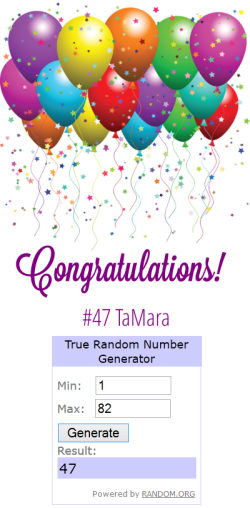 If you've been following my blog over the past year, you know that my hubby and I put on our DIY hats and decided to tackle the huge project of totally renovating our main family bathroom – by ourselves.  We took an unexpected break from the job over the summer, but we are now 98% done.  Whoot!  Stay tuned for the big reveal coming soon.  If you're reading this post, you'll get a little sneak peek.  😉
One thing I have been enjoying is organizing our new space and incorporating some new products that are functional, but don't detract from the fresh, clean, and stylish look we worked so hard to achieve.
I've been working with Scotch-Brite over the last few months, sharing some of their new cleaning products with you, so I was thrilled to try out their brand new "stylish" bathroom cleaning product line.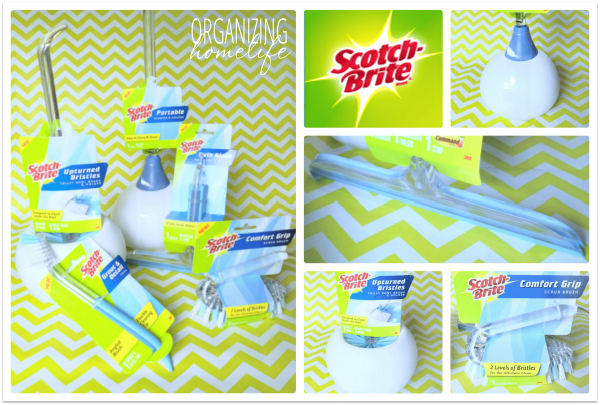 One thing I've always hated to keep in the bathroom is the dreaded plunger.  Thankfully, our plumbing is good so it's not something we have to use too often, but who wants to keep an ugly black plunger in their nice new bathroom "just in case"?  I was thrilled to see that Scotch-Brite's new plunger has a cover so it can be placed inconspicuously near the toilet without drawing attention to it!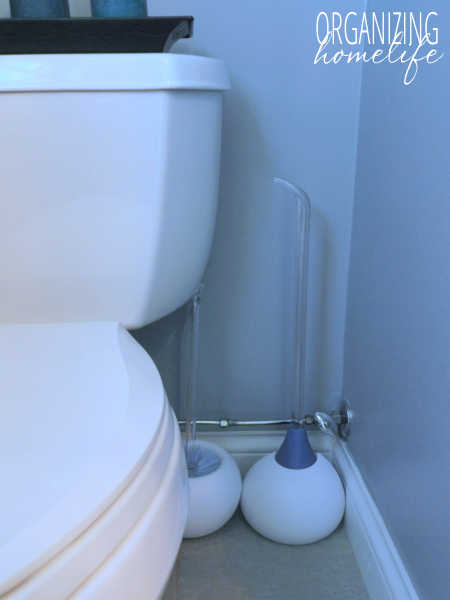 The toilet bowl brush is also much more stylish than my old one.  I never thought I'd use the words "stylish" and "toilet bowl brush" together in a sentence, but I like how it's sort of hidden by the cover, but also open to the air so it can dry after each use.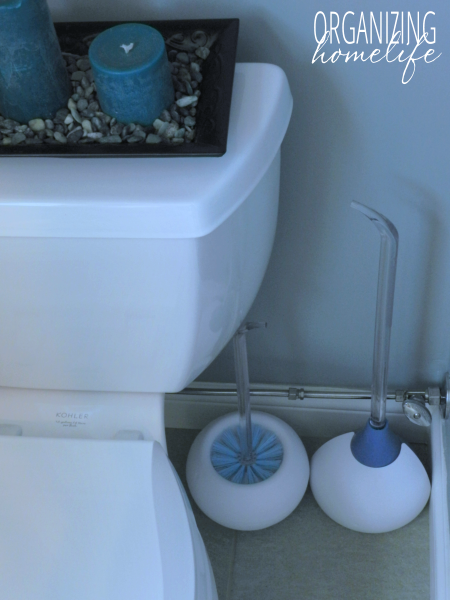 The Comfort Grip handles are easy to hold and make the chore of cleaning a little easier.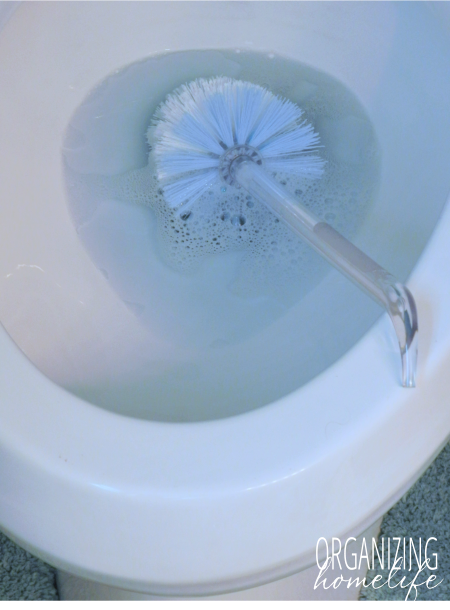 Here's a tip I learned a while ago that will keep your toilet brush holder cleaner: when you are cleaning the bathroom, clean the toilet first.  After you are finished, close the seat on top of the brush handle to let it drip dry while you are cleaning the rest of the room.  This prevents the holder from becoming gross.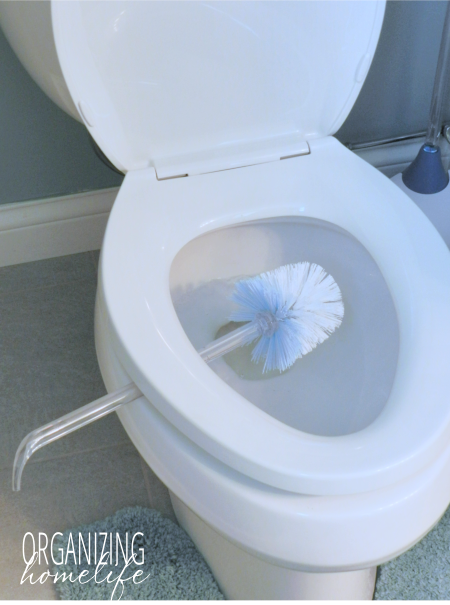 In addition to the toilet bowl brush and the plunger, Scotch-Brite also enhanced the look and usability of some of their bathroom cleaning products including the scrub brush, grout & detail tool, and squeegee.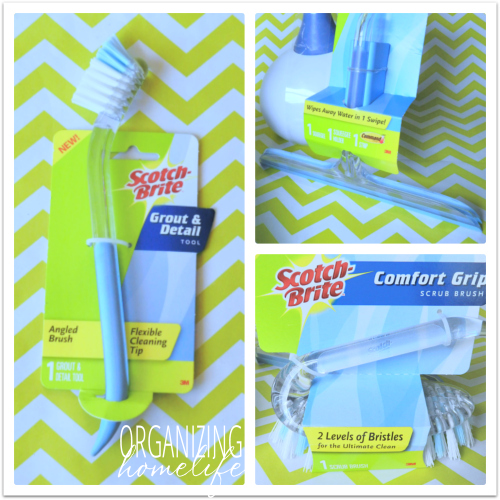 Check out the new Scotch-Brite bathroom products line on Scotch-Brite.com and follow them on Facebook for the most up to date news on new products and deals.
How do you tackle the bathroom cleaning chore?
I don't know anyone who likes cleaning their bathroom, so I'd love for you to share what you have done to make the job easier to keep it clean and fresh.
Simply leave a comment below with your advice and you'll be entered to win a Scotch-Brite Bathroom Cleaning bundle!
The Fine Print:
One winner will be chosen randomly using Random.org to receive a Scotch-Brite bathroom cleaning product bundle including:

Toilet Bowl Brush & Holder
Comfort Grip Scrub Brush
Portable Plunger & Holder
Grout & Detail Tool
Squeegee
No purchase necessary.
Open to U.S. Residents only.
Entrants must be 18 years or older.
Giveaway begins Friday, September 21, 2013 and ends at 11:59 p.m. eastern time Sunday, September 29, 2013.
Winner will be e-mailed and announced here on Monday, September 30, 2013.
Winner has 7 days to respond to e-mail.
This post was sponsored by 3M Scotch-Brite.  My opinions are 100% my own and I was not influenced to write a positive review.  If I don't like a product, I won't promote it!