So you know how it is when you open a can of worms, right?…
We had a small problem in our shower.  The tile behind the faucet was getting a bit loose and cracked.  Our home was built in the 60's so some things are starting to wear out (and need updating).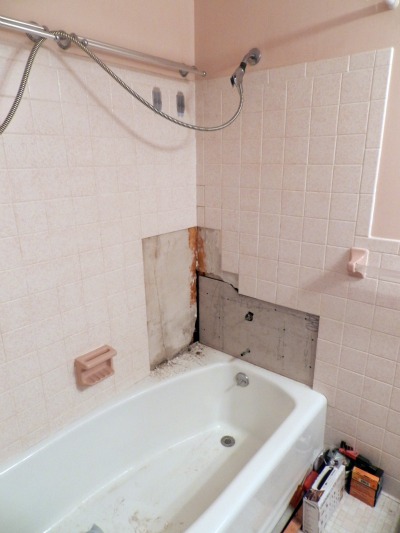 I've had this elaborate dream of re-doing our bathroom (which involves tearing down walls, moving toilets and doors, etc.) since we moved in a few years ago, but it's about as close to the bottom of the honey-do list as you can get (not to mention the budget).  My husband is of the "make it work, make it last" mindset, so you can guess what his plan was: fix it and forget it.  Seriously.  Forget a new bathroom.  It's light years away.
When my parents were visiting recently, we decided it was time to "fix" the tile.  So, my hubby and my dad carefully and painstakingly removed each tile on the lower part of the wall behind the fixtures making sure not to break or chip any tiles.  The plan was to grind off the old mastic that held the tile to the wall, and reattach them properly.
Yeah. Well, things don't always happen that smoothly, do they?
When they took the tiles off the side wall, they discovered that the drywall was totally disintegrated.  Not only behind the fixtures, but even in the corner.  They guessed that the leak had wicked it's way through the drywall.  So we (notice I'm involved now) decided we'd better take a few more tiles off of the back wall.  Yep.  Still wet.  And gross.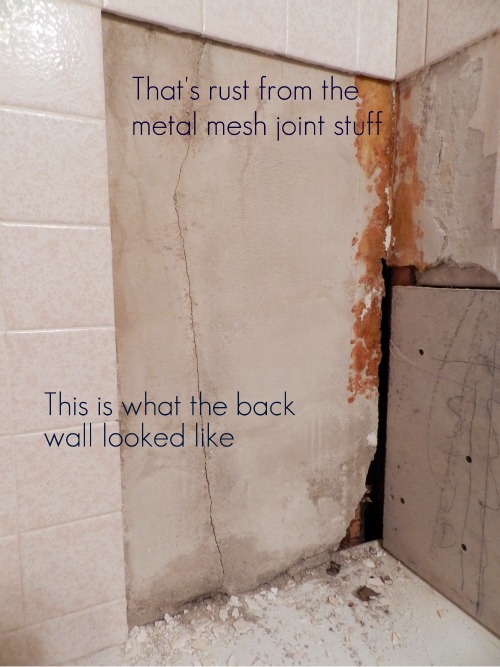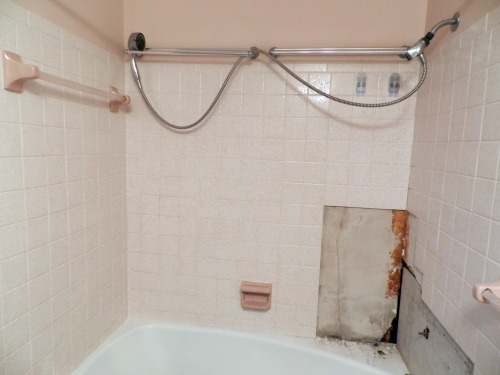 Somewhere around this point, my "how am I going to convince him" instinct went into full gear.  I could not imagine how we were going to "fix" this.  I never liked the tile anyway.  And it's been killing me not to paint those pink walls a different color.  I've been holding out in hopes of the re-do.  Suddenly, it seemed a little more likely!  Thankfully, my hubby agreed that it was worse than he had anticipated, and he was willing to hear my ideas.  Yes!
After much discussion, figuring, and planning, we finally decided it was time for a "partial" bathroom re-do.  We've decided to do it in stages, keeping it within our financial means.  I'm okay with that, because I don't want to be in debt just to have a nice new bathroom.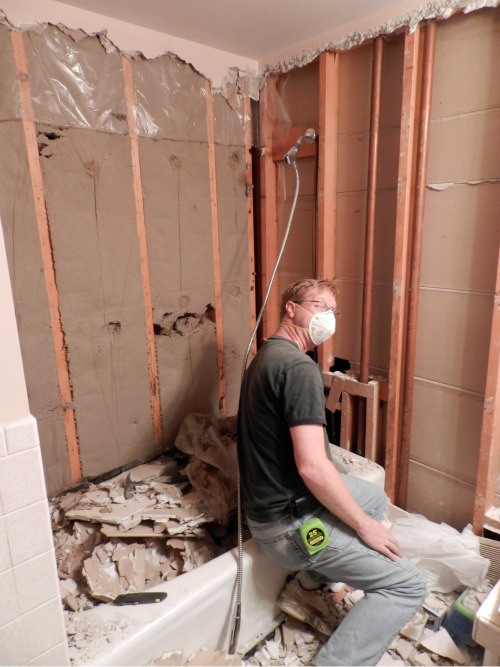 It turned out to be a really good thing we decided to rip it all out after all.  The entire back wall of tile had come loose!  I was shocked at how easily those tiles just fell off.  I actually got involved with the demo and literally just pulled on the soap dish handle and it fell right off with a few tiles attached to it!
I'm amazed that we had no idea how bad the problem was.  There was NO evidence of a major problem.  There were a few spots, literally, where the grout was beginning to come loose a little bit, but I never would have guessed the damage that was behind them!!  Almost the entire back wall was wet and disintegrated all the way up to shoulder height.  Now we are SO happy we made this decision!
We decided on putting in a tub surround instead of new tile.  It was way cheaper, and I hate cleaning grout anyway.  We researched them, talked to friends who have gone that route, and decided on a mid-range product.
So for now, my bathroom is down to studs (including my husband) 😉
We decided to rip out more tile than surrounds the tub, and put up new drywall.  Goodbye pink walls!
I've got a plan to pinch my pennies, because I can't wait to finish the job!  I'll keep you posted.  My husband still says it will be years.  We'll see. 😉