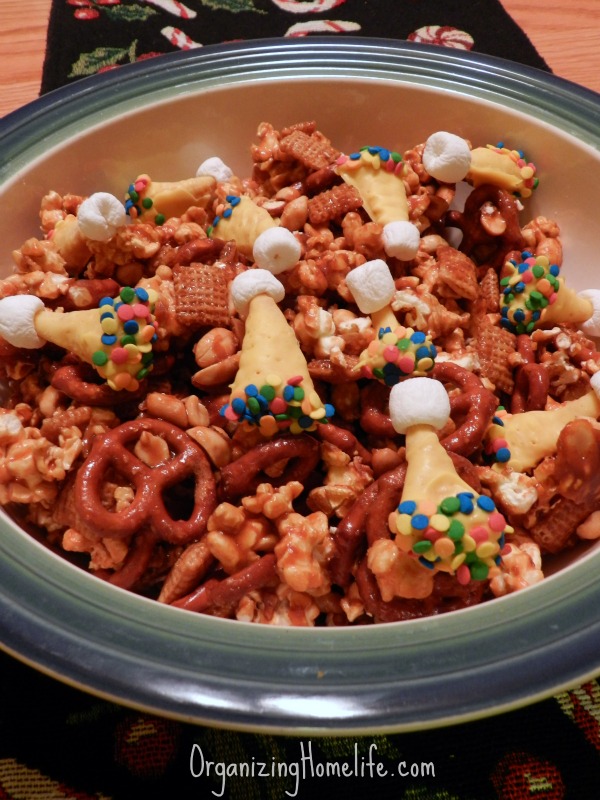 I recently came across an awesome recipe for a caramel-coated, sweet and salty party mix from Pampered Chef.
There are several versions of it out in the blogosphere but I was totally inspired by Shelly at Cookies & Cups and her creative variations.  She made "candy corn" and "Santa hats" using Bugles covered with candy melts to make the most adorable themed party mixes.  One of her mixes uses white chocolate, the other caramel (as in the recipe below).
Every year, we have a New Year's Eve party and I'm always looking for delicious recipes with a fun twist.  This is the one!
As a trial, my kids and I made some before Christmas. I have to confess – every time one of them left the room, I'd sneak another mouthful.  I literally could have eaten half the batch in one sitting.  It is insanely delicious.
New Year's resolution #1: DO NOT make this mix again (unless of course you got a treadmill or gym membership for Christmas and plan to use it)!
Here is my spin on this scrumptious snack for New Year's: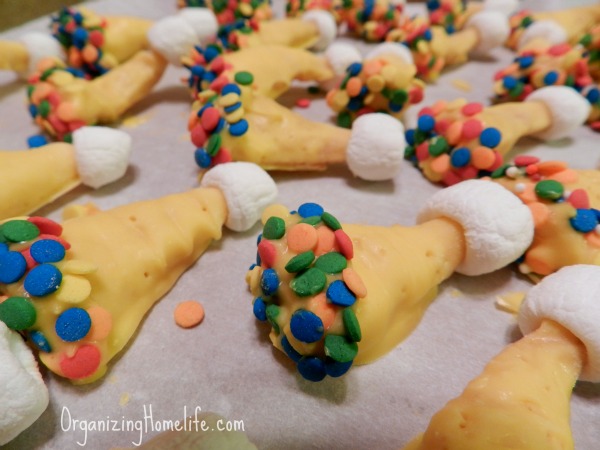 Aren't they cute?  These were so fun to make!  I used yellow candy melts and cake sprinkles.
The candy melts are available at Walmart or Michael's (and probably many other places).  Look for it in the wedding / cake decorating aisle.
Simply melt the candy in a double boiler or in the microwave.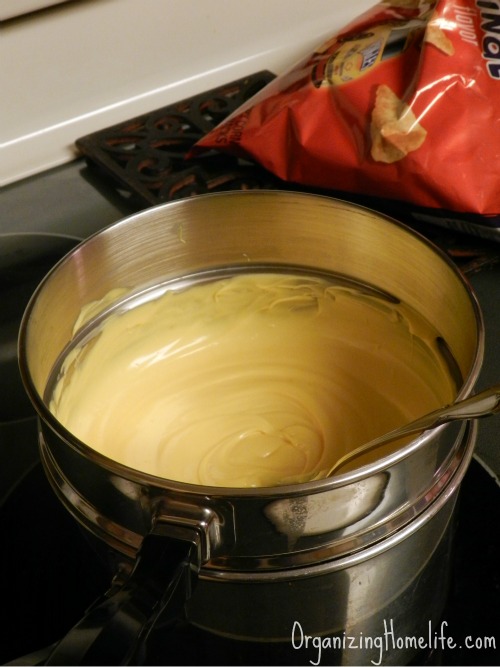 Stir a handful of Bugles in melted candy and mix until well coated.
Remove from pan with a fork and place on a parchment covered pan to dry.  I popped mine in the fridge to speed the cooling.  I needed them to cool quickly because I wanted to eat them!  And yes, I did eat one right out of the oven and burned my tongue.  But don't tell anyone!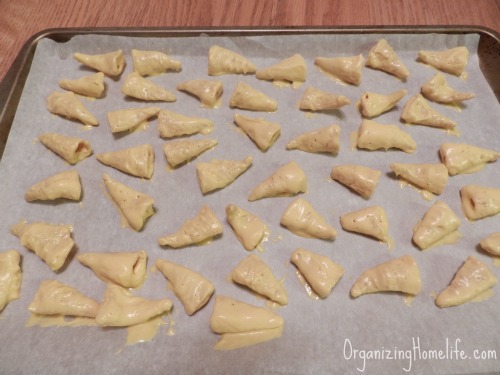 After they are cooled, dip the end back into the remaining (warm) candy coating and then into some colorful sprinkles.  Cool in the fridge again, then place a marshmallow on top.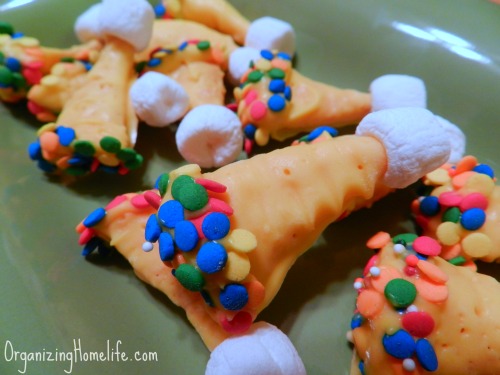 The party mix is also very easy to make.  Mix the snack ingredients together in a large bowl.  In a small saucepan, heat the brown sugar, butter and corn syrup for 3 minutes.  Pour over snack mix and mix well.  Bake on a large baking pan for 30 minutes, stirring occasionally.
You can print out the recipe for the caramel party mix below.  If you decide to add the candy coated bugles, wait until the party mix is completely cooled.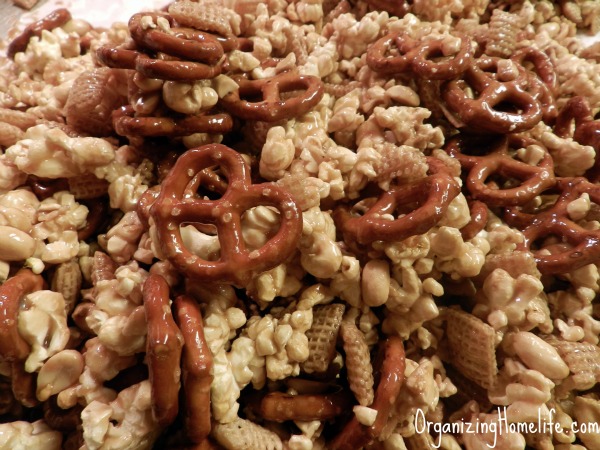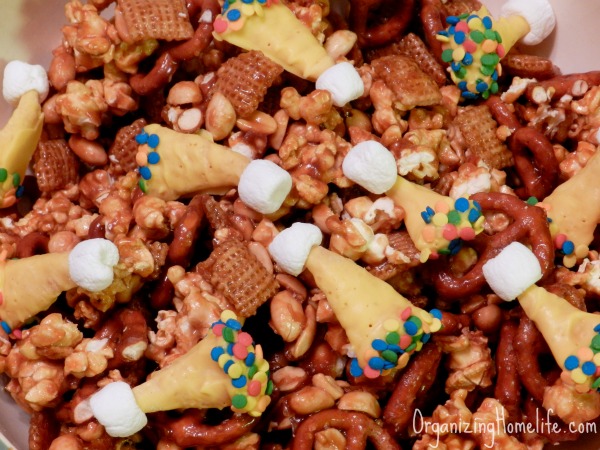 | | | |
| --- | --- | --- |
| Caramel Popcorn Party Mix | | |
Ingredients
1 pkg (3-3.5 oz) microwave popcorn (about 5 cups popped)
3 cups miniature pretzel twists
1 1/2 cups dry-roasted salted peanuts
2 cups rice cereal squares (Chex)
1 cup butter (2 sticks)
1 cup packed brown sugar
1/3 cup corn syrup
1 tsp baking soda
Instructions
Preheat oven to 300°F. Prepare popcorn according to package directions. In large bowl, combine popcorn, pretzels, peanuts and cereal; set aside. Combine butter, brown sugar and corn syrup in small saucepan. Cook and stir over medium heat until mixture comes to a boil. Continue to cook without stirring 3 minutes. Remove from heat; carefully stir in baking soda.
Pour caramel sauce over popcorn mixture; stir until evenly coated. Spoon onto a large parchment lined baking pan; bake 30 minutes, stirring occasionally. Remove from oven.
Cool completely, breaking mixture into clusters as it cools.
Notes
If adding candy coated bugles, wait until party mix is completely cooled.