Welcome to Day 18 of my month long series "How to Organize Your Kitchen Frugally in 31 Days".  Every day during the month of October I will be sharing an organized space in my kitchen with you.  My goal is to inspire you and give you ideas on how you can organize your kitchen.
If you missed it, you may want to read why I'm embracing my outdated kitchen.  It might give you a little perspective on why the pictures of my kitchen organization won't be "magazine worthy", but helpful for real life organization.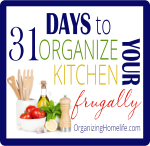 If there is one thing that makes me feel good about my kitchen (besides having all the dishes clean 😉 ), it is clutter-free counters.  Flat surfaces are like magnets – as soon as one thing is "temporarily" placed there, it seems to attract ten more.  And it can multiply quickly!
I'll tell you honestly right now that my kitchen counters do not always look like they do in this picture.  Why?  Because we live here and this is not a magazine.  This is real life: I have kids home all day (since we homeschool), so it seems like someone is always putting something on the counters.
So what do I do to help keep them from getting out of control?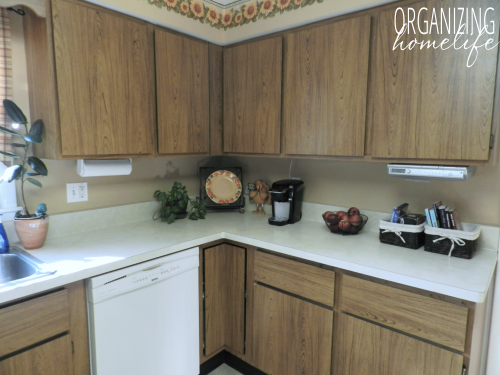 Containerize.  It really doesn't matter what you keep on your counters – if it's in a cute basket, bowl, or other container, it just looks better.  And, if you have a small container to hold your things, you'll be more apt to put them away if they don't fit.
Do you have trouble with "hot spots"?  Evaluate what it is that is cluttering up your counters and start dealing with the problem.  Is it papers?  I'll show you how I tame that beast tomorrow and the next day.  Is it other miscellaneous "stuff"?  Look at what is on your counters.  Why is it there?  Did a member of your family set it down and do they regularly put it there?  Did you put it there?
Think about what is collecting and why it keeps getting put down in that spot.  You will begin to see that some of the things that are there are actually there because it is where they are used, or that a specific place has not been established for where the item belongs.  Things can't be put away if they don't have a place to go.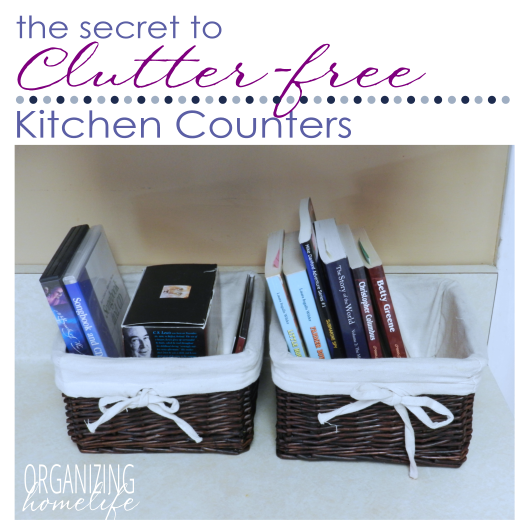 One thing my kids and I love to do is to read stories together at lunch time.  So, the perfect place to keep the stories we're reading during lunch is in the kitchen.  The kids also love listening to books on cd when they're in the kitchen, so we keep those cd's in the kitchen.  I picked up two small baskets at the store and keep them right under the cd player.  It keeps them contained and looks much neater than a pile of books and cd's.  The kids know that these baskets are where the books and cd's belong, so they can easily put them away.
You can probably guess that we own more books and cd's than what you see in this picture, but we don't use them all at the same time, so we only keep what we are currently using in this space.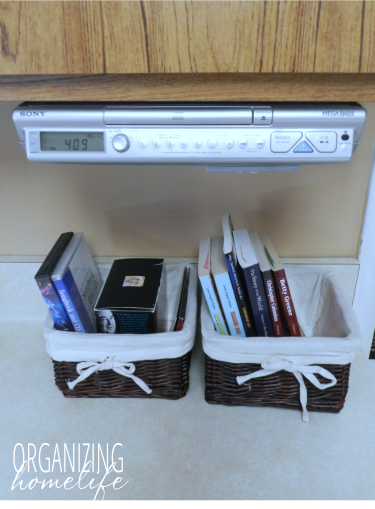 Some of you have asked me during this series what you should do with certain things you have in your kitchen cupboards that don't really belong in the kitchen like crafts, bubbles, sunblock, batteries, office supplies, etc.  Want to know my answer?  Keep it in the kitchen!  It's simple, really.  If that is where you use it, that is where you should keep it.  Find a spot for the things you use and containerize!
If you have a small kitchen and don't have a spare cupboard to store extra things, evaluate the space you do have.  Do you have a bookcase in a room near your kitchen?  Put a basket on a shelf and keep those "extras" there.  Who cares if that cute basket stores sunblock, crayons, and bubbles?  If that's the closest place to where you use it, keep it there.  None of your guests have to know what you keep in the basket, but your family will learn that those things belong there, and it will be easier for them to use them and put them away.
Tomorrow and the next day I'll show you how I organize papers and my command center.