Welcome to Day 22 of my month long series "How to Organize Your Kitchen Frugally in 31 Days".  Every day during the month of October I will be sharing an organized space in my kitchen with you.  My goal is to inspire you and give you ideas on how you can organize your kitchen.
If you missed it, you may want to read why I'm embracing my outdated kitchen.  It might give you a little perspective on why the pictures of my kitchen organization won't be "magazine worthy", but helpful for real life organization.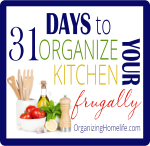 Today I'm showing you how I organize coffee and tea as well as large 9 x 13 casserole dishes.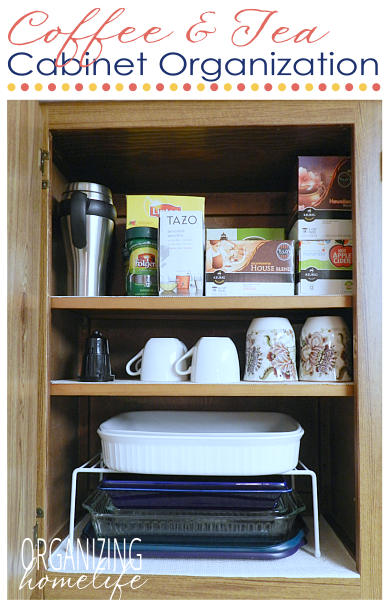 You may be wondering why I keep my casserole dishes in the same cupboard as my coffee and tea.  Well, the simple answer is because that's where I created the space for them.  Do most people keep these dishes in their coffee and tea cupboard?  Probably not.  Why do I, and why did I deliberately create space for them here?
Well, you remember how I talked about organizing my kitchen into zones, right?  Sometimes, the appearance of what is in your cupboard might not make sense to someone else.  You have to do what works for you!  I keep these pans here because they are easy to get to when I am preparing dinner.  That's why they in the food prep zone.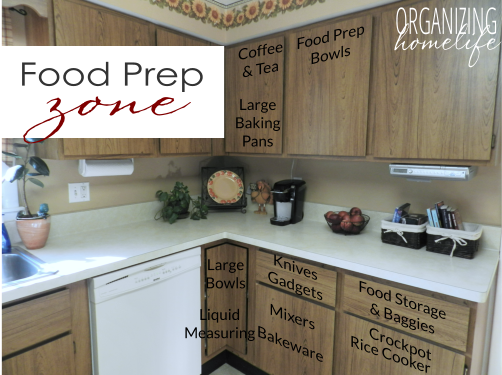 The food prep zone is where I prepare 90% of the food I make in the kitchen so that is the area where I store almost everything I need to prepare a meal from the gadgets I use to the bowls or pans I put the food in.
I picked up a cheap shelf organizer so they aren't all stacked in a hard to reach lower cupboard.  When I'm preparing a meal, they are right at arm level and easy to pull down to the counter where I'm preparing the food.
I also don't try to keep more coffee and tea than can fit in the two upper shelves.  Besides coffee and tea, I keep travel mugs, 6 large mugs, 6 small mugs, and a coffee machine accessory in this cupboard.  That is plenty of mugs for our family.  If you have a larger number of people in your family using mugs, or you drink a lot of coffee or tea yourself, keeping casserole dishes in the same cupboard might not work for you.
Do what works for you.  Everyone's kitchen is different.  You need to evaluate yours and come up with the most logical places to store your things.  Where do you use them and can you make space to fit them there?  That's your goal: try to put things where you use them.
Tomorrow we'll be looking at how I organize paper products and party supplies.