I have been blessed with an incredible friend.  One who is faithful, trustworthy, always has an encouraging word to share, and a great listening ear.  I am very thankful to God for bringing her into my life.  Her kids and mine are best friends and we all enjoy being together.
One thing we do to help each other out is take turns watching all of our children for a whole day every 6 to 8 weeks.  We all love it!  The moms each get a turn at having a whole day to themselves to plan, organize, catch up, or whatever!  And, the kids love it because, well, who doesn't love being with their best friend for an entire day?
Last week was my turn to have a "planning day" and my friend watched all the kids.  She is so creative, I just had to share the project she helped the kids make.
Gingerbread houses can be made simply by using graham crackers!  They are SO cute and the kids had fun making their very own.  This one was made by my six year old (with a "little" help from my friend).
She has a great recipe for the snow icing.  It dries so hard it's really like glue!  You can print it out below.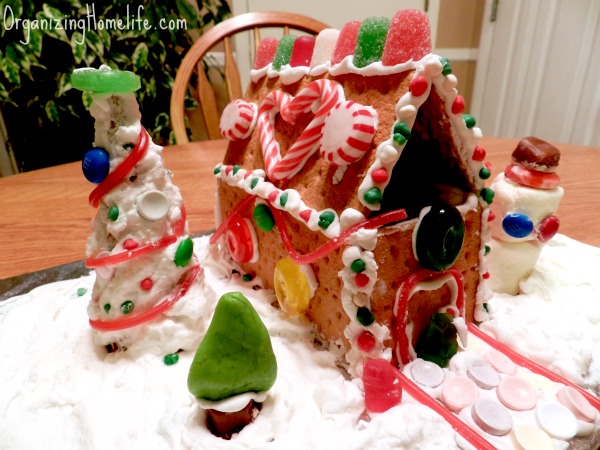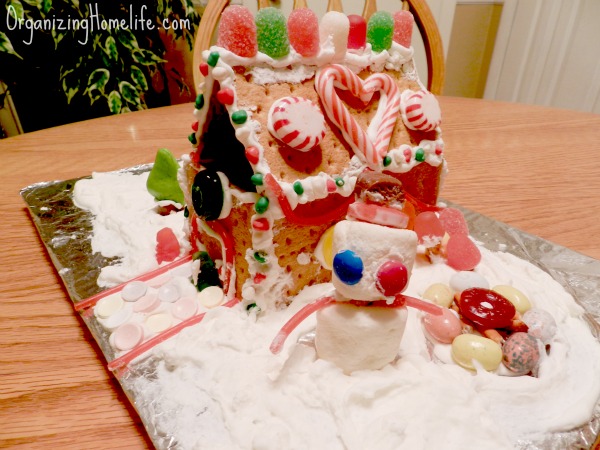 Recipe Type:
Fun for Kids
This recipe makes enough for 2-3 gingerbread houses.
Ingredients
3 egg whites
1 1/2 teaspoons cream of tartar
1 lb. confectioner's sugar
2 sleeves of graham crackers (1 per person)
Assorted candies for decorating (red licorice, gum drops, Nerds candy, mini candy canes, mints, skittles, smarties, flavored tootsie rolls, lifesavers, marshmallows for snowmen, etc.)
Instructions
Beat eggs, cream of tartar and sugar for 7 to 10 minutes or until consistency is similar to peanut butter.
Arrange graham crackers to make the shape of a house, using icing as "glue". Press candies into icing. Enjoy!