This giveaway has ended.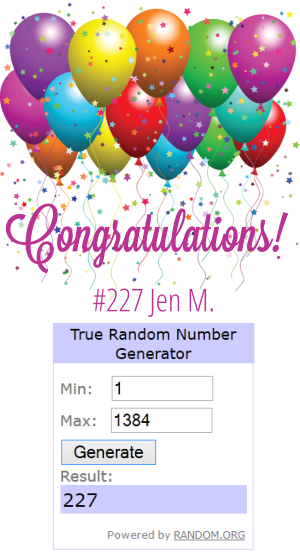 Winner has been notified by email.
Have you seen the amazing transformation that happened in my girls' room closet?  Thanks to EasyClosets, it went from an ugly, outdated, and disorganized closet to a beautifully organized space that will grow with us over the years.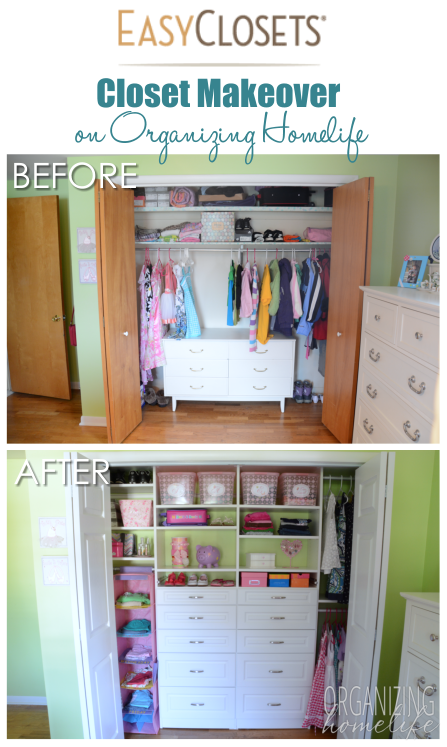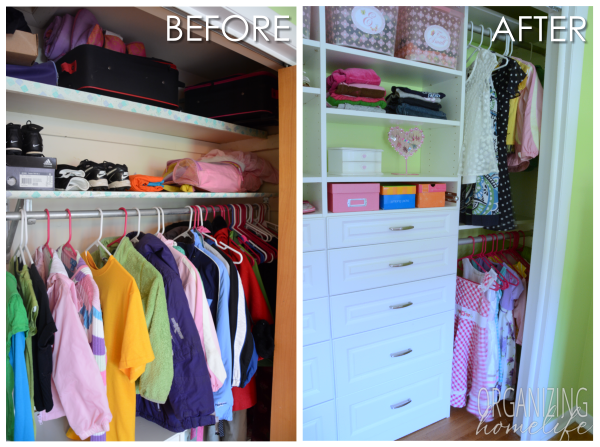 I am SO thrilled to tell you that one of YOU will have an opportunity to win a $1,000 closet makeover from EasyClosets!!! Woo hoo!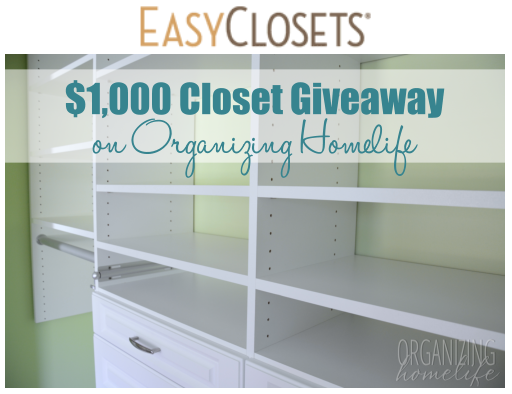 A number of you have asked about the price of the unit we installed.  EasyClosets are completely customizable.  I chose not to throw out a number because the price is entirely dependent on the closet you build and your specific design choices based on your dimensions.
The closet in my girls' room is a fairly large reach-in style closet and I upgraded it with raised panel drawers and fancier hardware.  When I worked on the design, I wanted a lot of drawers, essentially replacing the cost of buying a dresser, so another closet without the upgrades or the number of drawers that I chose could be vastly different in price.
For example:
Here is a recreation of the closet I chose.  With the flat style drawer fronts and chrome hardware, it would cost just over $1,300.  Not too bad in my opinion for the superior quality of these closets and considering how much a dresser with that many drawers would cost by itself.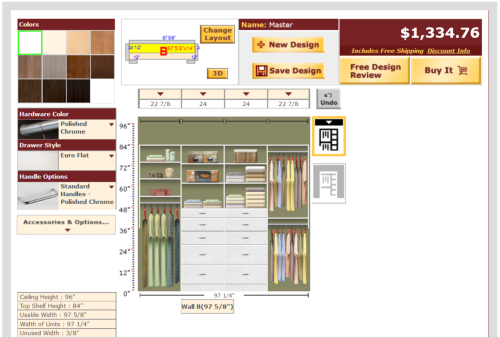 If I upgraded the drawers and hardware (which I did), the price would be about $270 more.
I know a lot of you would like a nice closet for yourself (not for children), so I want to show you a few options that have more hanging space than I chose for my girls.
Check out the design with the exact same dimensions using less drawers and adding more hanging space and shoe shelves.
This is what I LOVE about EasyClosets!  I can very easily change the design we have now to this design when our girls are older if they need more hanging space.  This is why EasyClosets grows with you.  Nice, right?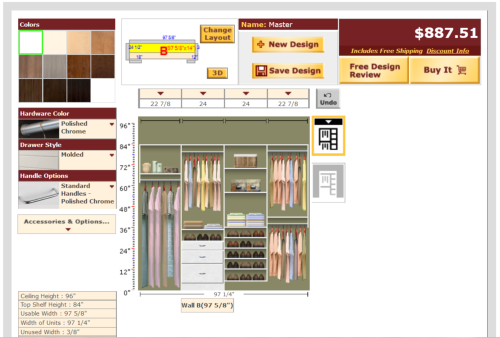 My closet is smaller than the closet in my girls' room.  If I was designing a closet for myself, I might choose a design like this.  Do you see the price???  I can't talk enough about the quality.  It is exceptional.  For $441, to have an organized closet like this?  That's barely the cost of buying a dresser!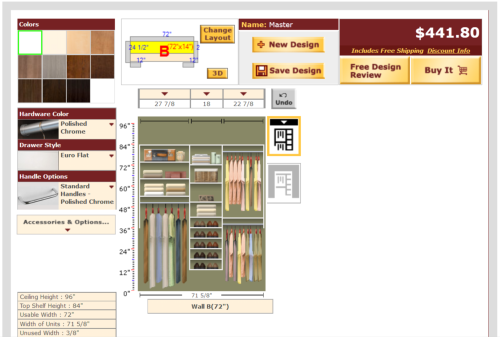 I would highly encourage you to enter the dimensions of your closet and check out the design capabilities of the EasyClosets online design tool.  It will give you an instant quote as you work through the design process.  Need help with ideas?  Just give them a call and work with one of their fantastic designers (for free).
So how would you like to win a $1,000 closet makeover from EasyClosets? 
How to Enter:
Simply leave me a comment telling me what you like best about EasyClosets and what closet you will makeover if you win.  That's in and you're entered!
Have fun!
The Fine Print:
One winner will be chosen randomly using Random.org to receive a closet organizing solution from EasyClosets.com valued at up to $1,000.
Product will be shipped to the winner by EasyClosets and installed by the winner.
No purchase necessary.
Entrants must be 18 years or older.
Open to U.S. residents only.
Giveaway begins Tuesday, May 27, 2014 and ends Monday, June 2, 2014 at 11:59 p.m. EST.
Winner will be e-mailed and announced here on Tuesday, June 3, 2014.
Winner has 7 days to respond to e-mail.