Last year our family joined the multitudes who celebrate the coming of Christmas with Elf on the Shelf.  We're not crazy into the Santa side of Christmas, so we decided to change up the story a little.  Instead of the elf reporting our kids' naughty or nice behavior back to Santa, we tell our kiddos that the little elf, who we named Eli, needs to learn about being forgiven.  He gets bored at night while we're sleeping and gets into mischief.  The kids love finding Eli each morning and discovering the antics he performed.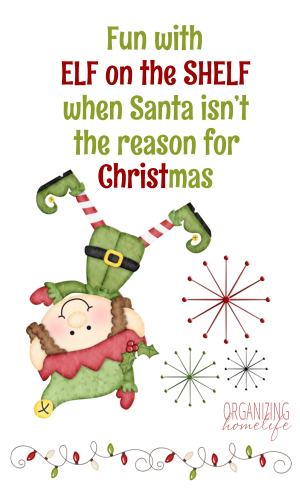 Since we want Christ to be the center of our Christmas, not Santa, this is one way we join the fun but still keep our focus on the reason that Christ came as a babe in the first place.  Everybody makes mistakes and we're all in need of forgiveness, but Santa isn't the one who needs to know whether our hearts are in the right place.  We're thankful for the forgiveness and unconditional love Jesus alone can give and are so happy he doesn't put us on any "naughty list".  Our elf doesn't report to Santa, he just gets into mischief, but we hope that he learns good behavior and what it means to forgive by watching us during the day.
I really enjoyed setting up our elf's antics last year, but this year has proved to be a challenge!  If I don't have something written down and planned out, it just doesn't happen.  I have found SO many great ideas on Pinterest, but I decided I needed to plan out my ideas using a calendar format instead of a long list of ideas.  We're a few days into the elf antics already, but I thought some of you might like to use my printable calendar, so I decided to share it with you!
Feel free to download this printable for your personal use.  It is copyrighted, so please do not reproduce this printable or share it directly on your own website.  You are definitely welcome to link to this post. Thanks!
Are you a fan of my printables?  Check out my Printables Shop here.  I'm adding new printables all the time, so check back often.