I have such a fabulous new product to introduce you to!  Have you seen the new Rubbermaid® All AccessTM organizer bins at Walmart?
I am so excited about this product because I am such a bin loving girl!  I store everything in bins: outgrown kids clothes, toys in the playroom, decorations, seasonal dishes and tableware for entertaining, etc.  The list goes on and on.  I even pack my family's clothing in bins when we travel instead of using suitcases!
So why am I so excited about a new bin product?
Well, the new Rubbermaid® All AccessTM storage containers make it easy to find what you're looking for, even if it's on the bottom of the stack.  These cleverly made bins have a clear, drop-down door on the front!
Do you have a place in your child's closet where you keep clothes for the next season or a place to store the outgrown clothes you're saving for your younger child?  These are PERFECT for closets!
Want to organize toys without having to unstack bins?  These are PERFECT for toys!
Need a spot to keep laundry supplies and rags that are easily accessible?  These are PERFECT for that!
Are craft supplies taking over? No problem! These are PERFECT for crafts!
Packing for college and need easy dorm storage and tavel ability? These are PERFECT for dorms!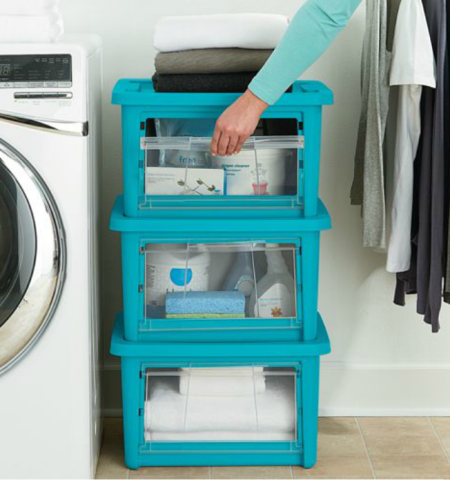 One of the best ways to keep your home clutter-free and organized is to keep the things you use the most in neat, easy to access locations.  That way, you don't forget what you own and buy more. These stylish and functional bins will help you do just that!
And if that's not enough, they also come in small, medium, and large sizes and great colors!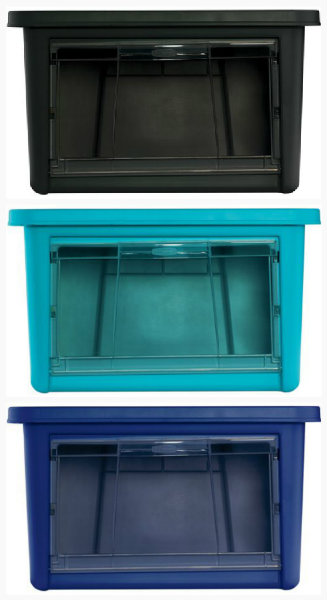 If you've ever used Rubbermaid® bins before, you know how durable they are.  You can find these fabulous Rubbermaid® All AccessTM storage containers at Walmart stores nationwide.
Happy organizing!
This post brought to you by Rubbermaid® All AccessTM Organizers. All opinions are 100% mine.