Have you ever shopped in a store that specializes in organizational products and been totally enamored with all the possibilities?  I know it's one of my favorite things to do!
Unfortunately, sometimes we buy products in hopes of getting organized and they just doesn't work out the way we had hoped.
I'm happy to tell you that I'm joining some of my fellow organizing bloggers to share with you some of our favorite products for getting organized – products that we love and use in our homes, and come with our stamps of approval.
If you missed my list of 30 Gift Ideas Organizers Love, check it out.  There are lots of favorites on that list, too!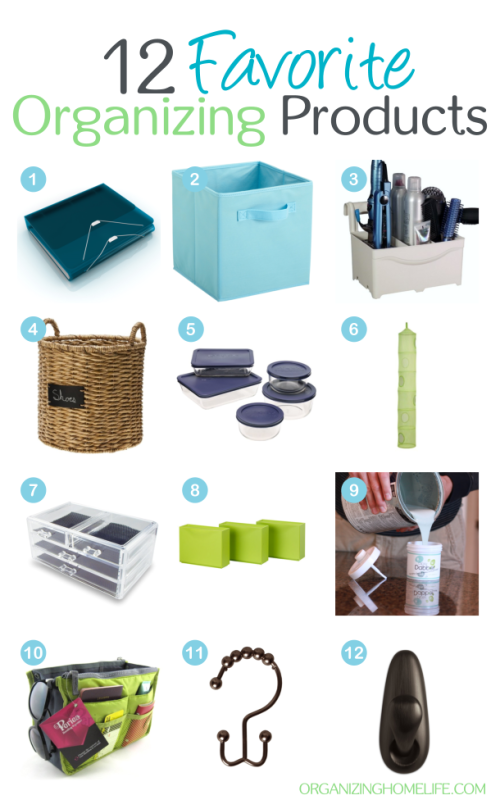 Some product links are affiliate links.
1. Duo Binder – One of my all time favorite organizing products.  It's a combination of a 3-ring binder and a 7 pocket accordion file.  Genius.
2. ClosetMaid Fabric Cube Storage – These come in a zillion different colors and are perfect for organizing kids' toys.  They stand the test of my 4 kiddos.  Durable fabric covers a plastic base for stability.
3. Hair Accessories Organizer – This is definitely a favorite!  I keep my hair dryer, curling iron, flat iron, hairspray, gel, and more in this organizer.
4. Smith & Hawken Basket from Target – I LOVE these baskets.  They are a bit pricey, but are so well made.  I love that the wooden chalkboard label is already attached for easy labeling.
5. Pyrex Food Storage Containers – I have had these for 17 years and have only had to replace a lid or two.  I put them in the dishwasher, fridge, & oven.  They stack neatly and are the only leftover containers I use.  I like that they are glass for easy cleanup and no food odors can absorb into them.
6. Ikea PS FÅNGST Stuffed Animal Storage – This is a super easy way for kids to store their stuffed animals.  It's inexpensive and doesn't take up much space.  I put a hook in the ceiling and hung it in a corner of the room.
7. Acrylic Makeup Organizer – I love these for makeup, gadgets, and even office storage (like washi tape and Post-it Notes).  See how I organized my bookcase desk with these here.
8. Ikea TRONES – I love this product for storing gardening gloves, kneeling cushions, hand tools, fertilizers, and seeds.  (Post coming in the spring)  They are very narrow, so they're the perfect storage unit for walls in tight garages.
9. Dipsy Dabber – This little container is the perfect solution for organizing and storing leftover paint.  It hardly takes up any space on the shelf, has a screw on lid that's easy to fill, and even has a mini brush that is stored right in the lid for easy touch-ups.
10. Purse Organizer – I love changing my purse to match my outfits.  It's super simple with a purse organizer.  I keep my wallet and other items in the organizer and simply take it out of one purse and pop it into another.  Simple and organized!
11. Double Shower Curtain Hook – This isn't exactly an organizing product, but I LOVE these!  Change your shower curtain liner easily without having to take off your decorative curtain when the liner needs washing.  It's a super easy way to keep your shower curtain clean.
12. Command Hooks – These versatile hooks stick to almost anything and can easily be removed without causing damage.  I use them EVERYWHERE in my house.  There are endless styles and choices.
I hope you liked these organizational products.  Check out some of the other great products recommended by these Top Organizing Bloggers:
Check out Leanne's list here: Organize Your Stuff Now
Leslie's list here: Goodbye House, Hello Home
Anna's list here: Ask Anna
Becky's list here: Clean Mama
Becky's list here: Organizing Made Fun
Laura's list here: I'm an Organizing Junkie