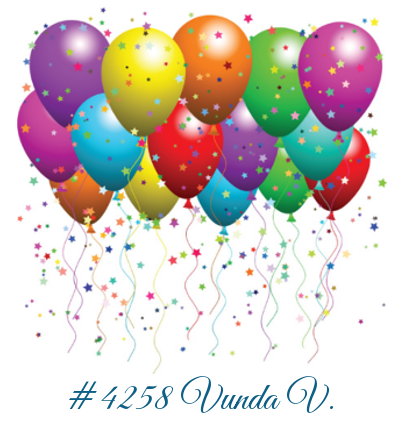 I can probably bet what you're thinking by the title of this post.  Fish what?  That's pretty much what I thought when the folks from Fish Window Cleaning contacted me about reviewing their product, Fish Foam.
Of course the name grabbed my attention, but after looking at the product, I decided it might be worth a review.  One thing I don't like about the window cleaner I have used for years is that it drips down the glass and runs all over the frame.  It's especially frustrating when cleaning picture frames or mirrors.  Fish Foam sprays as a foam that stays put, so I decided to try it out.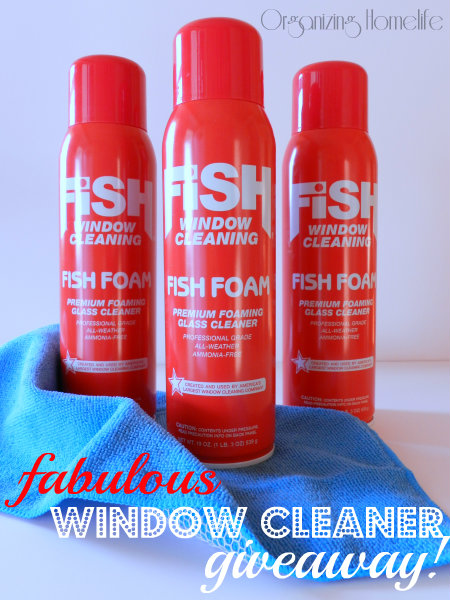 With four children and a curious little dog, our windows and doors get a lot of "attention".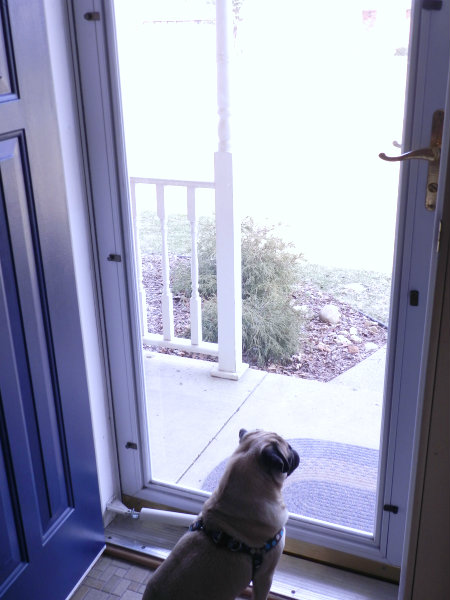 It's a little hard to see the smudges in this picture, but be assured, they are there.  Finger and paw prints are a regular sight on our windows and doors.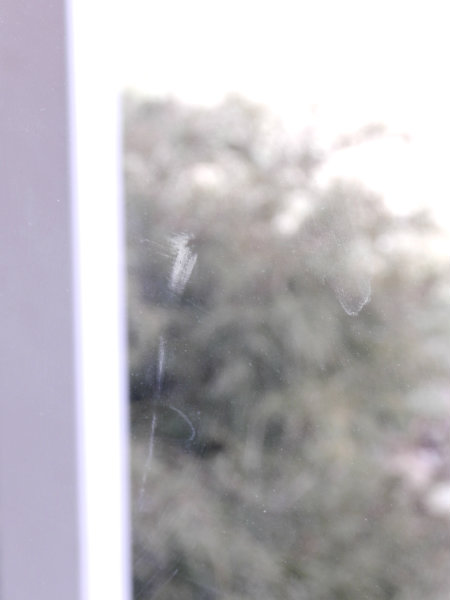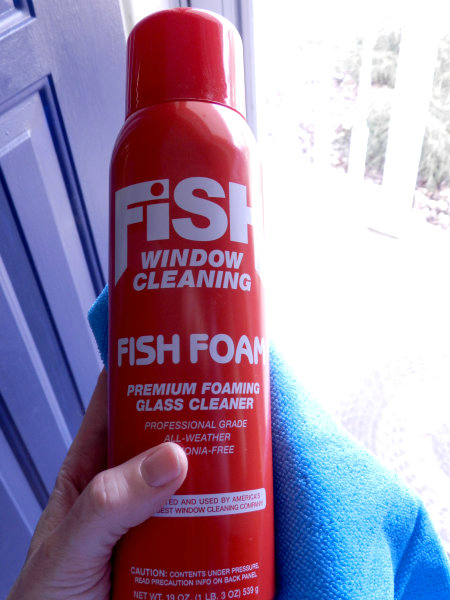 Okay, so if I told you I was impressed by the foaming spray, it would be an understatement.  I loved how it stayed put when I sprayed it on the door.  No dripping or running down the glass into the door frame!  It was super easy to wipe clean with my micro fiber cloth.  By the way, a little bit goes a long way!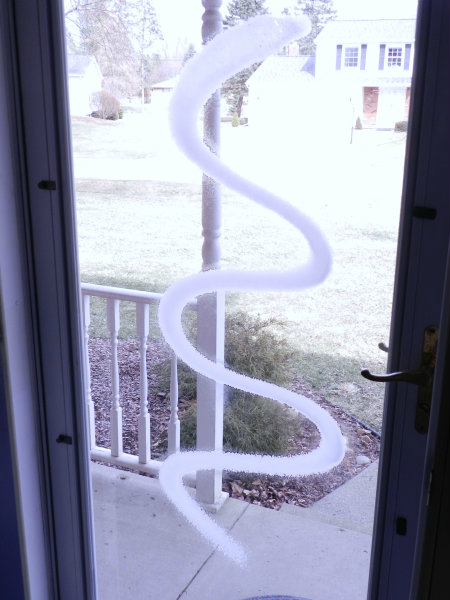 It did a great job on the door.  I had to show you this picture from the outside to show just how clean and sparkly it made the glass!
I know this may seem a little over the top, but the next time I drove by my house, I seriously stopped to admire how sparkly my windows and doors looked from the street.  I'm not even kidding.  I'm pretty sure my neighbors already think I'm nuts after watching me photograph my window cleaning process, but I was totally impressed with how beautiful it looked!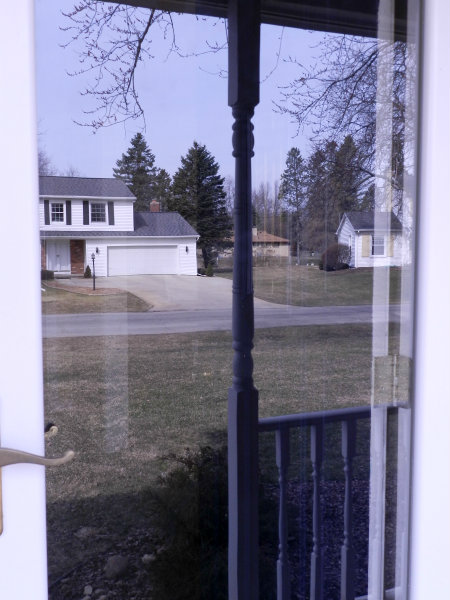 This next picture is seriously embarrassing.  Let me just preface it with the fact that the sun was at "just" the right angle to reveal the dirt.  😉 I was horrified when I saw this, but I'm putting it on to show you just how good this cleaner is.
And, just in case you think I never clean my windows, I also must tell you that we are in the midst of a huge bathroom renovation.  If you follow me on Instagram, you may have seen some of my updates.  Let me just tell you if you've never done a major renovation, you will NOT believe the amount of dirt that can take over your house!  There is dust on every surface, but I didn't realize how much had accumulated on the windows!
Check out this before…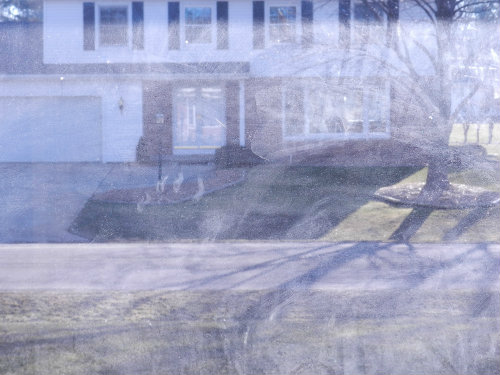 and after…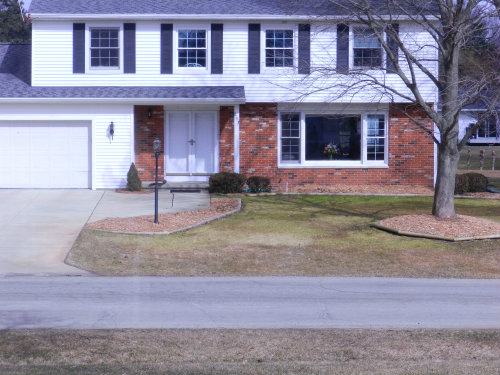 I told you it was amazing!  I will tell you honestly that when I first sprayed the Fish Foam to clean this window, I wasn't sure I was going to be all that impressed with the product.  I was expecting "no streaking or hazing" as the product claimed, and I was seeing streaks.  I had to spray it a second time on the inside and outside, and that's when I realized it wasn't the cleaner that was leaving streaks.  This window was so dirty that I was smudging DIRT, not the cleaner.  Once I sprayed it and wiped it down a second time, it sparkled like you wouldn't believe!

I've been using Fish Foam for a few months, and will never go back to my old cleaner.  I don't often sell out totally on a product, but I was so impressed with Fish Foam, it's now my go-to window cleaner.
Would you like to try some?  Then I have GREAT news for you!  Fish Window Cleaning is offering YOU the chance to win a set of three cans of Fish Foam!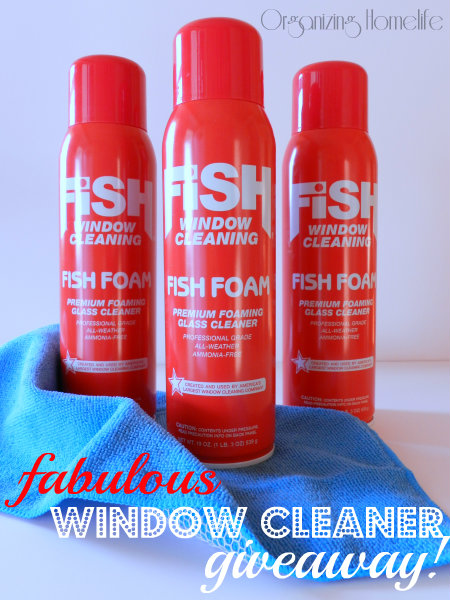 Don't want to wait to see if you win?  More great news!  Fish Window Cleaning is running a special promotion – only $5 for shipping and handling per 3-pack!  Shipping used to be over $10, so this is a great deal!  Fish Foam can be purchased HERE.
Here's a little bit more about Fish Foam:
Fish Foam is a professional grade, ammonia-free window cleaner used by homes and businesses across the nation.  It's absolutely the best at cleaning:
Windows, including stained glass & double hung windows
Mirrors
Windshields, windows & sunroofs on all types of cars
Cubicle glass panels and partitions
Exterior surfaces of appliances
Countertops
Fixtures
And more!
The Fine Print:
One winner will be chosen randomly using Rafflecopter.com to receive three 19 oz. cans of Fish Foam Window Cleaner.
No purchase necessary.
Giveaway is open to U.S. residents only.
Entrants must be 18 years or older.
Giveaway begins Friday, April 5, 2013 and ends at 11:59 p.m. eastern time Sunday, April 14, 2013.
Winner will be e-mailed and announced here on Monday, April 15, 2013.
Winners have 7 days to respond to e-mail.
Entries are super simple: log into the Rafflecopter below with your Facebook name, or just use your email address.