Welcome to Day 21 of my month long series "How to Organize Your Kitchen Frugally in 31 Days".  Every day during the month of October I will be sharing an organized space in my kitchen with you.  My goal is to inspire you and give you ideas on how you can organize your kitchen.
If you missed it, you may want to read why I'm embracing my outdated kitchen.  It might give you a little perspective on why the pictures of my kitchen organization won't be "magazine worthy", but helpful for real life organization.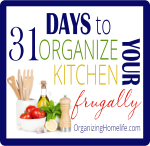 Kitchen organization wouldn't be complete without talking about how we plan our weekly menus.
I keep my favorite recipe books in the small cupboards above my microwave.  I'm pretty tall, so it's not a problem for me to reach them.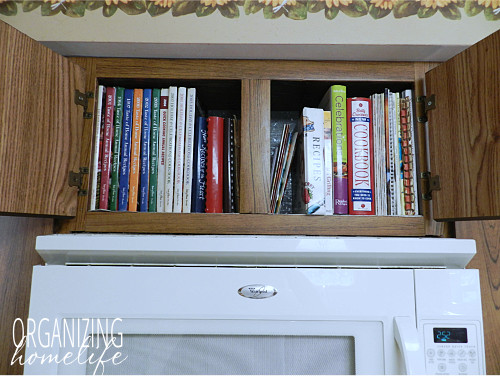 I like to keep my weekly menu planner on the side of my fridge so I can easily keep track of what meals we're having and make changes, if necessary.  Menu planning saves SO much money.
I thought it would be fun to make a few new menu planners to add to my shop, but I decided to offer one to you for free!
When I'm planning my menu, I like to make note of the recipe source so I don't have to copy or print out each recipe.  When it's time to cook, I know what recipe book to look in and what page the recipe is on.  Or, I know I need to open my Pinterest recipe page.  I made a special place on these printable planners where you can note the recipe source as well as jot down any grocery ingredients needed for your recipes.
You'll need to have PDF software on your computer in order to print.  See the printable FAQs page here.  Please make sure your software is the most up to date version before emailing me with questions.  Thanks! xoxoxo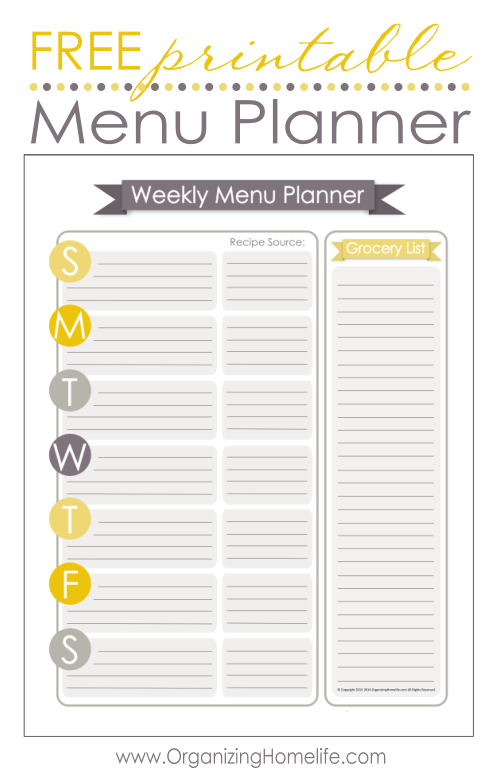 Download the FREE Printable Menu Planner here.
TIP: To save ink, print one copy of your menu planner and either laminate it or put it in a plastic page protector to create a re-writable surface.  Use wet erase markers (they don't smudge off), and simply wipe with a damp paper towel to clean off for a new week.
I have also added two menu planning kits to my shop.  Each kit contains 4 different menu planning printables and are just $3 for all four printables.
The first kit is the Seasonal Menu Planning Kit.  There is a printable for each season.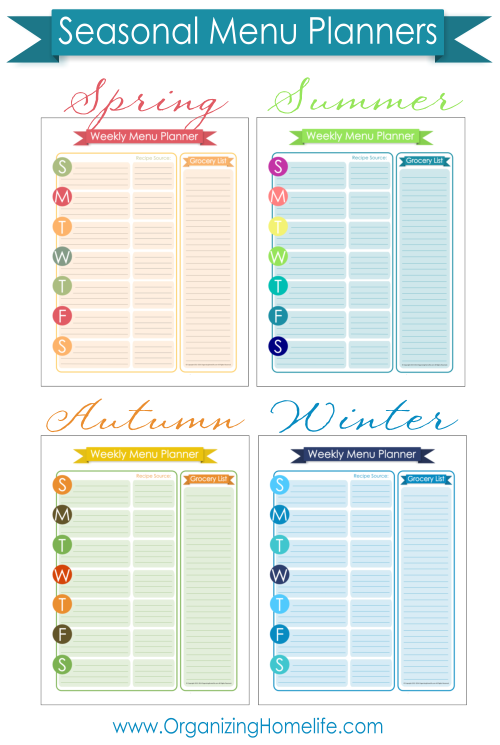 The other kit is the Themed Menu Planning Kit.  Many people have color schemes in their kitchens, and some just like to change their planners from time to time.  In this kit you'll find the following color schemes: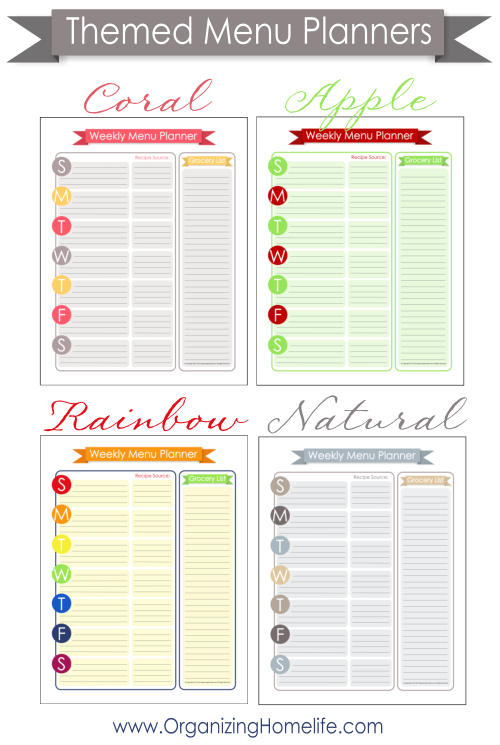 Tomorrow we'll be talking about chores.
This post contains an affiliate link.