One of my kids' favorite things to do at the beginning of the holiday season is to fill out their Christmas wish lists. It's one of my favorite things, too, because it helps me to get an early start on shopping and sometimes gives me ideas for gifts I might not have thought of.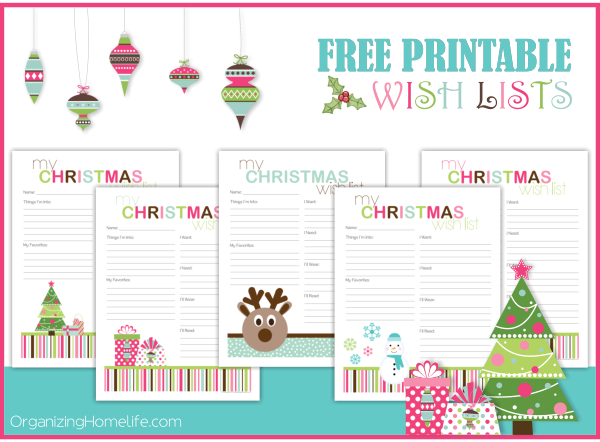 When they were little, I used to let them peruse toy store catalogs when making their lists, but I found that it just promoted our culture's thirst for owning more "stuff" than we need. They would list things I knew they would never play with or really want.
Since I wanted them to learn to appreciate gifts other than toys, I divided the lists into categories:
Things I'm Into

My Favorites

I Want

I Need

I'll Wear

I'll Read
It's surprising how few toys make it to the lists now. They still include them, but I have used these printables for the last several years and have found that the kids enjoy listing non-toy items they are interested in.
They list books by their favorite authors, specific things they want to wear, music or stories they like to listen to, and other things including their favorite flavors of gum, treats, etc. Plus, because the list categories actually are suggestions in and of themselves, they don't need a toy catalog to think of things they would really like. I have also noticed that the toys they list are usually additions to sets they already own and love to play with (Legos, Playmobil, Snap Circuits, etc.).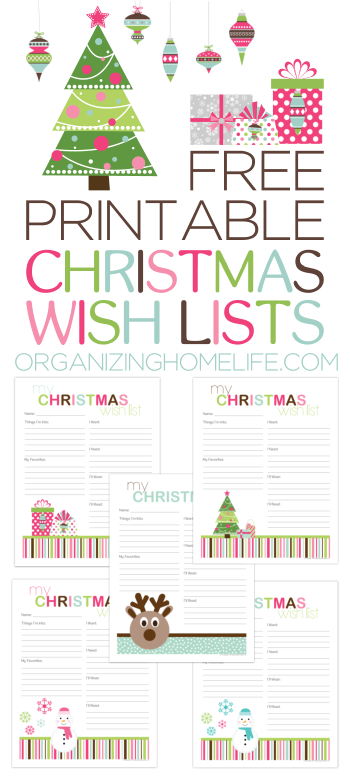 There are 5 styles so everyone can choose their favorite. It's my gift to you to offer them as a free download. Enjoy!
Please respect my copyright and do not reproduce these commercially or share them directly on your own site. You are welcome to share this post. Thank you!

Download the Christmas Tree Wish List Here
Download the Gifts Wish List Here
Download the Snowlady Wish List Here
Download the Snowman Wish List Here
Download the Reindeer Wish List Here
Do you like these printables?  Check out my Free Printables page for tons of other freebies.
You may also like…