Last summer I had a great idea.  At least I thought so.  But, as things go, my husband wasn't so keen on it.
Ever since we moved, I had been struggling with the set-up of my girls' bedroom.  I had changed the furniture multiple times and just wasn't happy with it.  It wasn't set up efficiently and never seemed to look right.
One day, I had an epiphany.  We should switch rooms.  After looking at the layout of my son's room, I decided that the girls' furniture would be much better situated in his room.  But when I thought more about it, I realized that his furniture would easily work in my room and, my furniture would be perfect in the girls' room.   And so began my quest to convince my husband of how wonderful my plan was!
He came up with every reason he could to protest and prove that this was a terrible idea (he didn't want to move the furniture).  What he didn't know was that I was well prepared in advance for his rejection and had my rebuttals well planned.  Poor guy.  He didn't stand a chance.
So, the switch-a-roo began.
I found myself with a great opportunity: the chance to re-decorate three rooms!  What could be better for someone who had always dreamed of being an interior designer?  There was only one major problem – the budget.  We hadn't planned on buying new shades, curtains, curtain hardware, paint, artwork and decorations.
Wowee does all that add up fast when you're decorating three rooms!
Consequently, I didn't have much money left to decorate with.  That's when I decided to get creative!  I was at the paint store looking for colors and was given a great idea for frugal decorating.
I didn't have any artwork on my son's walls and really didn't want to leave them bare.  What I needed was cheap artwork!  And that's exactly what I got – pricewise, that is.
When I was at the paint store, I talked to the sales lady about wall stickers.  She sold me on them and offered the solution to my problem.  I had no idea how great it was going to look.
I ordered a package of $12 wall stickers that matched the theme of the comforter set: cars, trucks, planes, etc..  I found a cheap frame at a local arts and crafts store, bought a small bottle of glossy acrylic paint for a buck or two and painted the frame.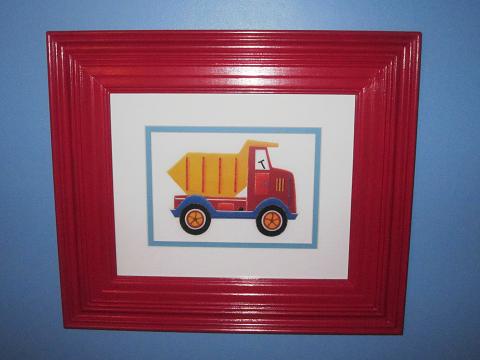 I was absolutely thrilled with the results!  I was on a roll.  I raided the attic and found a box of frames that we brought with us when we moved. I found a frame I had never used and filled it with the stick-on vehicles.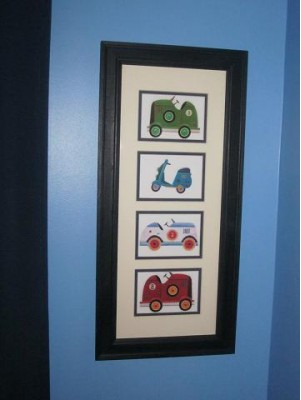 It turned out so well, I decided to post the idea.  I have gotten so many compliments on them and no one can tell they are stickers.  And, there were so many vehicles left in the package, I was able to decorate the rest of the room with them.  I'm thrilled with his room and so happy his walls aren't bare.
For the record, after the room rotation was complete my hubby actually admitted that he liked the rooms better and we have all been happier in our new rooms!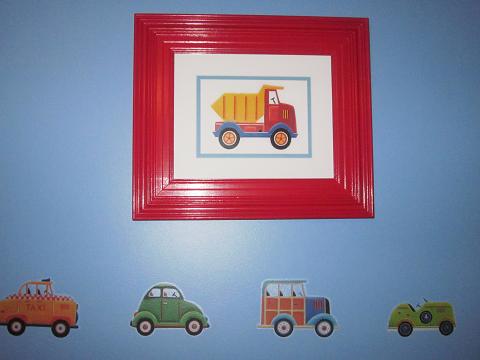 By the way, I ordered the wall stickers from the paint store, but I have since seen them in Target and Walmart and I believe they were cheaper.  And, they have lots of themes for children and adults!