Here is a great idea for keeping little ones busy when you are homeschooling older children.
It is so easy to clean up, too!  Just put a lid on the bin and vacuum up any spills.  Thanks Share & Remember for the idea!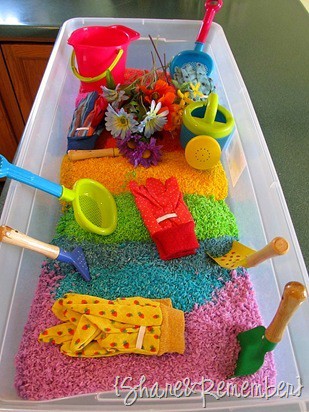 Here is how to make the rainbow rice:
4 cups of rice (for each color)
2T of food coloring or liquid water colors (works great!)
3T of rubbing alcohol
Put 4 cups of rice in a Ziploc bag. Add food coloring and alcohol. Have your kids help you mix it up!
Put it in a pan outside to dry.
Add sandbox toys, kid-sized garden gloves, and measuring cups.  Have fun!