A few years ago, my husband took a new job as a pastor 600 miles from our home.  We packed up our family and moved to a new city, far away from our families and all of our friends.
I was almost 7 months pregnant with our fourth child.
We moved into our house, started homeschooling, and began preparing for our new arrival in the midst of unpacking, painting, and getting new carpeting.  It was a whirlwind!
Our daughter was born in November, entering us into one of the coldest and snowiest winters anyone could remember for a long time.
When my infant daughter was just two months old, she contracted RSV, a respiratory virus that can be very dangerous for infants.  She was hospitalized, but thankfully recovered well.
Two weeks to the day after she was hospitalized, my second eldest daughter was hospitalized for dehydration from the flu.  None of our children had ever been hospitalized before, so it was kind of a shock to deal with it twice in two weeks!  My husband stayed at the hospital with her so I could be home with our infant daughter to protect her from getting more germs.
Well, the flu wasn't finished with our family at that point.  The day she was discharged, my husband and I both got it.  Then our eldest daughter got it.
We found ourselves 600 miles from family and friends with a brand new baby, sick as dogs.  I remember just laying sideways on the bed listening to my baby cry next to me and not having an ounce of strength to hold her.  It was horrible.
Thankfully, God sent us the blessing of a wonderful new friend.  She graciously offered to help.  We desperately needed it, because we were getting dehydrated and had no "sick foods" in the house.  My husband and I were so sick we couldn't imagine trying to trek out to the store.  She went to the grocery store for us and picked up a few necessities: chicken noodle soup, Gatorade, crackers, ginger ale, etc.
Right then and there I promised myself that I would never be caught in that type of a situation again!  I decided I would buy some of those staples and always have at least a few things on hand.
I bought a little bin to keep our "get better" foods in.  I don't take anything out of it unless it's absolutely necessary.  Every so often I will swap out some of the items and make sure the use by dates haven't expired.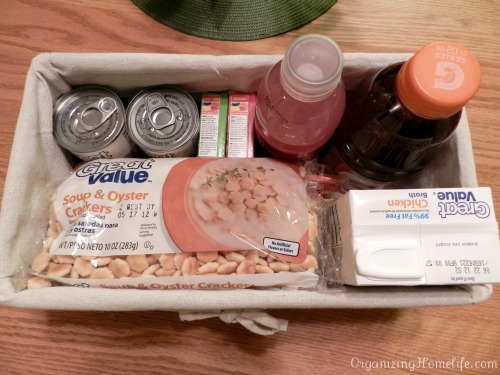 Here is a list of the things I keep in my bin:
Jello (great easy "liquid" for weak tummies)
Applesauce
Chicken Noodle Soup
Chicken Broth
Oyster Crackers
Gatorade or Vitamin Water
Unfrozen Ice Pops (I don't usually keep popsicles on hand during the winter, so I just put some ice pops in the freezer when one of us is sick. Popsicles are excellent for getting kiddos to take in liquids.)
Ginger Ale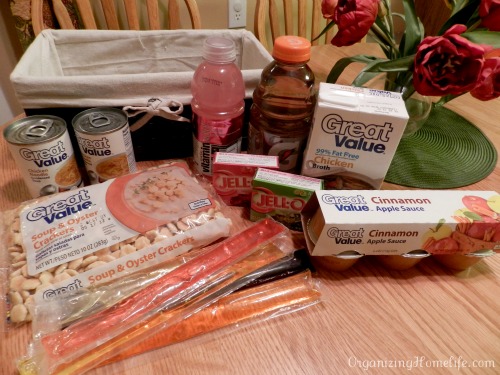 Some other things I usually have on hand:
Chicken
Egg noodles in the pantry
Rice
Bananas
Bread for toast
There you go.  The Get Better Bin.  I hope you never have to use it. 😉