I'd like to thank Home Depot for sponsoring this post!
This time of year is filled with parties, performances, holiday dinners, and all kinds of events, not to mention out of town company.  These events are fun, but often make our heads spin trying to keep it all together.  It's easy to neglect cleaning our houses during this busy time, and then race around in a frantic mess trying to clean before company arrives.
I'm going to give you some simple tips to help keep your bathroom squeaky clean and ready for guests at a moment's notice.
Sometimes the thought of cleaning the entire bathroom is daunting, especially when we are short on time.  Instead of neglecting it while hoping for those extra hours in the day that never arrive, try cleaning a little bit at a time.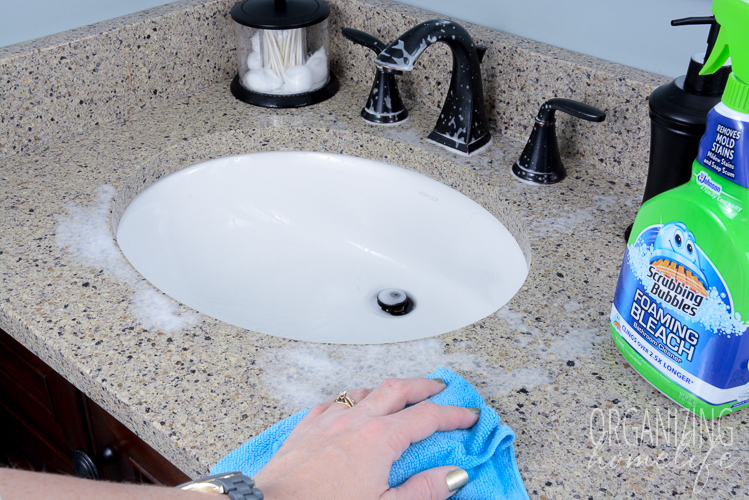 Bathrooms get messy quickly, especially when you have children at home.  A simple swipe over the counter, sink, and faucet takes just minutes and is a great excuse to put away countertop clutter before too many things start to collect.
I really like Scrubbing Bubbles® Foaming Bleach Bathroom Cleaner.  It's a quick and easy way to keep sinks and counters germ-free.  Simply spray, wipe, and rinse.
One of the best ways to make cleaning easier is to store the products you use in the location you use them.  I love these stackable drawer units, especially for organizing under a sink.  I put a cleaning bin on top and have my cleaning products ready when I am.  I keep cleaning cloths and extra soap in the drawer.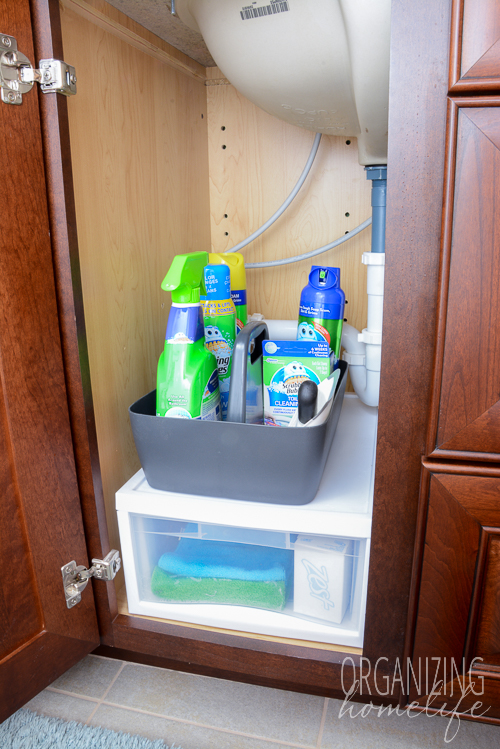 Tubs and showers can stay clean with little effort by quickly wiping down surfaces regularly.  Don't wait for grime and mildew to build up before you decide to clean!  It makes the job so much more difficult! Simply spray, wipe, and rinse.
I have used Disinfectant Scrubbing Bubbles® for years because it really eliminates soap scum well and keeps the surfaces looking shiny.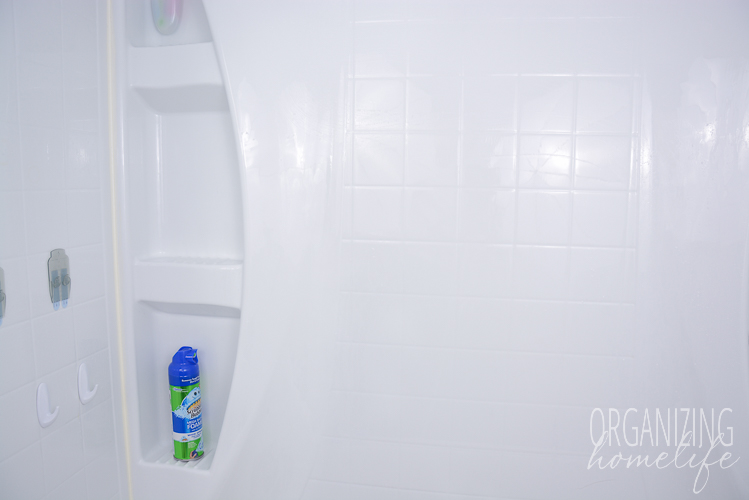 This was the first time I've tried the Scrubbing Bubbles® Bathroom Cleaner With Color Power Technology, and I loved seeing the blue foam on my white shower.  It made it easy to see where I sprayed and where I needed more.  It turns white soon after spraying.  The Scrubbing Bubbles® Mega Shower Foamer is great, too. It has a wide spray to cover a large area.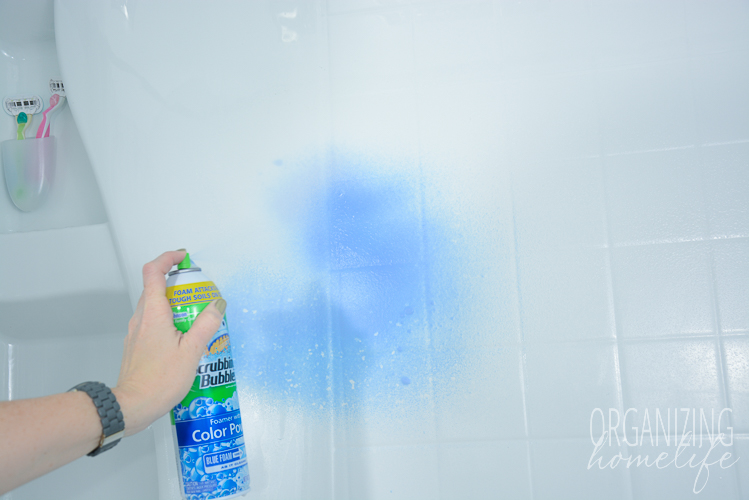 Wiping down your shower every week or two will keep it squeaky clean.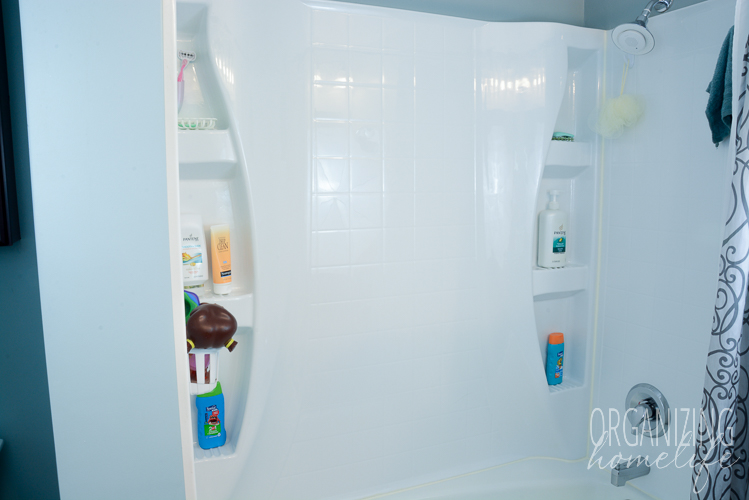 My hubby and I renovated our bathroom two years ago.  We were sticking to a tight budget, so we kept the tub and toilet since they were still in good condition.  When Home Depot asked me if I would be interested in a new toilet with high tech features, the answer was definitely yes!  The American Standard Optum Tall EL Complete Toilet is perfect since everyone in our family is tall.  It's a much more comfortable height than our old toilet.
If you're looking for a new toilet, I think you will be very happy with this one.  I can't comment on the long term quality or performance of it yet, but so far, I really like it.  I chose this toilet because of the excellent reviews, the taller height, and the cleanliness factor.  I LOVE the VorMax flushing system.  It completely cleans the entire bowl, including under the rim.  You know all that nasty grime that collects under the rim of most toilets?  Well, it's not there on this toilet!  VorMax flushing technology has been independently tested and proven to clean two times better than conventional toilets.  This eliminates the possibility of grime collecting and hiding under the rim.  I L.O.V.E. that!!  See more details and check out the video on how it works here.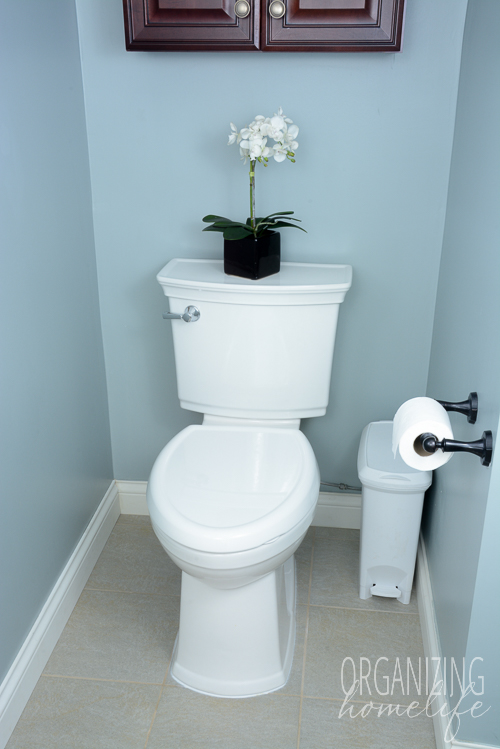 A super easy way to keep your toilet clean without much effort is to use the Scrubbing Bubbles® Toilet Cleaning Gel. Simply flush and it cleans for you.  I recommend wiping down the outside of the toilet at least once a week, but this doesn't have to take much time.  It takes just a few minutes to wipe it clean.
A little at a time goes a long way.  If you simply swish and swipe as you go, you'll find it much easier to keep a clean bathroom all the time.  And having company will be at least a little bit easier!
All of these products can be purchased at The Home Depot.  Follow them on Facebook, Twitter, Pinterest, and check out The Home Depot blog here.
The Home Depot partnered with bloggers such as me for their Squeaky Clean Bath program. As part of this program, I received compensation for my time. They did not tell me what to say about any product mentioned in these posts. The Home Depot believes that consumers and bloggers are free to form their own opinions and share them in their own words. The Home Depot's policies align with WOMMA Ethics Code, FTC guidelines and social media engagement recommendations.