You may remember when I updated and organized our master closets last year. I'm happy to say, they're still amazing and make such great use of the space in our small reach-in closets.
There's only one problem. My hubby's closet isn't staying as organized as it was when I first put it together. I know it might look organized to most of you, but look a little closer…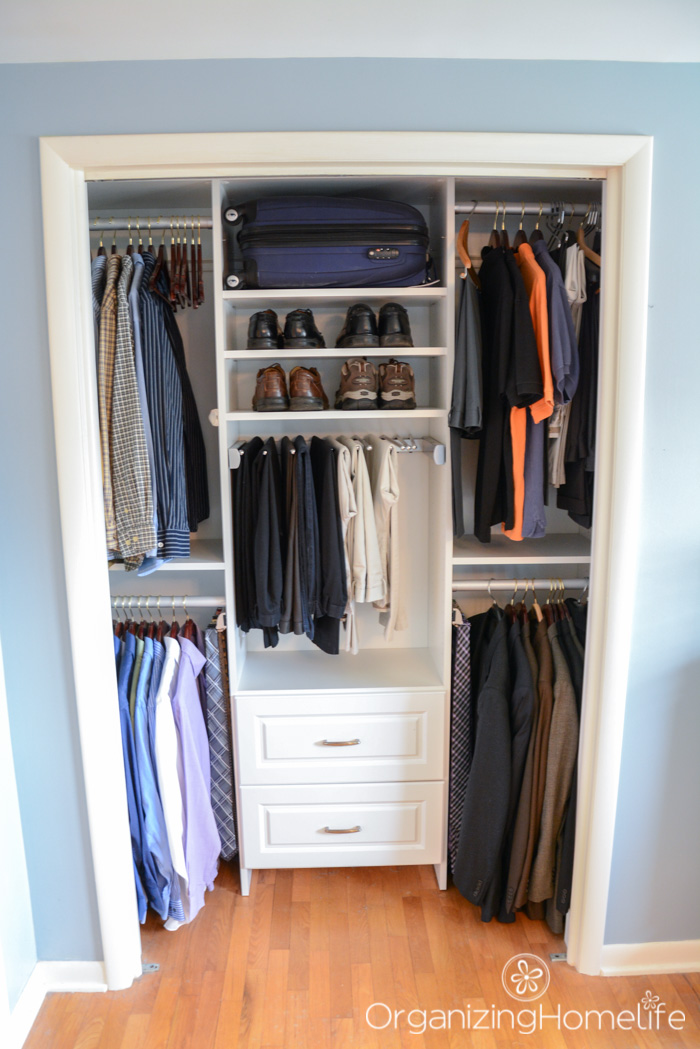 Yikes! What is going on there?!?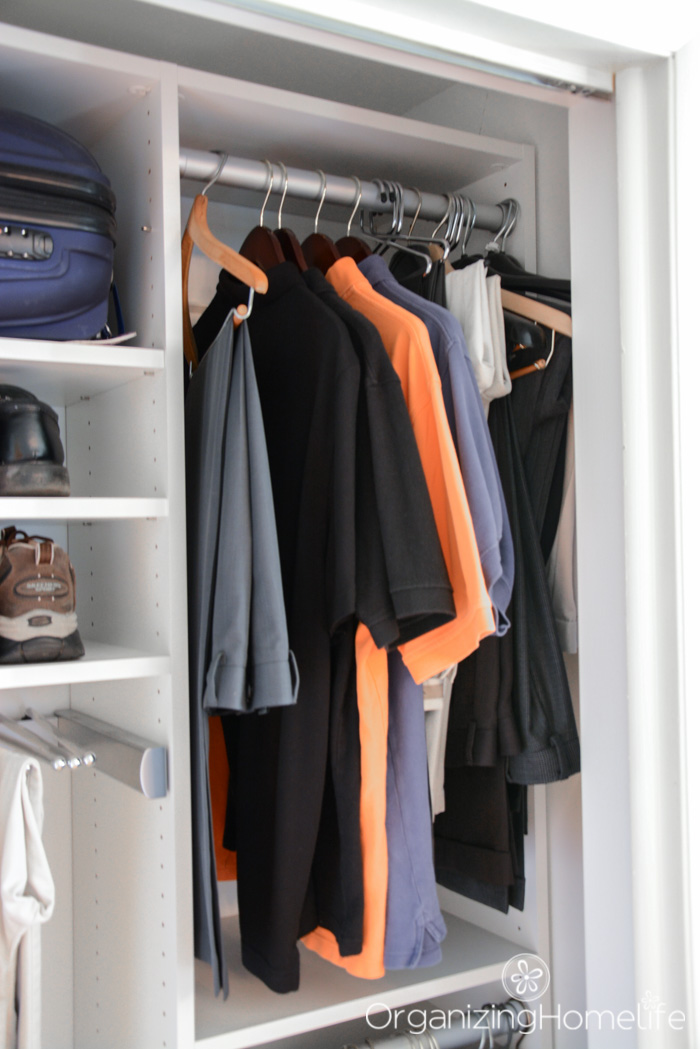 You see, my hubby is not a slob by any means, but let's just say that organization isn't his highest priority. He has his own "systems", but I haven't quite figured out what they are yet.
You can see in the picture above that there are shirts and pants all mixed up and even hangers facing the wrong way. Why? Some of it is part of his "system", part is because, well, he just doesn't remember where things go.
Check this out. Instead of washing a shirt that may have only been worn for a few hours, he turns the hanger around backwards so he can remember that it's been worn before. I have to admit, it's "sort of" a good idea, but the organizer in me cringes whenever I look at his mis-matched, multi-directional system.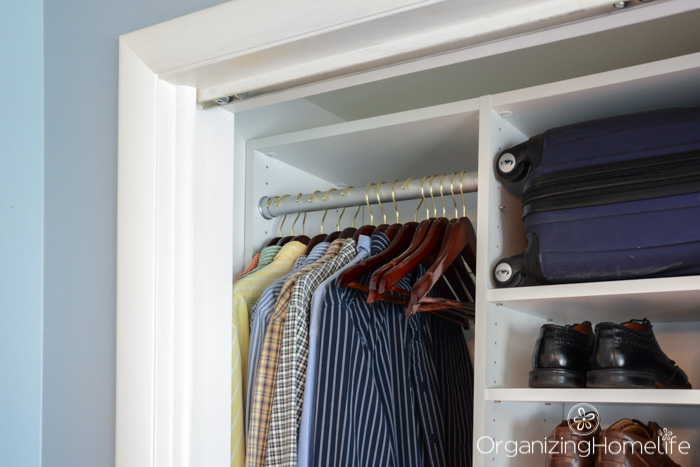 Enter the Xangar (affiliate link). The what, you ask? It's called a Xangar – a hanger spacer created to evenly space your hangers.
I have to be honest with you: when I was first asked to review these, I almost turned down the offer. Although I am a little OCD with my closets, as a busy mom of four kids, I'm not really that concerned if my hangers are perfectly spaced.
So why did I decide to try them? Keep reading…you're going to love this…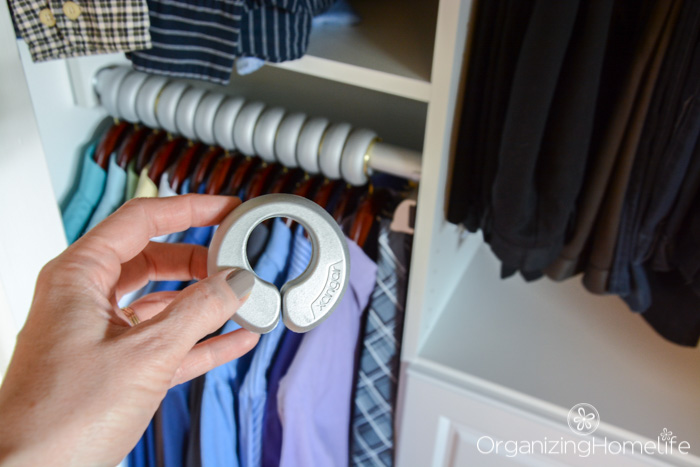 First, let me tell you a little bit about them. They're made of heavy-duty, flexible foam and glide easily on the rod. It literally takes seconds to "install". Just pop them right on the rod.
So why did I almost turn them down? I didn't see the necessity for them at first glace. Don't get me wrong: I love beautiful closets with evenly spaced hangers, but I don't get crazy over it if they're not perfectly spaced. #justbeinghonest
BUT…then an idea hit me. These things have a lot more versatility than just spacing hangers. They are actually an answer to the problem I have been trying to solve in my hubby's closet for years.
Remember how I told you he sometimes wears shirts more than once if he hasn't worn it very long? Well, now he doesn't have to turn his hangers backwards (and drive me crazy). I added both gray and silver Xangars to the rod with his business casual shirts. When his clean shirts get put in the closet, they get hung in the silver area. If he decides one can be worn a second time, he'll hang it in the dark gray area. He knows that if he takes a shirt from that area, it goes into the laundry at the end of the day.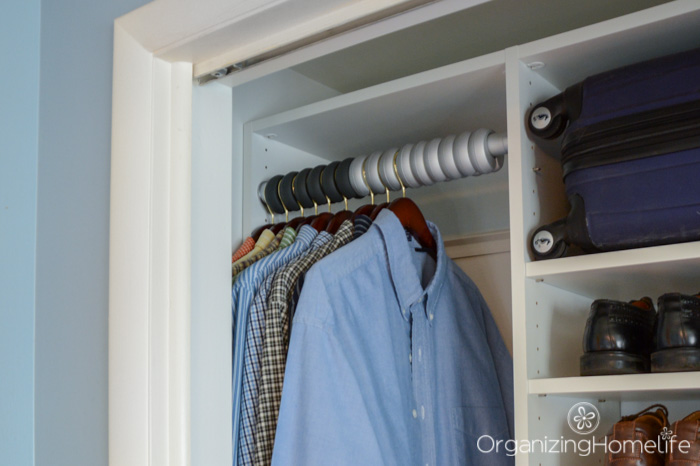 And, I have to admit, I'm loving the spacing. It just looks so neat, but I love that it's useful, too.
I never ironed his shirts because they always got wrinkled from being smushed in the closet. Not anymore. The Xangars are about 1″ thick – just about the perfect amount of space to separate clothes so they don't get crushed, yet also don't take up too much precious hanging space.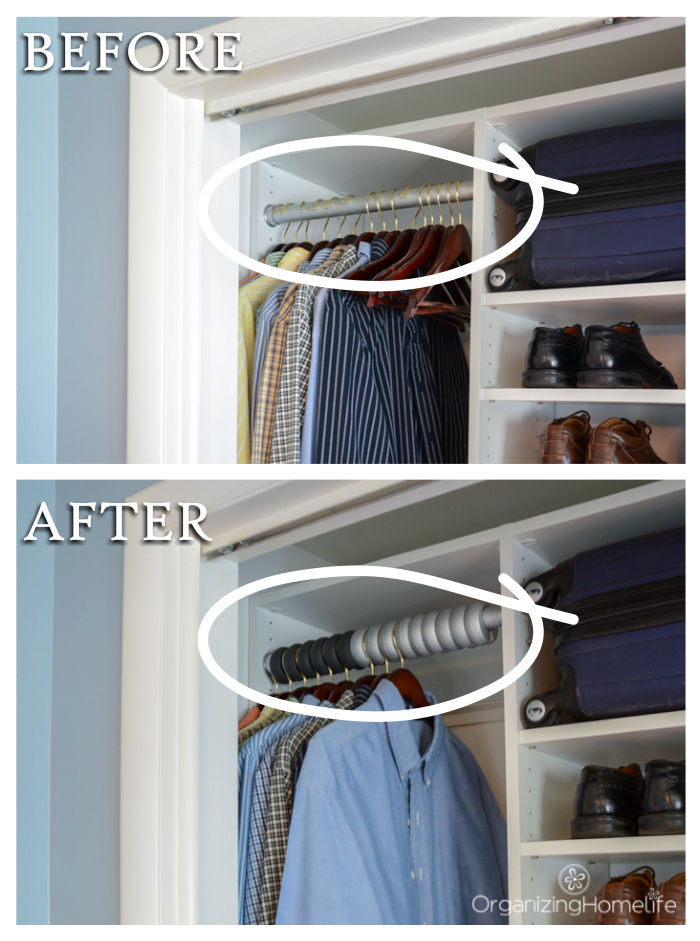 And let's talk about those suits. Yikes. Since there is no order to where on the rack he hangs his suits, I can't keep track of when they've been cleaned. Plus, part of the mis-matched problem on the rod above the suits is he's got suit pants hanging there. They were getting mixed up with his business casual pants on the slide out pant organizer, so he started hanging them with his shirts.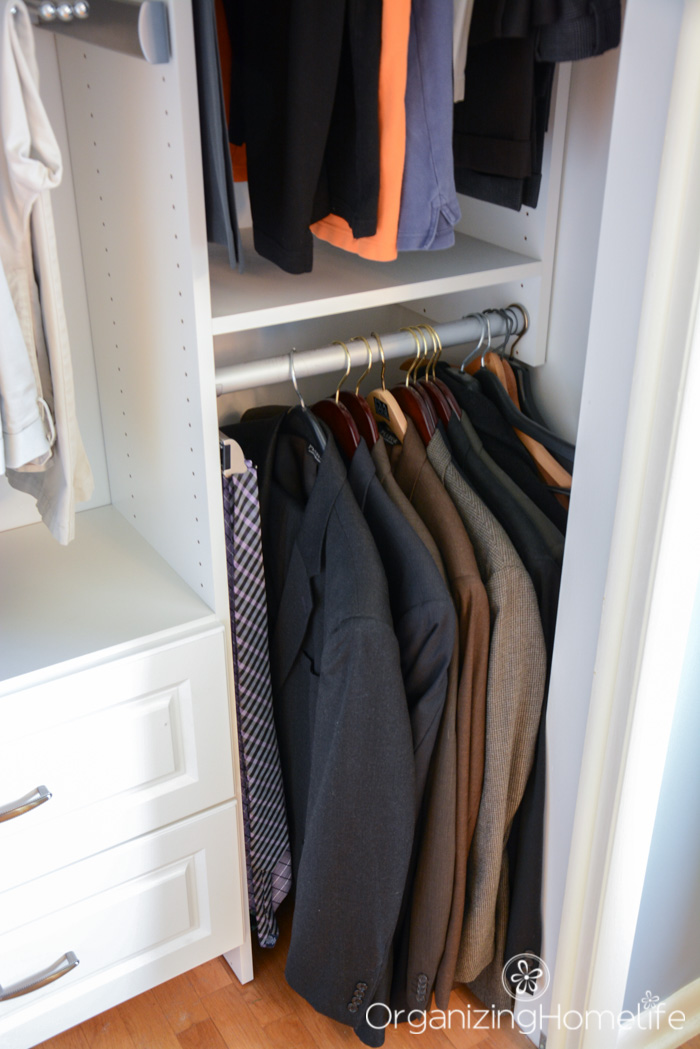 Xangar for the win again. This time I used three different colors so we can keep track of the rotation. I used silver for the clean suits and suit pants, white for when they've been worn once or twice, and dark gray when they're almost ready to go to the cleaners.
It's actually not good to dry clean suits too often, so I think this system is perfect for keeping track so we don't send them too often, or not often enough. I LOVE how versatile these are!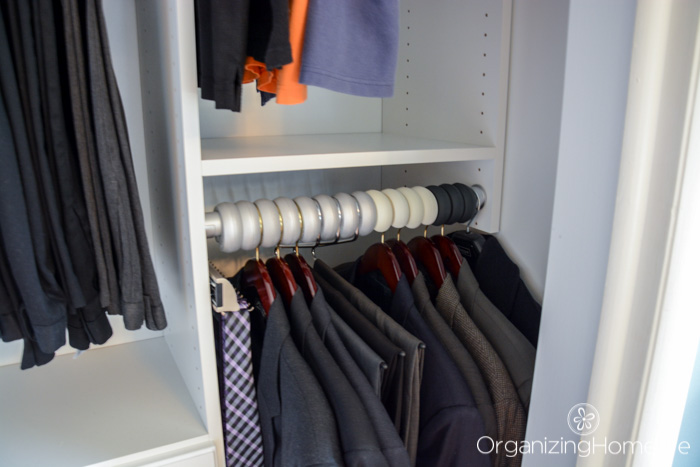 They're so simple to change out when the clothing changes, too, so I decided to keep a few extra in his top drawer.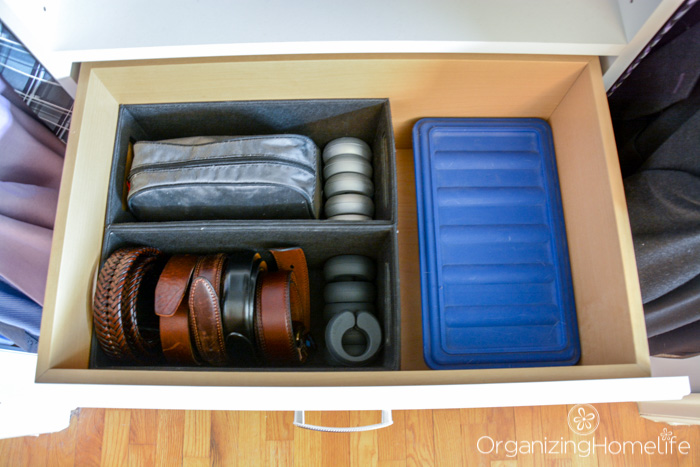 I have to admit – I'm in love with the ease of putting this all together and how super organized it is! And we *finally* have a "system" that will actually work for him AND keep his closet organized. #winwin
If you love a neat and organized closet, I know I need not say more. You're swooning, aren't you? 😉 I'm looking forward to putting Xangars in all my closets.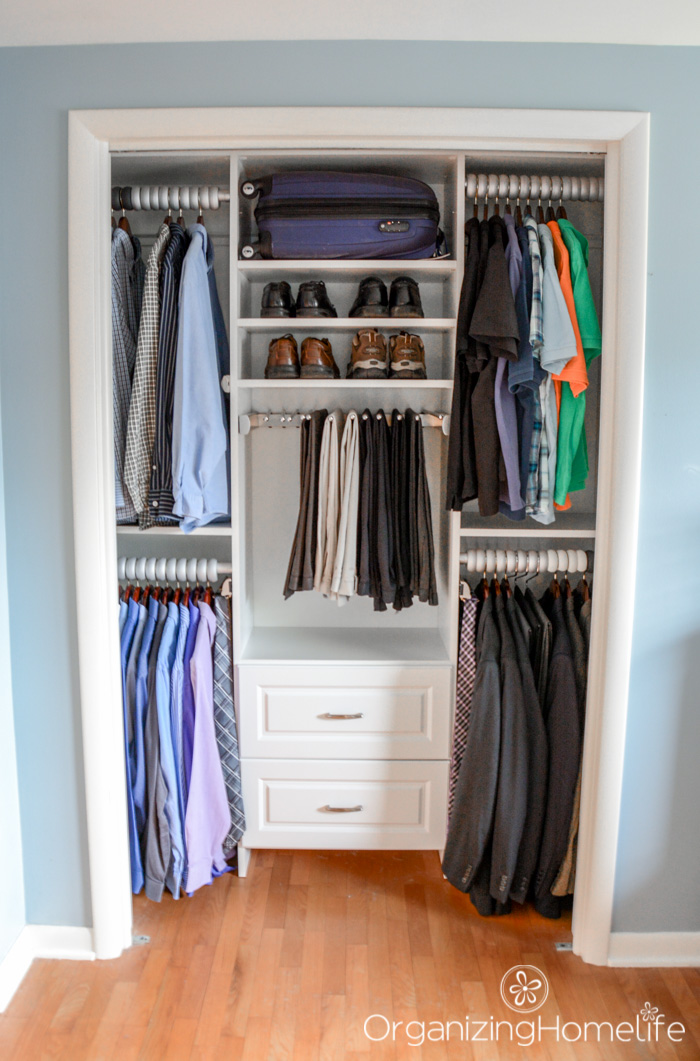 I have great news for you! I'm happy to tell you that you can win a 50 pack of Xangars to organize your closet!! You can also find them on Amazon here.
Thanks to Xangar for sending me this product and sponsoring this post. This post contains affiliate links which means I may earn a small percentage if you purchase a product through this link. You will never be charged a cent more, it's just a way companies reward websites for sharing products they love with their readers. See my full disclosure policy here.