In just a few weeks I will begin my eleventh year of homeschooling my kids.  I can hardly believe I just typed those words.  It's crazy how fast the time has gone!
Over the years, I've picked up a thing or two about homeschooling and finally feel like I know what I'm doing.  In the beginning I was so insecure and was afraid I would "break" my kids or fail miserably and deprive them of intellectual learning opportunities.  By God's grace, I have grown in confidence and have enjoyed watching my kids grow and learn.  And amazingly, they are doing very well.
I have relaxed a lot and learned to enjoy homeschooling immensely.  It hasn't always been peachy and there definitely have been times I've wanted to throw in the towel, but I'm so glad we stuck it out because now that my eldest two are entering middle and high school, we are enjoying it so much.  Don't translate that to mean my kids love every minute of school because, c'mon, it's school.
One thing I think new homeschooling parents have in common is not knowing where to begin. Taking on the responsibility of teaching your children at home can be completely overwhelming; I remember it well. The number of available resources for homeschool materials and curriculum are astounding. I won't discuss styles or methods or even curriculum choices in this post, but I will show you how to plan once you've made your curriculum choices and how to keep track of all the details.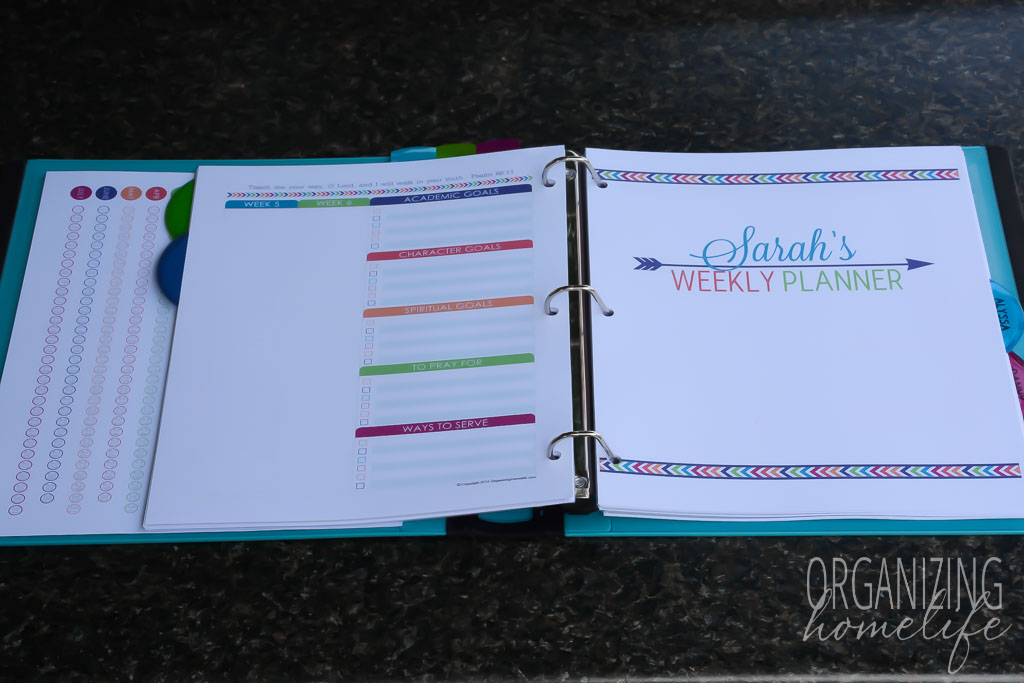 My Homeschool Planner is the result of ten years of experience in planning lessons and schedules.  Some pages I have used for years (although they are much prettier now than my plain old originals) and some are newer.  Since I have four children from first grade through high school, my planner is very detailed.  However, I realize that not everyone is in the same stage.
My goal is to help you, not overwhelm you, so I decided to make my Homeschool Planner available in two parts.
The first is the Original Homeschool Planner.  It contains planning pages for both the beginner and the experienced.  If you are brand new to homeschooling, I recommend you start here.
The second is the Homeschool Planner Expansion Pack.  It contains more detailed planning pages for an educational overview, curriculum purchasing, daily planners for parent and student, review checklist, and more.  This is a great pack for beginners, too, but I highly recommend trying the Original Homeschool Planner first.
Today I'll share how I organize our school with the Original Homeschool Planner.  Check out the Homeschool Planner Expansion Pack here.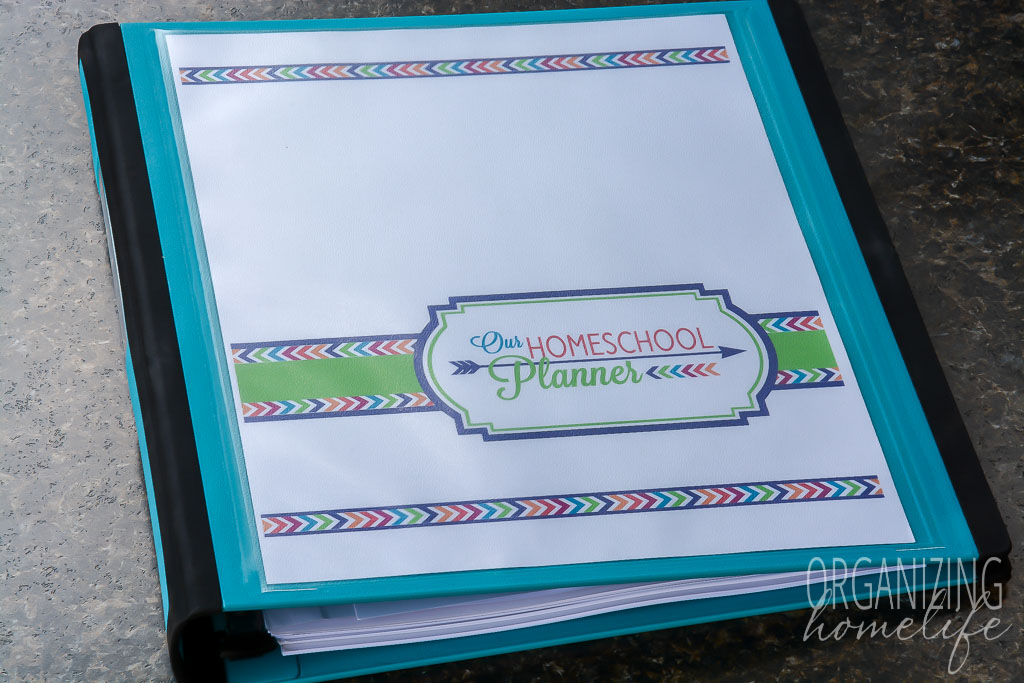 Where to Begin
The most important step in planning anything well is to have an overall plan of what is happening. I break my school planning down into three steps.
Educational overview for each child (will be discussed in more detail in the Expansion Pack post)
Monthly, quarterly, semester, and annual planning of curriculum
Daily and weekly planning of lessons
Step 1 – Your Educational Plan
Making a plan for your child's education is imperative.  In the Expansion Pack post I explain in more detail how I have an overall educational plan for each child, but here I will say that having an annual plan is very important, too.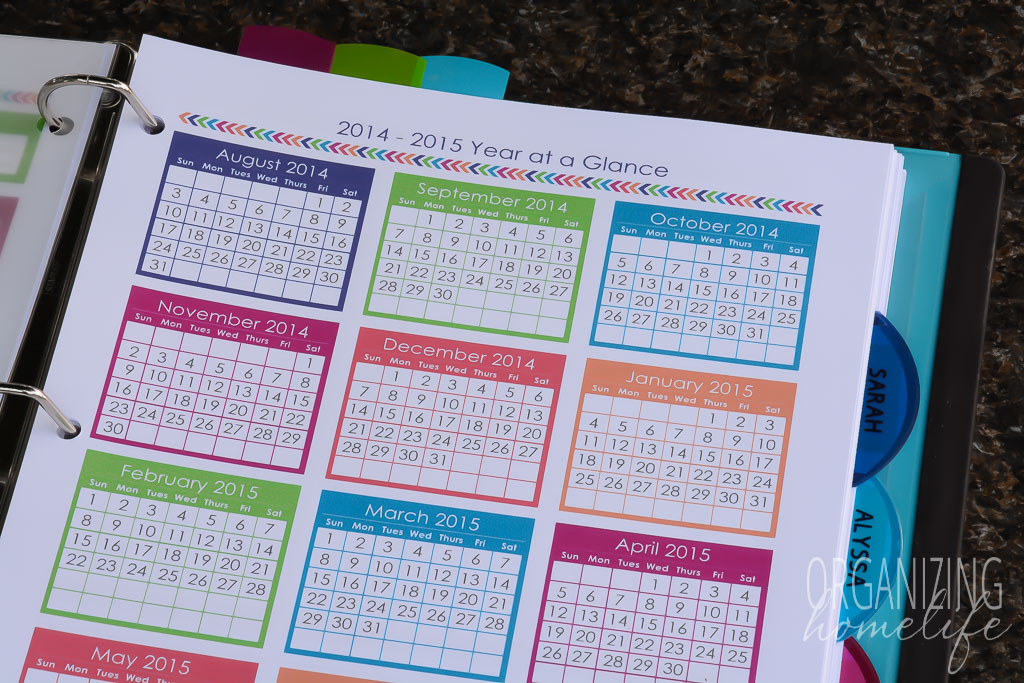 One of the first steps in planning your year is to decide how many days you will teach and planning in breaks for holidays, etc. Some families work throughout the year while others stick to a more "traditional" 180 days.  Some states have rigid requirements while others have none.  For the most part, we lean towards the 180 day schedule.
I use the Annual Attendance Record to keep track of our school days.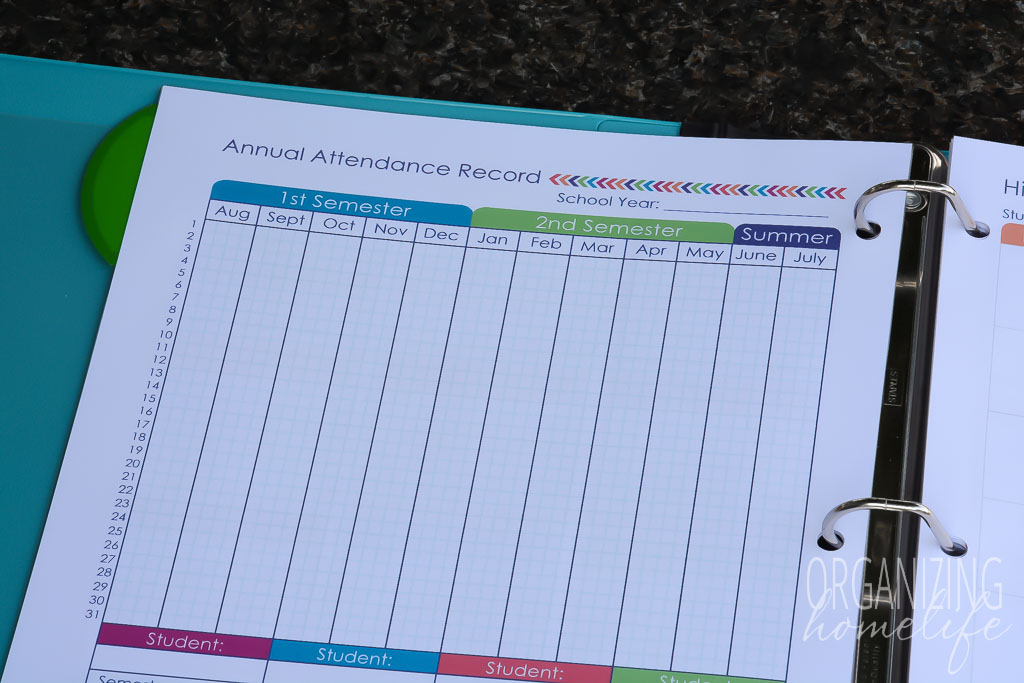 Start by crossing off weekends, holidays, and other days that you will not have school.  Then mark each student's attendance with either their initial or a check mark.
There are two attendance record styles in the Original Homeschool Planner – one has space to log attendance for four children (or multiples of four), and the other has space for 3 children (or multiples of three).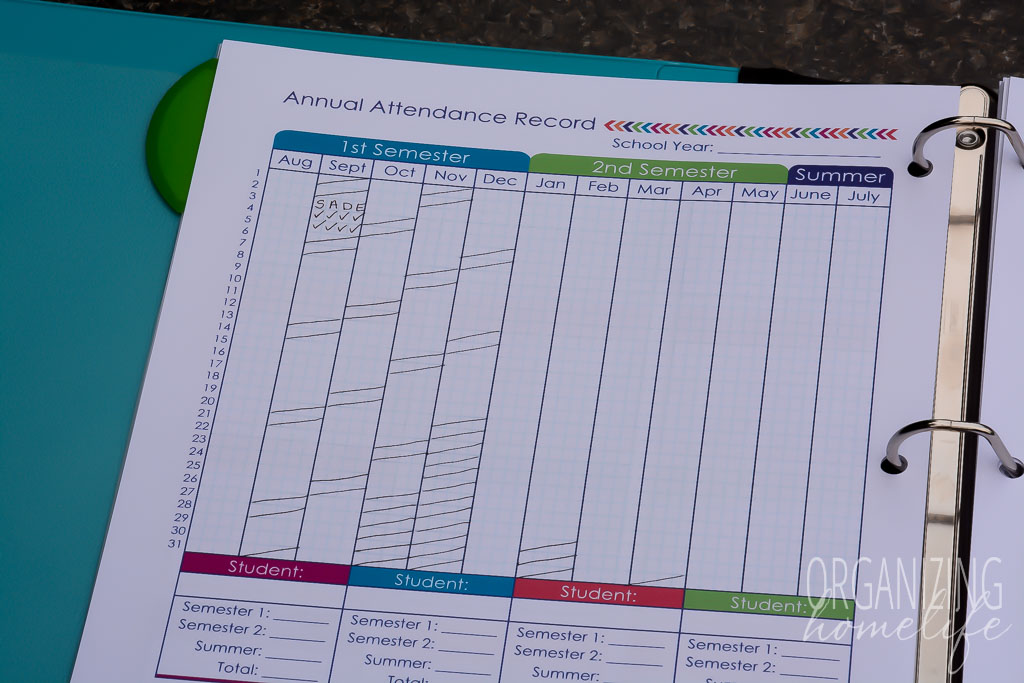 Step 2 – Monthly / Quarterly Curriculum Planning
After planning which days you will have lessons, it's time to move on to the 6 Week Planner. This can be a time consuming step, but one that is very worth it. Don't make it too detailed though, this is where you write out your general plan for six week spans.  To follow a 180 day year schedule, you will need to plan with the six week planner six times during the year.
In my earlier days of homeschooling I used to plan out the entire year before school started. Failure. Miserable failure. Life happens, and I found it next to impossible to stick to a rigid plan. Just when you think everything is running smoothly, someone comes down with the flu and your plans are scrapped. Instead of cramming extra schoolwork down your kids' throats just for the sake of sticking with your original plan, you might try planning in smaller chunks. When planning out six weeks at a time, you will be able to see which lessons can be dropped, adjusted, or doubled up, if necessary, as opposed to finding yourself way off schedule half way through the year and feeling like a failure.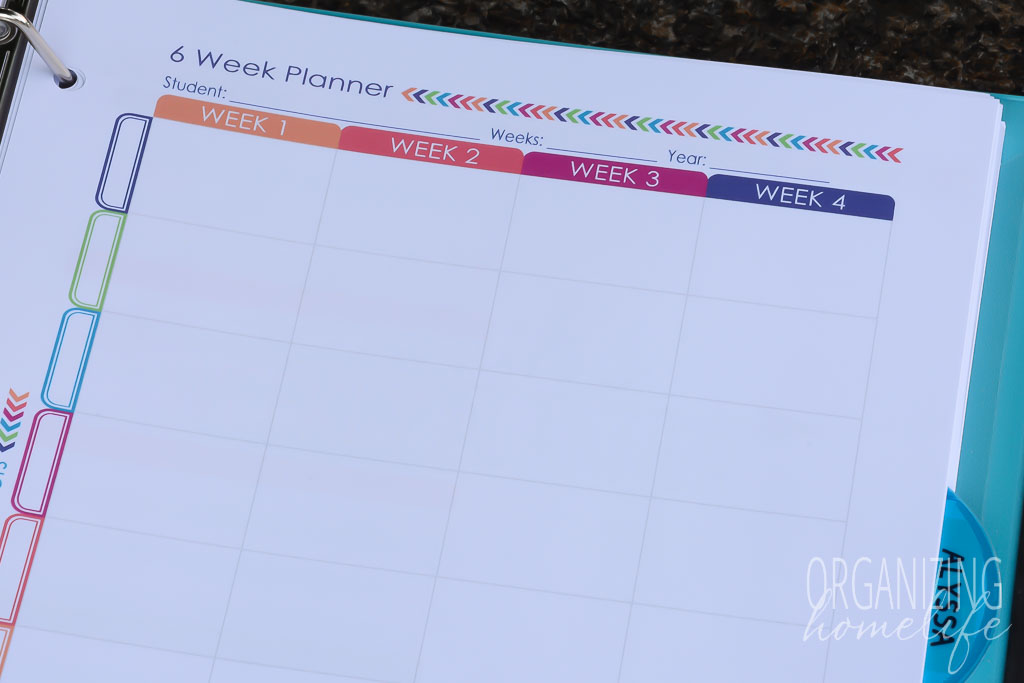 There are two pages in this section which include an area to jot down goals and projects for those six weeks.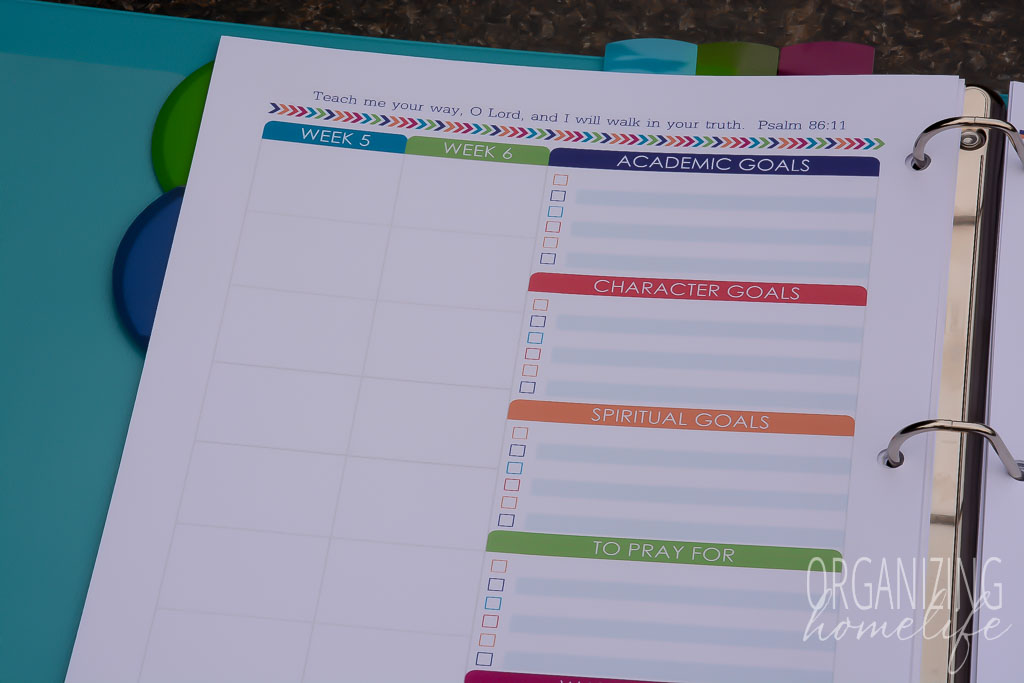 Step 3 – Daily and Weekly Lesson Plans
Once you have tackled the 6 Week Planner, it's time to move on to the Weekly Planner. I like to spend time each week using my 6 week planner as a guide to fill in our weekly schedule.  It's pretty simple to fill it in when you know your big picture plan from the 6 week planner.  This is where you'll add more details (like lesson page numbers or specific assignments).
There are two options for the Weekly Planners. The first is a One Page Per Week option. If you want to save paper and ink, you may prefer this option.  You could also laminate this page and use wet-erase markers to fill in the details so it can be wiped clean and reused.
The second is a Two Page Per Week Option. This is the one I use. It does use a lot of paper (18 pages double-sided for 36 weeks, per child), but it's worth it to me.  Or, again, you could laminate it and reuse it.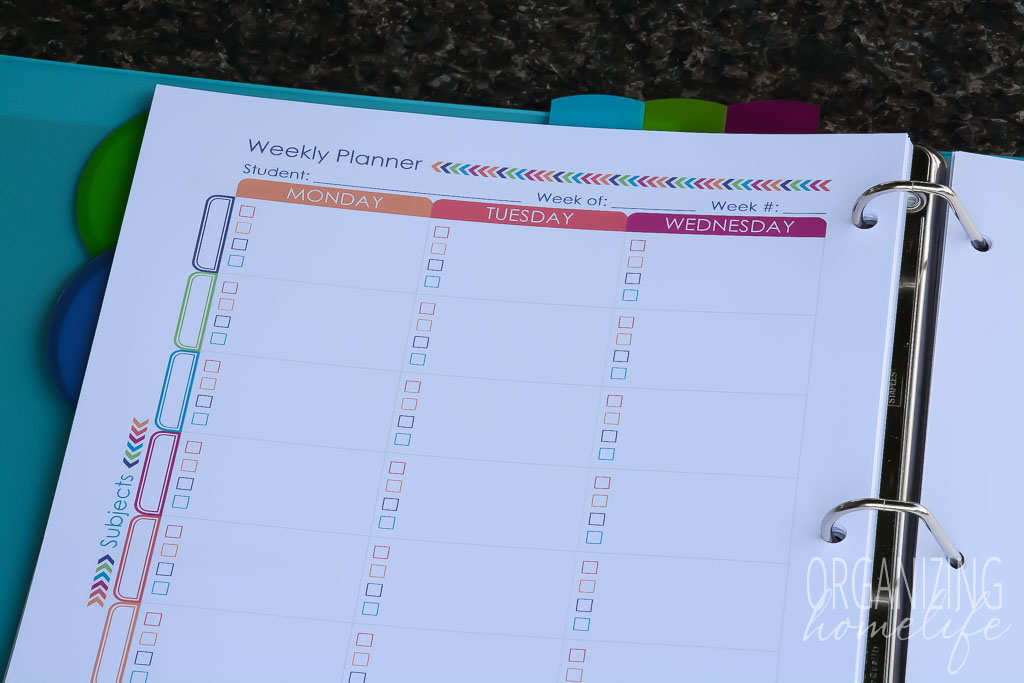 I use the planner in my binder to manage my younger kids' schoolwork. My middle and high schoolers are able to keep track of their assignments, so I put the two pages per week planners in their own binders.
See the extra planning pages in the Homeschool Planner Expansion Pack here.