Welcome to Day 14 of my month long series "How to Organize Your Kitchen Frugally in 31 Days".  Every day during the month of October I will be sharing an organized space in my kitchen with you.  My goal is to inspire you and give you ideas on how you can organize your kitchen.
If you missed it, you may want to read why I'm embracing my outdated kitchen.  It might give you a little perspective on why the pictures of my kitchen organization won't be "magazine worthy", but helpful for real life organization.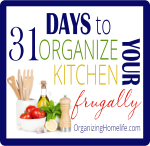 Today I'm showing you how I organize cookie sheets, baking pans, regular and mini sized muffin pans, and stoneware.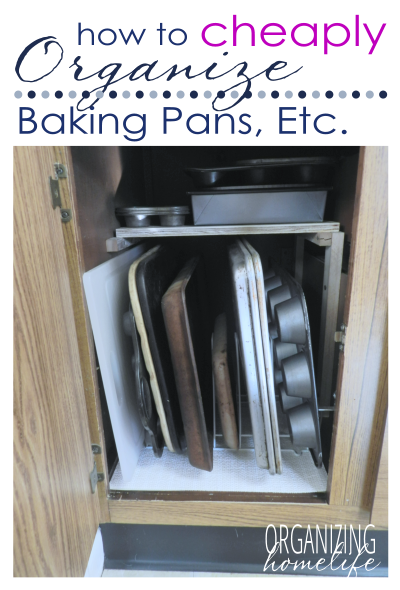 I used to keep my cookie sheets and stoneware in the drawer under my oven.  But it was always a pain to unstack them every time I needed a pan.
Since that drawer isn't very deep, I had to keep my bakeware and muffin pans in the back of another cupboard which wasn't ideal.  I wanted to keep them all in one place near my oven (in my Cooking Zone).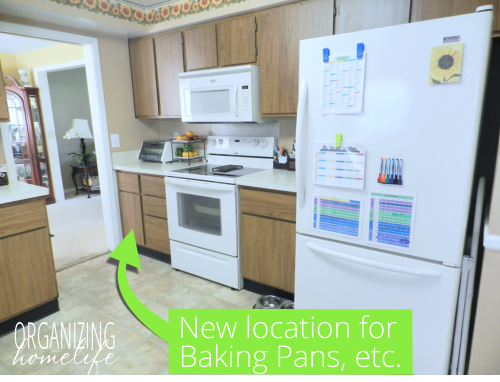 Then one day I had an idea.  I realized that the small cupboard next to my dining room door was a forgotten place.  I was using it to store large pots and few things I clearly didn't use very often.  After cleaning it out and doing a little rearranging, I came up with a solution that works great!
****Note: Part of this solution may not work for you, especially if you have beautiful new cupboards.  I don't, so I wasn't too worried about "ruining" them if my plan didn't work.  My goal in sharing this is to give you ideas that might work for you.
The first thing to do when organizing a space is to purge what you don't need.  I moved my crockpot out of the drawer next to my oven and away from my cooking zone since it doesn't have to be used right by the oven.  Then, I put my large pots in the drawer. Voila!  Empty cupboard, ready for organization.
I found this cookie sheet organizer at a thrift store for about $1 and it fits perfectly in this narrow cupboard.  You can find a similar organizer here (affiliate link).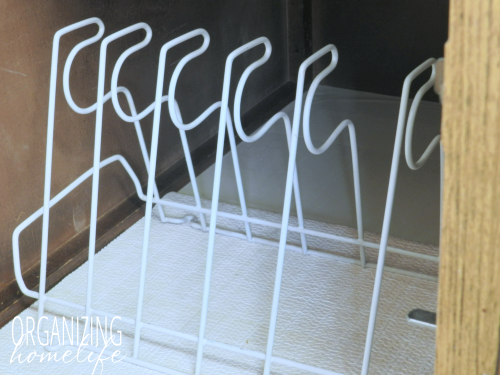 Here is the part that may or may not work for you.  I wanted to store my baking pans on their sides in this "new" organizer, but the existing shelf in this cupboard was too low.  Instead of cutting the shelf, I decided to put it in our garage just in case I didn't like the idea after living with it for a while.  I guess it's time to get rid of it, because it's been working wonderfully for months now.  I wish I had done this sooner!
I asked my hubby to cut a "shelf" for me out of plywood.  It's not the prettiest sight, but it's hidden away in that small cupboard, so no one ever sees it but me.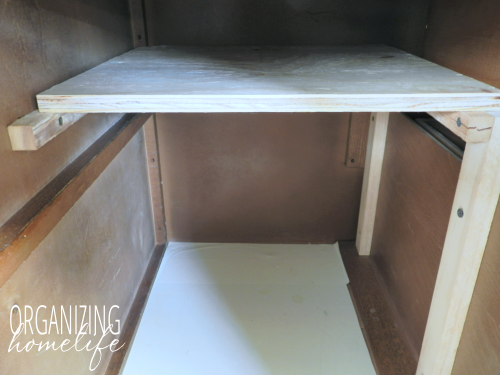 I didn't want the shelf to come all the way to the front of the cupboard so it would be easier to slide my baking pans in an out more easily.  We used some scrap wood to make the shelf supports and screwed those into the existing cabinet.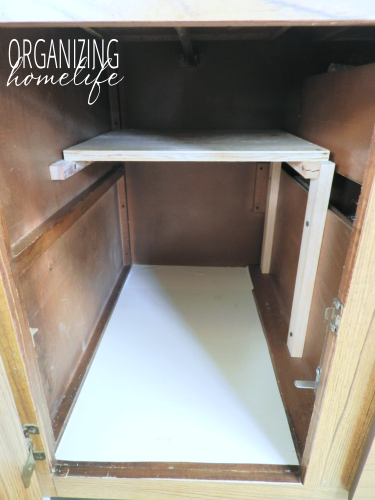 When we made the shelf, I deliberately planned on it being shallow, but still deep enough to hold my muffin tins and 9 x 13 metal pans.  These are not pans I use every day, but they are SO easy to get to now when I need them!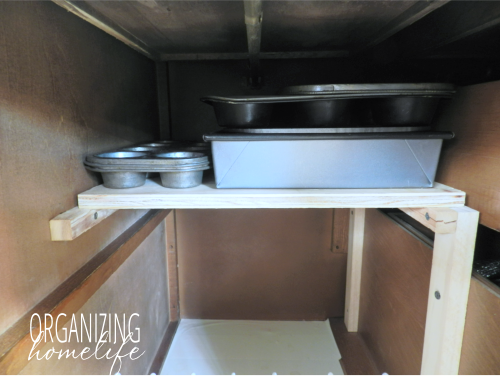 I didn't want to screw the organizer into the floor of my cupboard, so I just set it near the front.  It's been working great.  The weight of all the pans holds it in place even if I'm taking one out.  I also discovered a neat little place to store my ginormous cutting board that I use once in a while.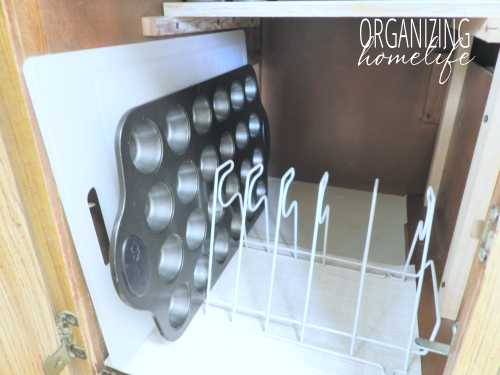 If you own stoneware, you'll understand why my pans look so "dirty".  They're not dirty – just seasoned (a.k.a. loved).  😉  It's also a very good idea to store stoneware on its side to prevent cracking since it is so heavy.
Now I have a super functional, easy to access storage cupboard for my baking pans.  And the best part is – the whole project was nearly free!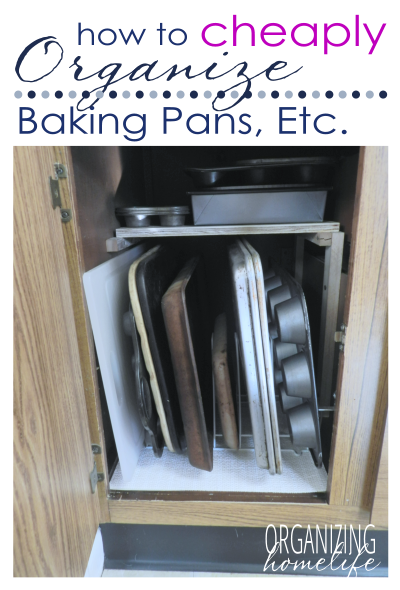 Tomorrow I'll show you what I did to store my large stand up mixer.