This is the fourth post in a four day series on: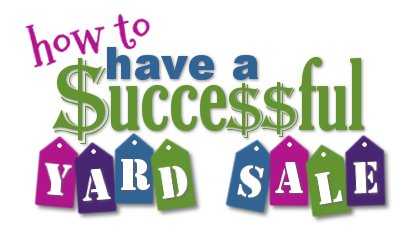 If you missed the previous posts in this series, you can see Where to Begin & Planning Your Sale here and Making Great Signs & Advertising Tips here and Organizing Your Sale & Other Tips here.
Having a successful yard sale is not only measured by the money you make.  Involving your kids and making it a fun event are part of what makes it worth all the work.
Make It Fun!
Do you have friends or relatives that need a little clean-out, but don't want to have a sale themselves?  My friend's kids decided to ask people they knew if they would like to donate items for the kids to sell at the sale.  I was SHOCKED at how much stuff was donated and how much money they earned!  Just one of the kids earned over $60 (the others made out very well too)!!  It made it extra fun for the kids and really helped them get involved in the sale.  And I'm sure that the people who donated were happy to part with some junk stuff and let the kids have the profit!
When you have a multi-family sale, you have many mouths to feed at meal times!  We make it fun by planning easy meals that kids enjoy.
One day we had hot dogs (from our crockpot! 🙂 ), baked beans and watermelon (that we had pre-cut in the fridge).
The other day we had "walking tacos".  Have you heard of them?  It is simply all the tacos ingredients you normally use: meat, cheese, refried beans, tomatoes, salsa, lettuce, sour cream, etc.  Then just crunch up some tortilla chips and mix it up in individual plastic baggies.  Each kid gets to make their own, and they simply eat it with a spoon.  There is very little cleanup and the kids (and grownups 😉 ) LOVE it!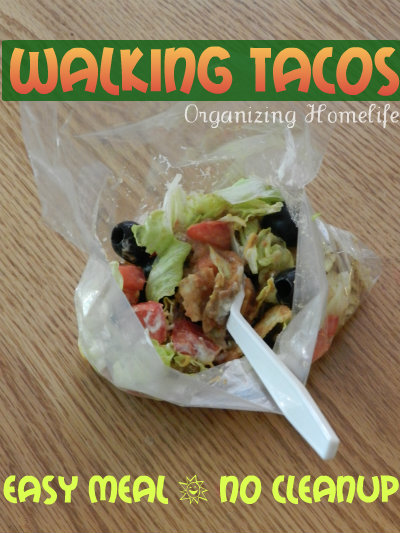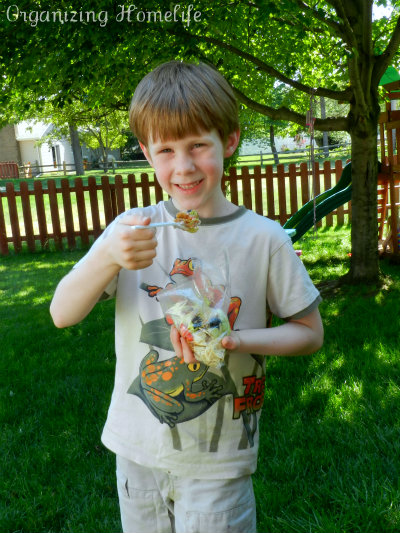 Plan a "down time" video.  Take my advice here – kids can only sit at the bake sale table for so long.  Although we normally plan "shifts" for the kids to give each of them a chance to be involved, it still gets long for little ones to sit.  At different times during the sale, we allow them to watch a video all together.  They love the cooling off time and are totally refreshed after just a little while.
Get the Kids Involved!
My kids love our annual yard sale. When they were younger, getting them to part with some of their toys, even ones they hardly played with, was a challenge.  Now that our oldest children are upper elementary aged, they are able to understand the importance of not getting overrun with too many toys.
We as a culture bombard our kids with toys and "stuff" at different times throughout the year, especially Christmas and birthdays.
So, what we do before one of the annual toy bombardments is to sort through the toys we already have.  As I mentioned in the first day of this series, I keep a basket in my laundry room (next to the playroom) so I can deposit toys, clothing and other things throughout the year that are not being used.  When the basket fills up, I box it up and move it to the garage for the next yard sale.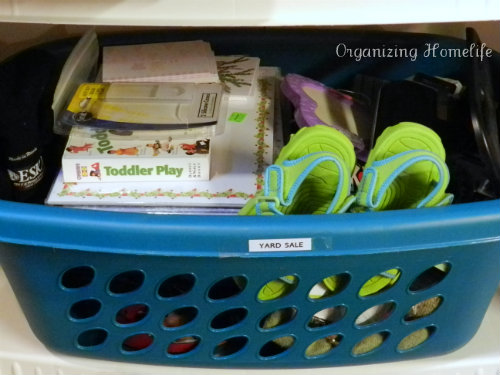 Getting rid of toys we don't use has been a great lesson for our kids.  I have seen them develop over the years, (some slower than others 😉 ) but they are becoming much more willing to part with their toys. Just before the yard sale, we do a final "sort" through all the toys to see if we can part with more.
A treat we all look forward to using some of our earnings on is a trip to our favorite ice cream place (Maggie Moos woot, woot!) after the sale is over.
Another fun way the kids get involved is to:
Plan a Bake Sale
They start planning weeks ahead (yay!) what they want to make.  They usually bring in about $50 or more and they sell almost everything for $.50!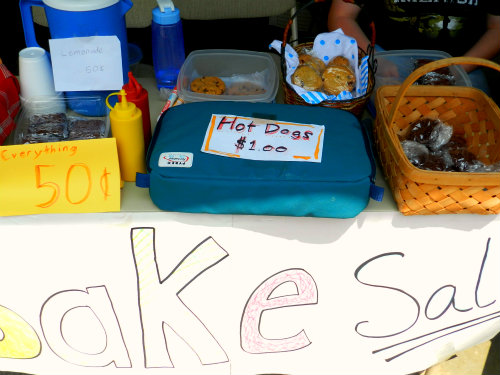 Here are a few tips that have made their bake sales successful:
Wrap snacks individually in plastic wrap.  People don't usually like taking a cookie off of a plate that other people have been touching, or one that has been sitting outside with bugs flying around.  They always sell better individually wrapped.
Note – we have wrapped them individually in fold top plastic baggies in the past.  I have no idea what the difference is, but the baggies tend to accumulate condensation inside the bag when they sit outside in the heat.  Plastic wrap doesn't seem to do that and the snacks look great throughout the sale.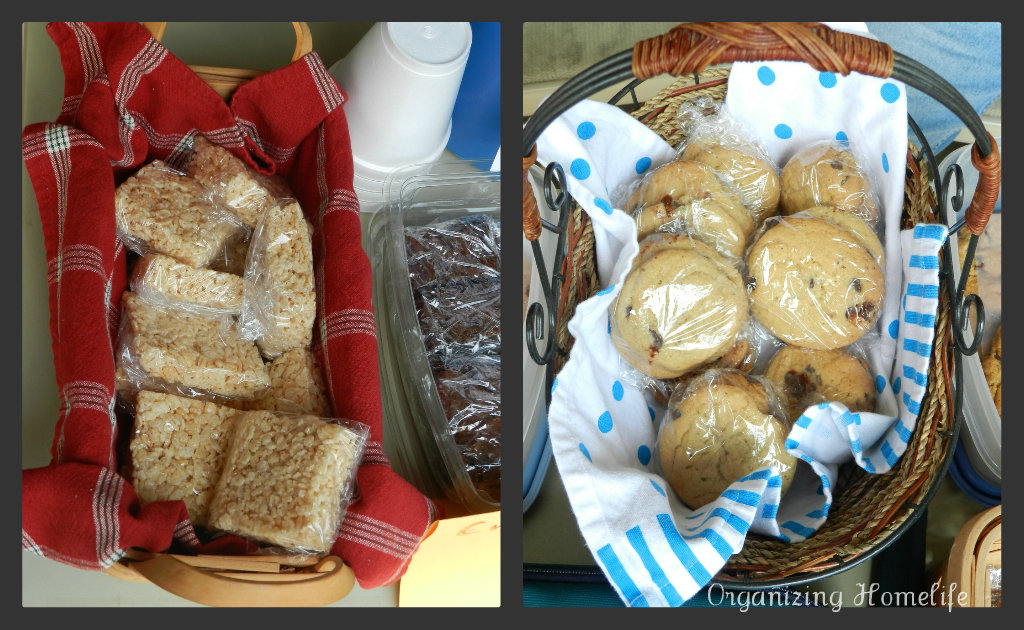 Chocolate Chip Cookies, Brownies, Rice Krispie Treats, and No-Bake Chocolate Cookies have been our best sellers.  This year we added gluten-free peanut butter cookies.  Oh, yes, don't forget the lemonade!
Offer Lunch!
This year the kids tried selling hot dogs for the first time.  On the first day of the sale, we cooked them and put them in the buns, wrapped them individually in foil and put them in my Pyrex carrying tote with the heated pad underneath.  Failure!  We sold 2.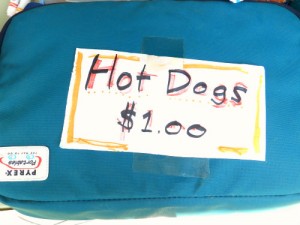 We decided it was a bust and weren't going to try it again the second day, until my friend had a great idea: keep the dogs in a crockpot!
They sold like hot cakes!  They were fresh and hot in a soft bun – just the way people like them.  And they were a big money maker for the kids at $1 per hot dog.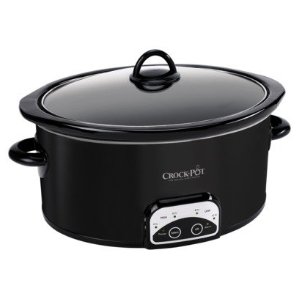 The kids had fun making their "bake sale" signs and learning about money.  We make them buy their supplies so they learn a little bit about profit margin and business planning. 😀
**UPDATE**
I recommend that anyone planning to sell food should check with their local health department first.    It has come to my attention that there may be regulations for bake sales in certain areas.  My local health department told me that it was totally fine, but having a "homemade" sign would be a good idea.  I specifically clarified that we would be selling hot dogs and was told there was no problem with that. 
What have you done with your kiddos to keep them involved?  Do you have any ideas that have worked well for you?  I would love to hear about them!
Day 1: Where to Begin & Planning Your Sale
Day 2: Making Great Signs & Advertising Tips
Day 3: Organizing Your Sale & Other Tips