This is the second post in a four day series on: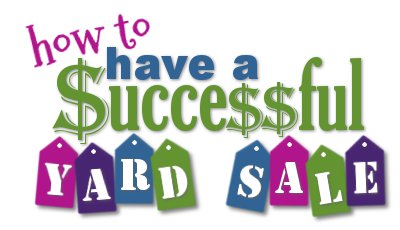 You've heard of "location, location, location" in real estate, right?  Let me tell you "advertise, advertise, advertise" is what you need to do well if you want to have a great yard sale.
Think about it: how can people come buy your stuff if they don't know you're selling it?
One of the most common mistakes people make when planning a yard sale is not advertising well.  It takes so much time and effort to prepare for a yard sale that making great signs and advertising are often an afterthought.
However, the one thing you must have if you want to sell your stuff is: buyers!  And how do you get lots of buyers?  Advertise well.
Making Your Signs
I have found that writing the DAY(S) of your sale is just as successful, if not more so, than writing the DATE.  Writing the date limits your signs to one sale, eliminates the possibility of using them again for a rain date, and just puts too many numbers on a sign.
This might be a new idea for you too, but I have found it to be very effective to NOT write your address on signs placed on busy streets.
Wait, what?  Did she say don't write your address on the signs?  Yes, I did!  Drivers only have seconds to read a sign on a busy road.  So, you need to communicate the main point and do it well.  What do you want them to know?  That you are having a sale, in that direction, today.  Keep it simple!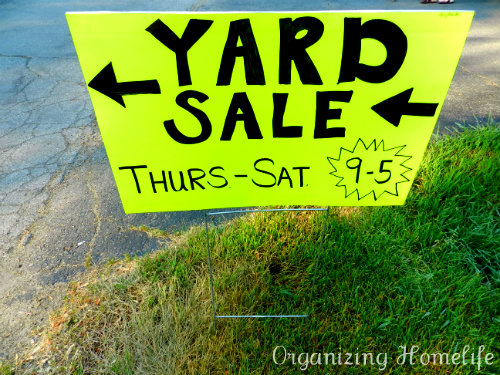 Now that I just told you NOT to write your address on busy street signs, you SHOULD write your street name on side street signs.
Do not expect drivers to remember details like your house number.  Unless you are having your sale in a hidden garage, or in a back yard, they should not need your house number because if they follow your signs (with large arrows), they will SEE your yard sale when they get to your street.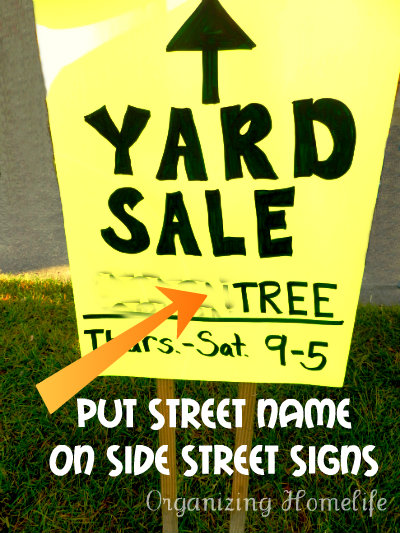 If you don't have metal or wood stakes for your signs, you can easily fill a small narrow box with dirt or sand (to keep it weighted), or two paper box lids taped together.  Since it sits on the ground and may not be as visible as a sign on a stake, you might want to tape some balloons to your boxed signs.
By the way, the "stakes" I use are repurposed mini plant trellises (came with the clematis), and an old political sign.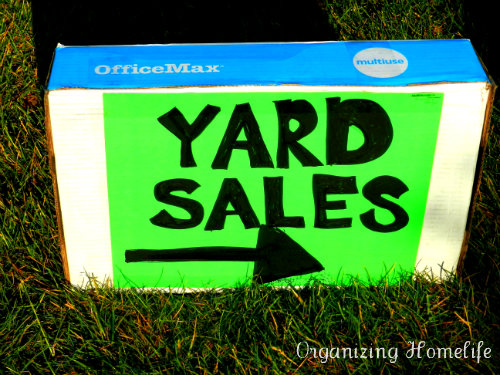 I should mention that if you live in a rural area, or way off the beaten track, you may want to ask a friend or relative if you can "borrow" their yard.  Advertising well is wonderful, but I don't know anybody that wants to follow signs for 15 miles.  Location makes a difference, too!
**Tip**
Put a sign at the end of your driveway if the sale is in your garage.  Make sure people know where your sale is!
Making Sign Set-Up Simple
I like to print out a map of the streets surrounding my home.
Having a visual reference makes it a no-brainer when creating your signs.  You can easily see how many signs you need, which direction your arrows should face, and how much information each sign needs (busy street or side street).
After I have made the signs, I write the cross street location of the sign in very small lettering on the top right corner of the sign (i.e. Lake Ave. & Providence Dr.).  This makes it super simple for my hubby to put the signs in the right locations before the sale. (You can also number the signs and their respective locations on your map if it helps).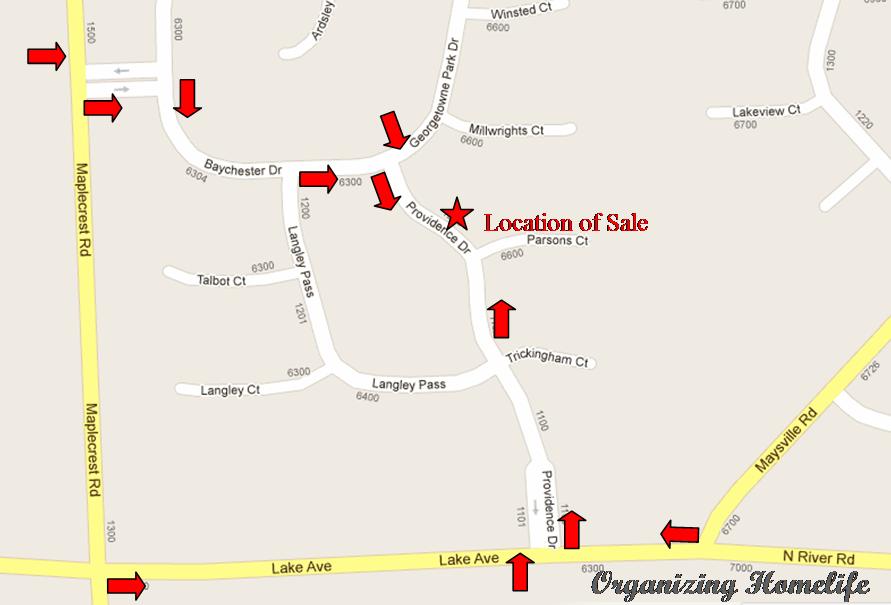 Advertising
Is it worth it?  You bet!  A great thing is happening in the newspaper world – many people look up yard sales online and some newspapers now offer the listings for FREE!  I always have a lot of people come to the sale because they saw it in the paper (or online).
Tips for Writing Your Ad:
DON'T:
1.  Don't list everything you have for sale in the newspaper (it gets really $$$$!)
2.  Don't say "too much to mention"
If you don't mention something, they won't bother trying to figure out what your idea of 'too much' is.
3.  Don't say "30+ years of stuff"
Unless you're looking to attract a very small audience of collectors of vintage items, don't market it that way.  Let them know you've got great stuff and why they need it.
4.  Don't waste space and money advertising directions
These days almost anyone can use GPS or Google maps.
DEFINITELY DO:
1.  Spend the money to advertise in your local newspaper.
Ads that are printed in the newspaper are also listed in the paper's online classified section (reaching a larger audience).
2.  Use Craigslist – it's free, super easy to place an ad (you can even add pictures), and lots of people check it.  Also, there is no limit to the space, so THIS would be the place to list lots of things you are selling.
3.  Use catchy keywords or phrases like mother of all sales; 20+ family neighborhood sale; colossal multi-family sale
4.  List a few highly popular categories
(like baby gear, bikes, kids clothing (with sizes like: 24 mos – 6x), sporting equipment, antiques, furniture)
5.  List high end items or popular brands
(like Pottery Barn, Gymboree, Pandora jewelry, Keurig coffee maker, etc.)
6.  List the day(s), time and your address
7.  Find out ahead of time what the deadlines are for getting your ad published.  Don't wait until the day before and find out it's too late to advertise!
8.  Look up other yard sales in your area and see what other people are doing to catch YOUR attention!
Do you have other tips on advertising a yard sale?  I'd love to hear what has worked well for you!
If you missed the first post in this series, Where to Begin and Planning Your Sale, you can read it here.
Day 3 ~ Organizing Your Sale & Other Tips for Earning Money
Day 4 ~ Getting Kids Involved and Making it Fun!