Way back when Pinterest was new, I saw an idea that I knew was going to be a great one. It comes from Real Simple and it is just that – REALLY simple!  I tried it and it instantly became one of my most favorite food prep tips ever!  It makes cutting corn from the cob mess free and oh. so. easy.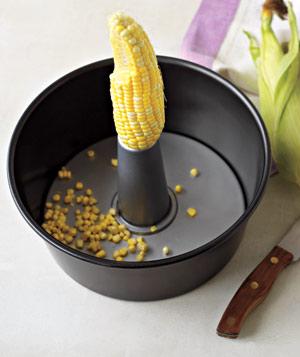 We love corn on the cob in my house, and wait all year for that super sweet and delicious corn fresh from the farm.
A number of years ago, before Googling everything was commonplace, I decided to buy tons dozens of ears of corn in hopes of freezing it to last the whole winter.  Epic fail.  What I didn't know at the time was that veggies should be blanched before freezing.
It was the worst corn.  Ever.
I threw it out and cringed when I thought about how much I spent in money and time cutting all those kernels off the cobs.
So one day last summer after seeing that awesome pin, an idea dawned on me…
Blanching is simply dipping a fruit or veggie in boiling water for a few minutes and then plunging it into ice water to stop the cooking.
Corn on the Cob is fully cooked in about 3-5 minutes anyway, so I thought of a super simple way we could have summer sweet corn all winter ~ without having to shuck dozens of ears of corn at a time and slave over pots of boiling water for hours.
Now if spending hours or days preparing freezer or canned foods for winter months is your thing, you'll probably think I'm pretty lazy.  It's not my thing.  I'm all about quick and easy.
Here is what I do:
Whenever I buy corn for dinner during summer months, I buy double the amount of ears we will actually eat.
1.  Shuck and cook all the ears.
2.  Eat half of your delicious corn for dinner and set the remaining corn on a plate to cool while you're eating.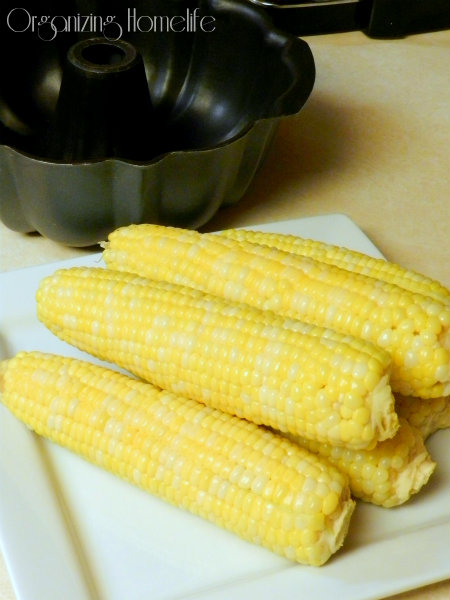 3.  After dinner, pull out your Bundt pan and cut the corn off the remaining ears.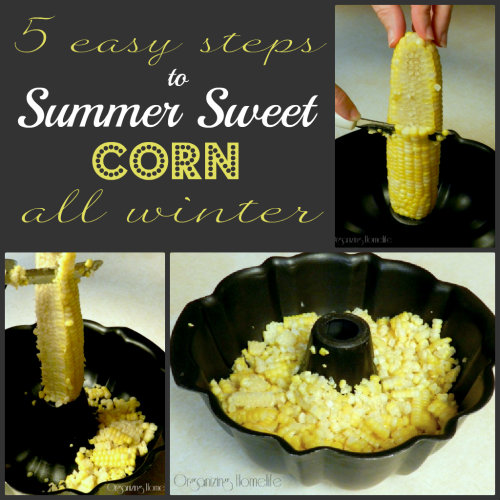 4.  Put the cut corn into a freezer container.  IMPORTANT: Let the corn fully cool before freezing to avoid freezer burn.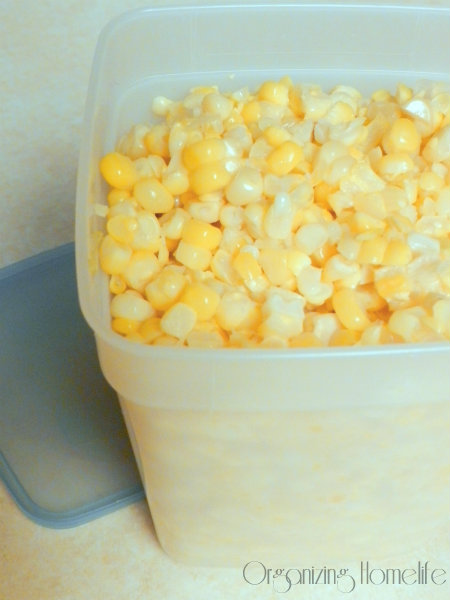 5.  Label your container and pop it in the freezer.  Done!  I label my leftovers with a dry erase crayon.  To learn about this fabulous tip, check it out here.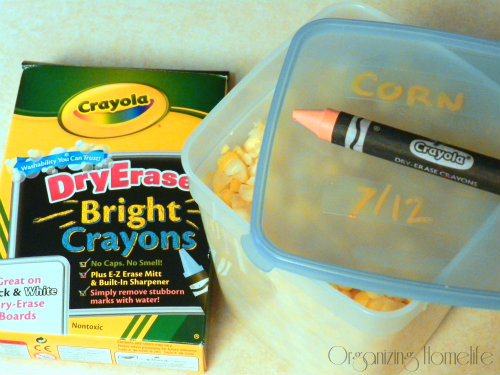 It takes less than five minutes to cut the corn and put it in a freezer container.
Here is one of my favorite parts about this: I already know that the amount of corn being frozen is equal to what our family will eat for one meal! It makes meal planning so simple.
Obviously I could cook more if I really wanted to stock up.  But, doing it this way hardly adds any extra time or effort and gives us summer sweet corn all winter.