Welcome to Day 11 of my month long series "How to Organize Your Kitchen Frugally in 31 Days".  Every day during the month of October I will be sharing an organized space in my kitchen with you.  My goal is to inspire you and give you ideas on how you can organize your kitchen.
If you missed it, you may want to read why I'm embracing my outdated kitchen.  It might give you a little perspective on why the pictures of my kitchen organization won't be "magazine worthy", but helpful for real life organization.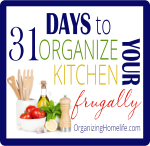 Yesterday I showed you how I organize my cooking utensils separately from my kitchen gadgets.  My kitchen is organized in zones and I try to keep things as close as possible to the location I use them the most.
Occasionally, you will find that it is not possible to keep things right where you use them.  If that is the case, put them in the next best location. I put the gadgets I use for food prep in the drawer right under the counter I use to prepare meals.  Since I only have two drawers in that area of the kitchen, I made the decision to keep the things I use most often in that location.
While I definitely use my measuring cups and spoons frequently, there wasn't space for them in my gadget drawer and they fit better into the baking utensil category anyway.  So, while it's not my ideal location, I do love having all of my baking supplies together in one place.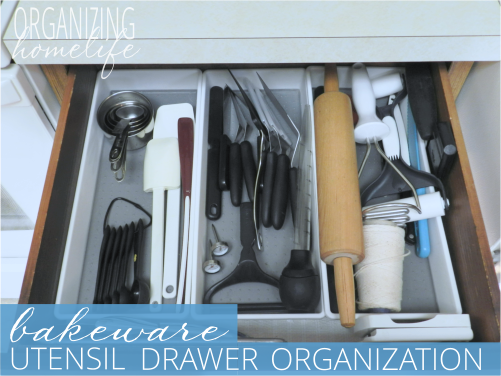 I keep my measuring spoons (and cups) closest to the stove as I use them frequently when cooking with spices.  I also occasionally use my batter spatulas to scrape a bowl when I'm pouring something into a pan, so it is convenient to have them right next to the stove.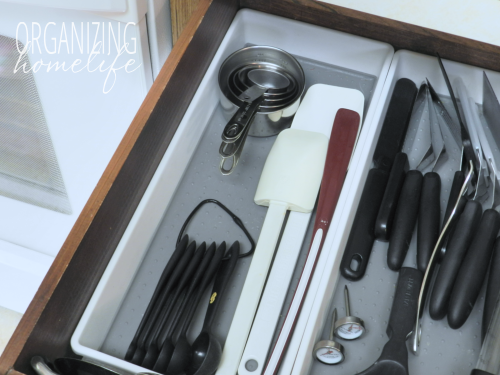 I keep all of my serving spatulas and pie servers together here as well.
Are you wondering why I have several pie servers?  Well, since I have space for them, I like having a few extra for entertaining.  We love pie, especially on Thanksgiving, and it's nice to have more than one spatula to serve all the pies.
Remember, only keep what you like, what you use, and what you have space for.  If you have six cooking spatulas and only use 2, get rid of the extras.  If you only have two drawers in your kitchen, you'll need to choose your very favorite gadgets and utensils and get rid of those that are not essential.  You will LOVE having extra space in your drawers.  It makes meal preparation so much easier.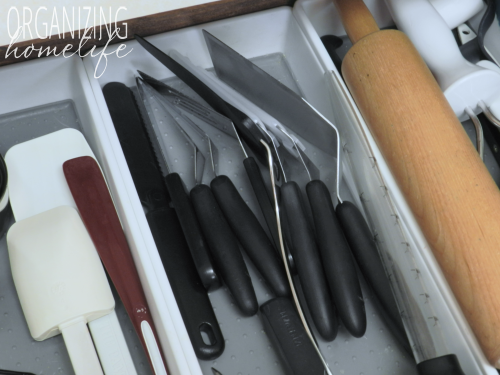 The last "compartment" of this drawer is for my rolling pins and other tools I don't use very often.  I don't want these things clogging up my gadget drawer since I don't use them regularly, but I like having them easily accessible for when I need them.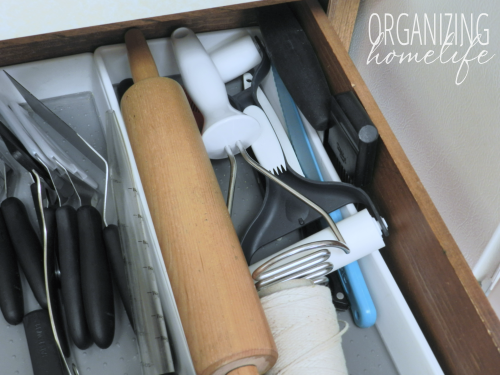 Tomorrow we'll be looking at how I organize the silverware drawer.