Welcome to Day 13 of my month long series "How to Organize Your Kitchen Frugally in 31 Days".  Every day during the month of October I will be sharing an organized space in my kitchen with you.  My goal is to inspire you and give you ideas on how you can organize your kitchen.
If you missed it, you may want to read why I'm embracing my outdated kitchen.  It might give you a little perspective on why the pictures of my kitchen organization won't be "magazine worthy", but helpful for real life organization.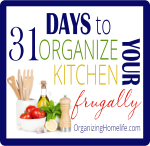 Don't you just hate the names we have for some things – even if they are an accurate description?  I wish we could call the junk drawer the "utility drawer" or something so we didn't give ourselves a free ticket to have a drawer filled with junk.  It is possible to have a "neat" junk drawer!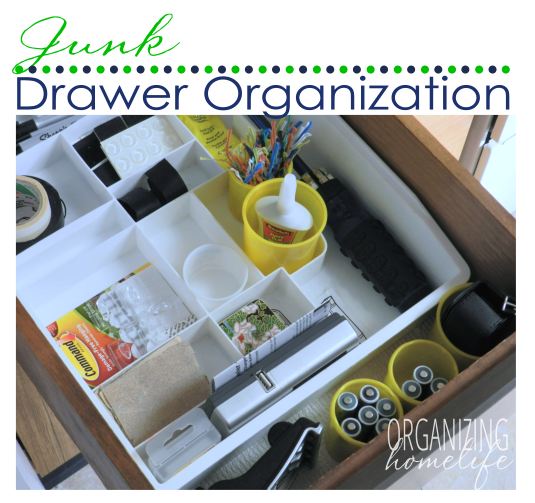 I've mentioned several times during this series that I like to fill drawers with little containers to keep everything from getting mixed together.  The junk drawer is no exception.  I found this great organizing unit, made specifically for junk drawers, at Target, but you can also find it on Amazon here (affiliate link).  I've been using this for several years and I love it.  I have to reorganize it every once in a while, but having all the divided sections keeps it pretty organized most of the time.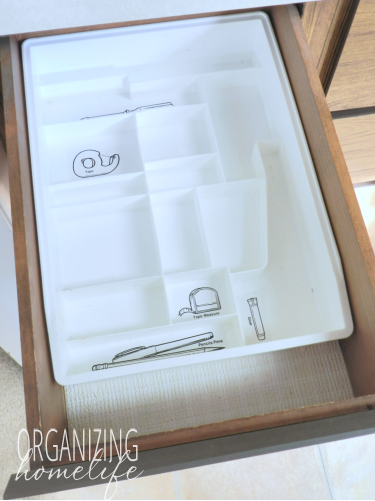 It has a smaller tray that stacks on top and can easily be lifted off when necessary.  It comes with an entire sheet of stickers to help you organize the spaces.  Since I keep different things in mine, only a few of the stickers applied to my situation, but I still love it!
One of the ways I filled the extra space in this drawer was by re-purposing little containers that we otherwise would have tossed in the recycle bin.  I LOVE using old Playdoh containers to store twistie ties and more.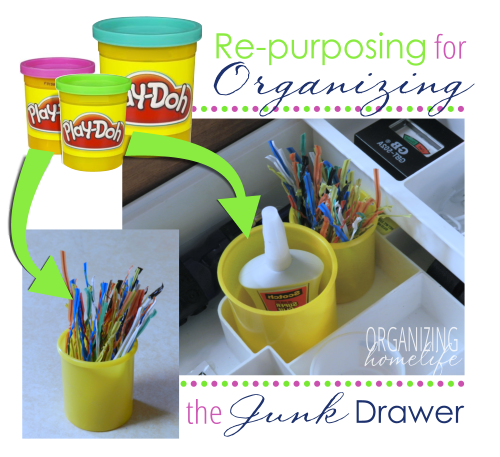 I love keeping super glue in a Playdoh container.  I hate it when I open the junk drawer to use the super glue and find that it has tipped over and glued the lid to itself.  This method always keeps the container upright so the cap never gets glued on.  I love it! It's the little things that make me happy. 🙂
I also keep a few containers in the front of the drawer to store our rechargeable batteries.  There is just enough space to store the charger next to them, too!  Note: I keep the rechargeable batteries separate from our regular batteries so the kids don't accidentally throw them out. 
So, here is what I keep in the lower part of the organizer: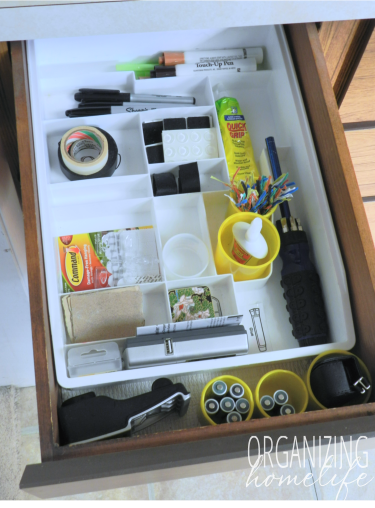 And here is what I keep in the top tray: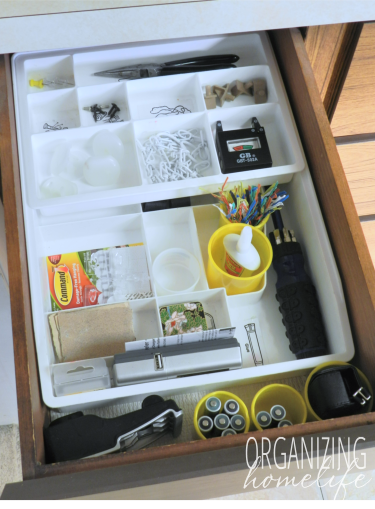 Some of the contents of our drawer include:
My camera charger and extra battery (since I use it almost daily)
Command hooks and stickers
A multi-tipped screwdriver
Needle nosed pliers
Mini screwdrivers (not pictured)
Electric outlet child safety covers (just in case we have visitors with small children)
Extra kitchen shelf supports
Battery tester
Rechargeable batteries & charger
Push pins
Miscellaneous screws and nails
Mini measuring tape
Tape (masking and electrical)
Furniture touch up pens
Sharpie markers
I don't keep bigger tools in this drawer because our kitchen is so close to our garage where we keep all of our tools.
Don't forget to send me pictures of your spaces as you get them organized.  I may feature a few and yours could be one of them. 🙂