Welcome to Day 10 of my month long series "How to Organize Your Kitchen Frugally in 31 Days".  Every day during the month of October I will be sharing an organized space in my kitchen with you.  My goal is to inspire you and give you ideas on how you can organize your kitchen.
If you missed it, you may want to read why I'm embracing my outdated kitchen.  It might give you a little perspective on why the pictures of my kitchen organization won't be "magazine worthy", but helpful for real life organization.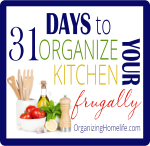 Yesterday I showed you how I organize the gadgets in my kitchen.  Today I'll show you how I organize my cooking utensils.
Today's post is a super simple one because it is a simple concept to grasp: Only keep utensils you use for cooking in the drawer next to your stove.  Don't have a drawer?  Use a crock or other container.
Do not fall into the trap of feeling like all utensils are created equally and deserve to live together in one huge drawer.  Keep like things together and you won't have to dig through a big pile of utensils to find what you're looking for.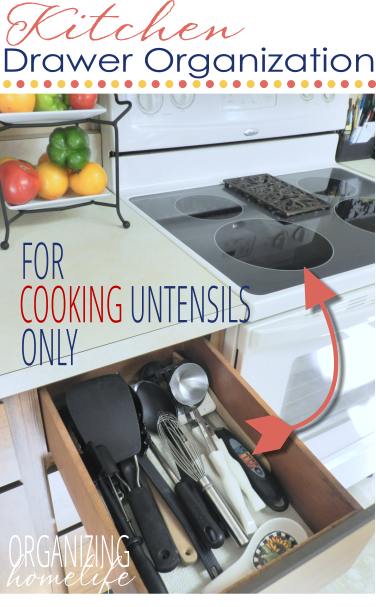 Every single utensil in this drawer is something I use at the stove when I'm cooking.  Serve ware, gadgets, measuring cups, food prep items, etc. are all stored in other drawers.  I have three drawers in my kitchen that are used for cooking utensils, gadgets, and baking/serve ware.  That's it.
Another bonus to this way of storing utensils is it's simple to explain if you have company and they are helping you clean up after a meal.  Simply say, "Any utensil I would use for cooking at the stove belongs in this drawer".
Eliminate items you don't use so your drawers will not be overcrowded.  I'm OCD about some things, but my utensil drawer is not one of them.  I don't care if they are in a pile in the drawer as long as there aren't too many and it remains simple to grab what I need.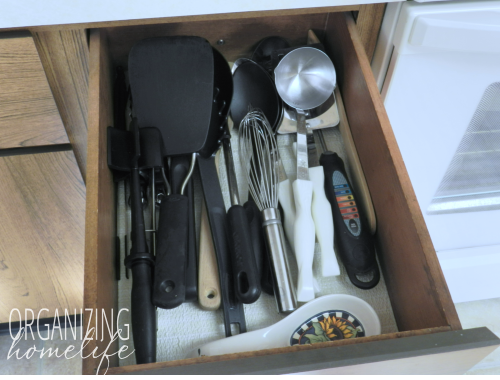 In case you're wondering, I store my pot holders and hot pads in the drawer below this utensil drawer.  They are easy to grab when they are stored next to the stove.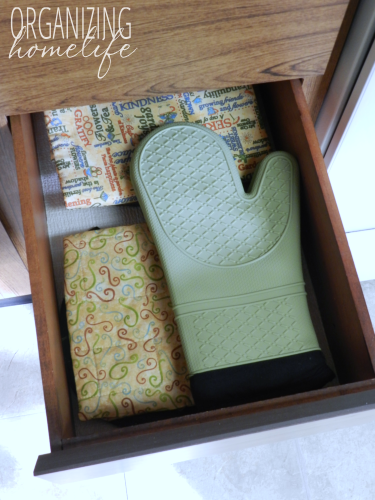 I used to keep my dish towels here for lack of a drawer near my sink, but I solved that issue and now keep dish towels under my sink.
Tomorrow I'll show you the drawer where I keep my baking utensils.