One project I've been meaning to tackle for a long time L.O.N.G. time is my linen closet.  It has been out of control for longer than I care to admit.  But, it has also been about as near to the bottom of the 'To Do' list as you could get until I couldn't stand it any more and finally made the time to clean it out and get it organized!
I'll be sharing my linen closet reveal soon, but today I'm giving you a sneak peak into my out-of-control closet and one of the remedies that solved a huge part of the disorganization and saved tons of wasted space.
Psst…are you wondering why you don't see many 'linens' in the linen closet picture below?  You'll find out in the big reveal!
See those little white trays?  I picked them up at Target a few years ago and I actually really love them.  They have little tabs on the sides so they interlock with each other.  The problem is look how much wasted space is above them!  What was I thinking??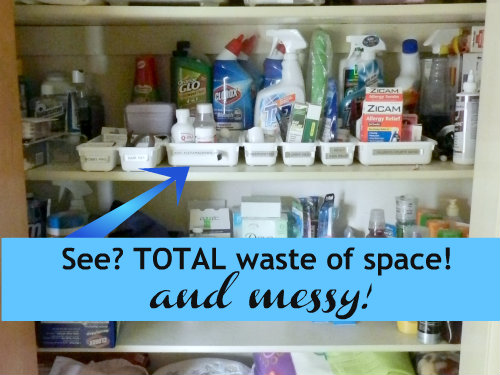 I originally put them in the closet like this to keep the medicines and cleaning products far out of the reach of my toddler.  But, the waste of space has been driving me nuts ever since I did this.
Then one day, as I stood there staring at the closet pondering a solution, it dawned on me…I needed a mini shelving unit to hold those interlocking trays.  Then it hit me!  And, I already had them…
Stackable letter trays!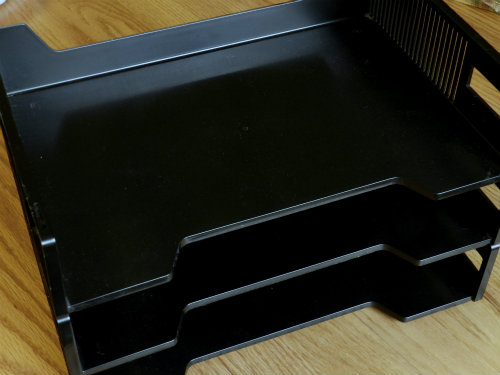 This was a solution so simple and so perfect it was like my favorite little interlocking trays were just MADE for it!  I knew I had a few extras laying around so I grabbed them and tried it.
They fit perfectly!
I even had space for a few more, so I ran over to Target and they still sell the same product even after 5 years!  Woo hoo!!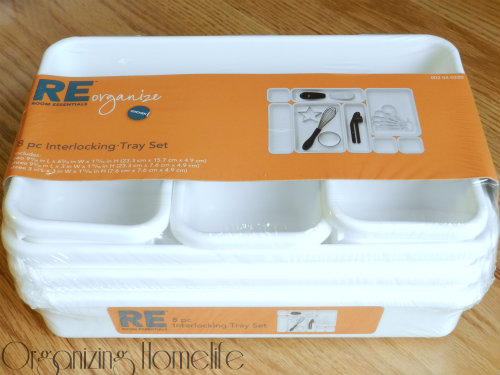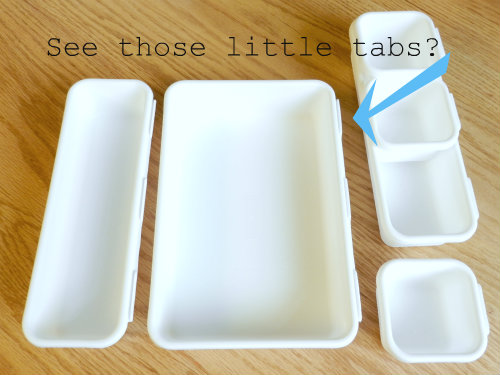 I put the taller meds, like children's liquid medicine, on the top shelf and boxes and smaller bottles on the middle and lower shelves.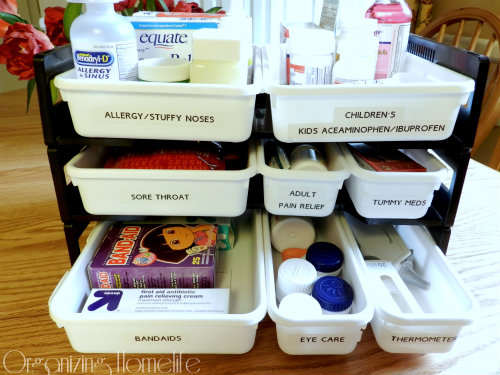 The trays fit absolutely perfectly in the letter trays and are super easy to slide out one at a time, or the whole "shelf" at a time if you have them locked together.
Although I am planning to keep it in my linen closet, I tested it just for fun and it fits wonderfully in a kitchen cabinet, too.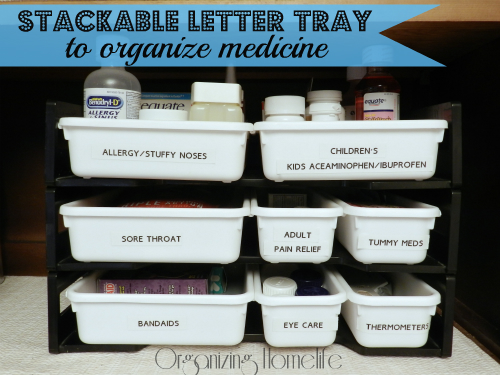 One other benefit is that I can easily store my First Aid Tips under the lower shelf.  They easily slide out if needed (hopefully not!).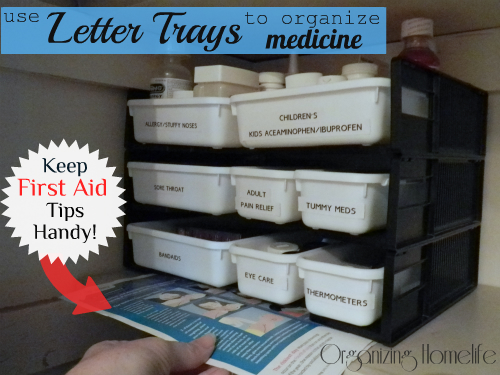 I'll be sharing my totally clean and organized linen closet with you soon, including some other uncommon organizational uses for everyday products!  I would love to have you follow me, so you don't miss the next post!
By the way, did you see how I organize my cleaning sponges with a mini letter sorter?