Welcome to Day 2 of my month long series "How to Organize Your Kitchen Frugally in 31 Days".
Today I'm sharing how I organize the cabinets under my kitchen sink.  If you haven't seen the "big picture" look at my kitchen, you can see it here.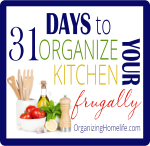 If you missed it, you may want to read why I'm embracing my outdated kitchen.  It might give you a little perspective on why the pictures of my kitchen organization won't be "magazine worthy", but helpful for real life organization.
So let's get started!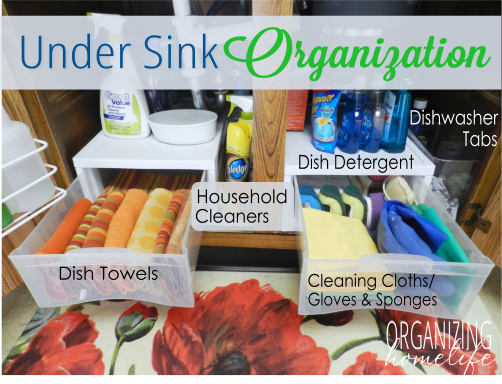 Due to the fact that I don't have a closet to store cleaning supplies, I keep all of the supplies I need for the first floor of my house under the kitchen sink (except for bathroom cleaners, which I keep in the bathrooms).  I highly suggest keeping cleaners where you use them.  This also provides easy access for my kids who help with some household chores like cleaning windows.
The biggest challenge in organizing this space was making the supplies I use fit into the space.  It is rather tight because of the pipes and garbage disposal.
I found these drawer units at Walmart for a few dollars each.  They are an excellent solution for keeping my sponges, cleaning cloths, magic erasers, and gloves organized.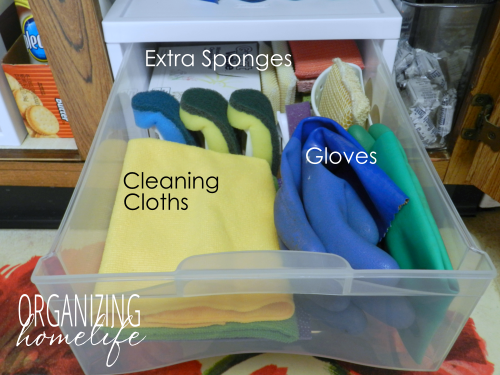 Everything in this space is used either at the sink, or on the first floor.  Since I don't have any drawers near my sink that would work for linens, I keep the dish towels under the sink in one of these drawer units since I use the towels at the sink.
One of the best ways to maximize the effectiveness of any storage area is to use containers to fill the space.  First, clear the clutter.  Recycle, donate, or pitch the things you don't use.  Do you have extra cleaning supplies hiding in your cupboard that you don't use, but feel bad to get rid of because you spent money on them?  Free yourself!  Let go of things that are not important so you can begin to enjoy your organized, uncluttered space.
Once you have narrowed down your supplies to things you actually use, group your items together to figure out what size and shape containers you will need.  Remember: containers don't have to be expensive!  If you notice in the picture above, my household cleaners are stored in a long narrow cracker box.  If you're creative, you could even paint or mod podge your box to make it look nice. 🙂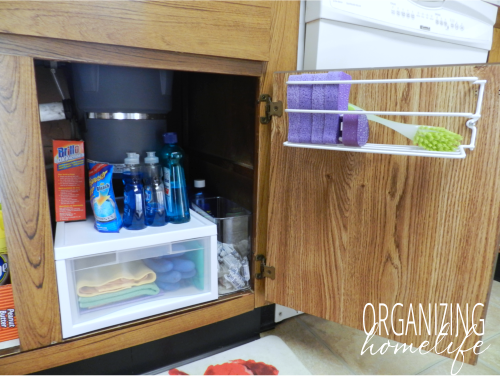 Since the space under the garbage disposal is so tight, I made the best use of the space by using the drawer units and putting racks on the doors.  It is super easy to access what I need without having to unstack things, or try to shuffle through a mess to find what is hiding in the back of the cupboard.  I even take advantage of the space on top of the drawer unit for things I use most often, like dish detergent.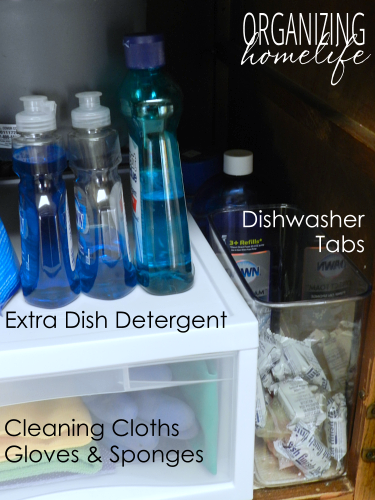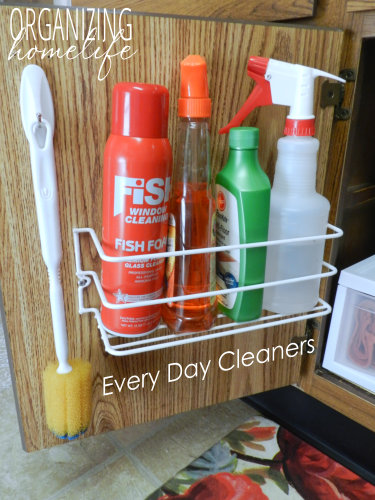 I found these little door racks at The Container Store for a few dollars.  I love these!  They are great for holding my every day cleaning supplies.  Easy access makes for easy clean up!  On the other door, I keep sponges and dishwands that I regularly use.  Note: if you choose to use these racks in combination with the drawer units, make sure that you install them high enough on your door that they don't interfere with the drawer unit when the door is closed.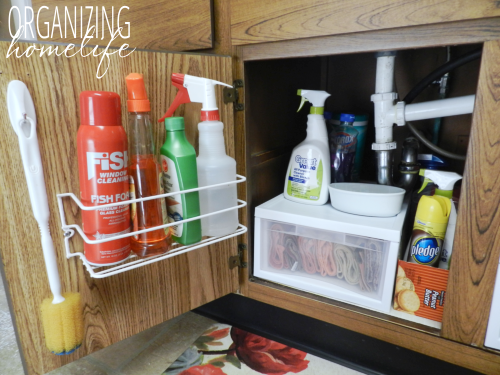 Well, that's it!  I hope you'll join me tomorrow to see how I organize my spices, cooking oils, and more.