Welcome to the beginning of my month long series "How to Organize Your Kitchen Frugally in 31 Days".  Every day during the month of October I will be sharing an organized space in my kitchen with you.  My goal is to inspire you and give you ideas on how you can organize your kitchen.
If you missed it, you may want to read why I'm embracing my outdated kitchen.  It might give you a little perspective on why the pictures of my kitchen organization won't be "magazine worthy", but helpful for real life organization.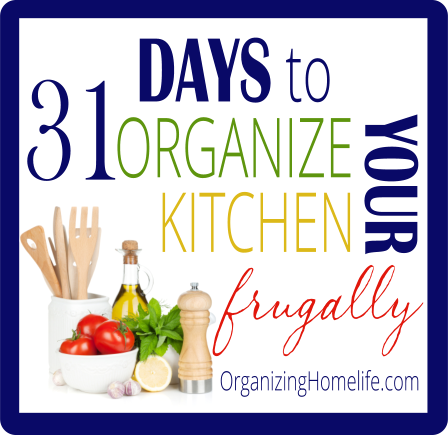 First, so you can understand where things are in my kitchen as we go through the month, I'll share some photos with you.  I thought you might be interested to see what it looked like before we moved in.  We live on a budget, so our "renovations" weren't remarkable, but it's much more livable for a family with four children not to have carpeting in the kitchen!
Here is one of the realtor photos.  And just in case you're wondering, yes, the carpeting was glued to the base of the cabinets.  The only new appliance in the kitchen was the oven.  All of the other appliances promptly died within six months of us moving in, so most of our "renovation" went into new appliances.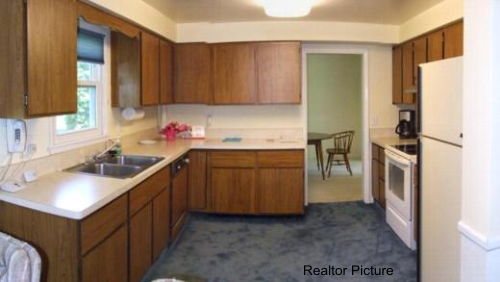 This is a panoramic view including the eating area.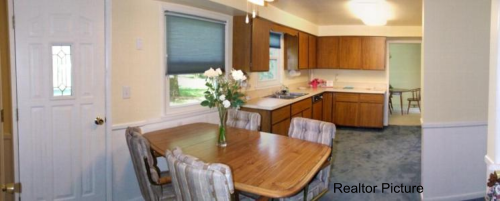 So what did we do to update on a budget?
We started with painting and ripping out the carpet.  We put "peel and stick" linoleum tiles on the floor.  I would not recommend this unless your budget is extremely tight and/or you have four little ones with carpeting in your kitchen LOL.  It hasn't held up well at all (the pictures do it a lot of justice, believe me).  That cost us about $200 which wasn't too bad for the size of the kitchen.  Overall, since our budget was so tight, I would still rather have this flooring than carpet in the kitchen.
And here is what our kitchen looks like now.  It's a great size and much bigger than the kitchen we had in our tiny apartment, so I'm grateful.  Someday we hope to update the cabinets, but for now, I'm happy to have the space.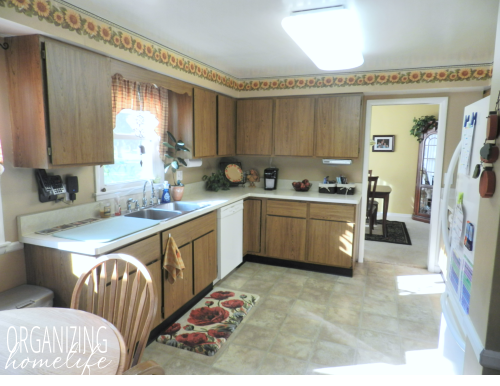 Here is a view that includes the eating area.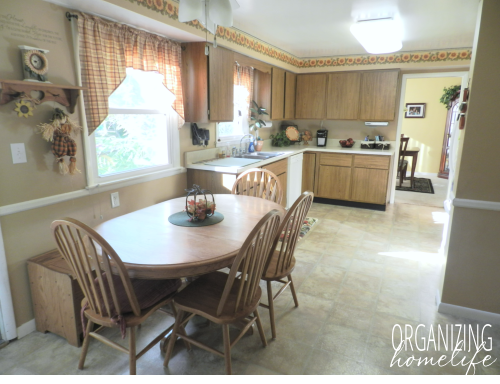 Here is a view from the dining room side of the room.  Meet our dog, Bentley, who decided to photo bomb this picture. 🙂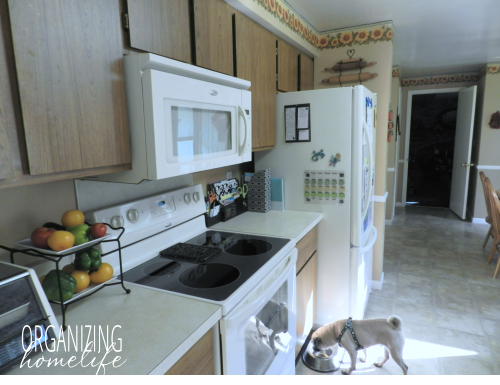 And here is a view of the eating area.  My pantry is right behind the back door.  That is one of my most favorite and appreciated parts of my kitchen.
When we moved in, we didn't own a kitchen table, so we had to buy that, too.  We got a great deal on it, but got an extra great deal on the bench.  I found it at a yard sale for only $20.  It has a hinged lid, so I keep my seasonal linens and tablecloths in it.  It's also great seating for little ones.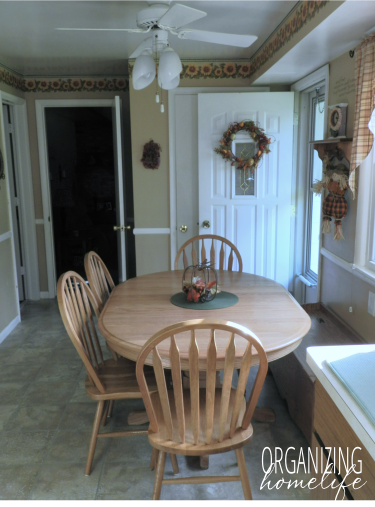 Well, now that you know what my kitchen looks like, are you ready for some organization?  I can't wait to share all the spaces with you this month! But first, there are a few things I want you to know.
1.  When you are trying to organize any space, one of the best ways to start is to remove everything from that space and evaluate if it is the best location for those items.  Clean it out and consider the space you have (not the space you wish you had).
2.  If you find that you aren't using some of the items or there are just too many things: donate, recycle, or pitch them.
3.  If you do use the items regularly, decide whether this location is the best place to store them.  If it is, look at your space carefully.  Pay attention to what you use most often and what you use less often.  The things you most commonly use are the things you want to have easy access to.
4.  Things should be stored near the place where they are used.  Make every effort to do this as it will make things much easier on you.  You will hear me say this over and over throughout the month.  When you evaluate what you have and what you need, and get rid of what you don't, it will be much easier to organize!  Having an organized space that functions well will be the result if you follow these steps.
So lets get this party started!  If you would like to take pictures of your spaces throughout the month, I would love to share some of those before and afters once we wrap up this series.  Don't want to take a before picture?  Don't worry!  I'd still love to see your after pictures of your newly organized spaces.
Tomorrow I'll be sharing how I organize the cupboards under my sink.