Welcome to Day 3 of my month long series "How to Organize Your Kitchen Frugally in 31 Days".  Every day during the month of October I will be sharing an organized space in my kitchen with you.  My goal is to inspire you and give you ideas on how you can organize your kitchen.
If you missed it, you may want to read why I'm embracing my outdated kitchen.  It might give you a little perspective on why the pictures of my kitchen organization won't be "magazine worthy", but helpful for real life organization.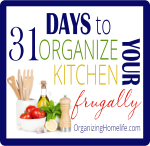 Today we're tackling the spice cabinet!  Are you ready?
One thing you may not know about me is that I love cooking with herbs and spices, so I have a lot.  And yes, I am one of those crazy people who keeps my spices in alphabetical order.  I just think its so much easier to find what you're looking for when you use a lot of spices.
However, there is one problem.  I buy spices of all brands and sizes, so it can be difficult to keep the cabinet organized.  I've seen beautifully organized drawers filled with matching spice containers all over Pinterest, but I just didn't want to shell out the big bucks, nor do I have a drawer that big in my kitchen.  Plus, I like the mini spice containers that the spices come in.  Some spices I hardly ever use, so I don't want a big jar to contain such a little amount.
Although most of my spices were alphabetized on my lazy susan, I had to stack them on top of each other because of the space.  I also had to be careful not to spin it too fast or I would have little spice jars flying out of my cubpoard landing all over the counter.  It just wasn't working and I knew I had to find a better solution.  Here is what it used to look like: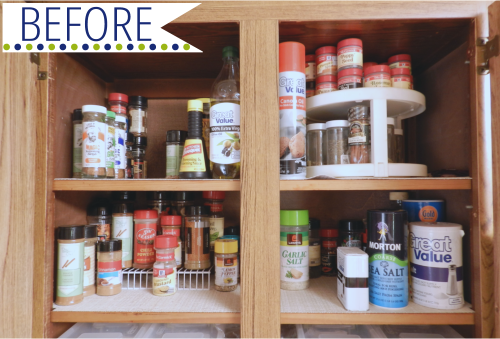 As I mentioned in Day 1 of this series, one of the best ways to organize any space is to remove everything.  Yes, everything.  Look at what you are storing and find what you don't use.  Recycle, donate, or pitch it.  I was actually surprised to find at least three or four jars of cumin in my cupboard!  (Can you tell we like Mexican food? 😉 ) And here I thought it was "mostly" organized to begin with!
The next step is to clean out the cupboard and evaluate your plan for organizing everything you use.  I had been thinking about this project for a while and knew what my plan would be, so I didn't actually clean it out until I found the products I was looking for.
One problem I wanted to solve was to have easy access to my mini spice containers without having to unstack them or spin a lazy susan.  I found this picture on Pinterest and LOVED the idea.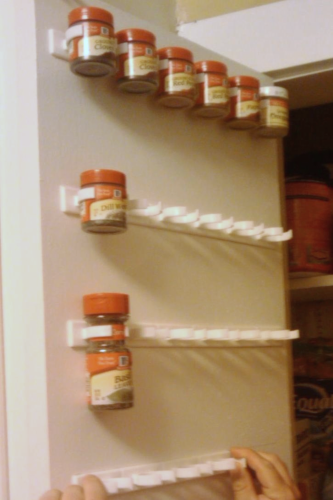 I was so excited about this idea of attaching these spice clips to my cabinet door, so I searched online and found them here on Amazon.  Then I read the reviews. 🙁  Lots of people said they don't stick and keep falling off.  Bummer.
So, I kept searching Pinterest for ideas and looked and looked online for a solution that would be inexpensive and work well.  Let me just tell you – hard. to. find!  I found pull out spice racks, slide out units, drawers, racks, and many, many more ideas, but none in my price range.
But I couldn't get those spice clips out of my head.  I loved the idea.  And that's when it hit me.  I thought of a solution that I was pretty sure would work great!
I started by looking for a a way to make use of the vertical space in my cupboard.  I found this small cookie rack at a garage sale for a quarter.  Whoot!  And thankfully, it turned out to fit perfectly in my cupboard!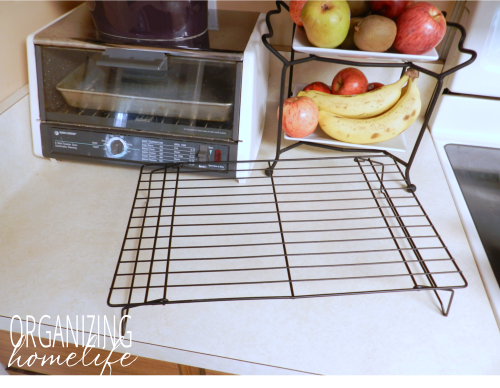 I took all the spices out, cleaned out the cupboard, and put in the cookie rack.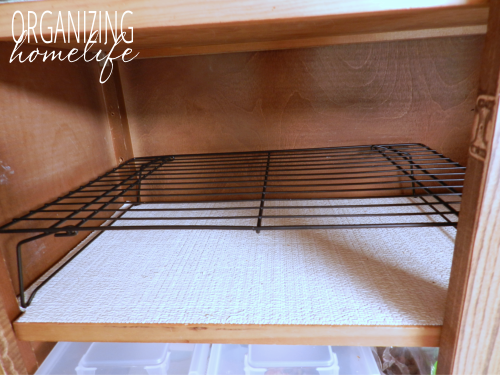 I picked up this medium shelf rack at Bed Bath & Beyond for a few bucks.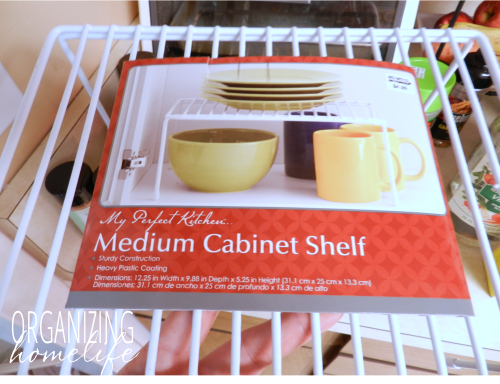 Also at BB&B I found this long, narrow, container to hold my garlic.  It's the perfect size for several cloves and keeps the skins from shedding all over the inside of the cupboard.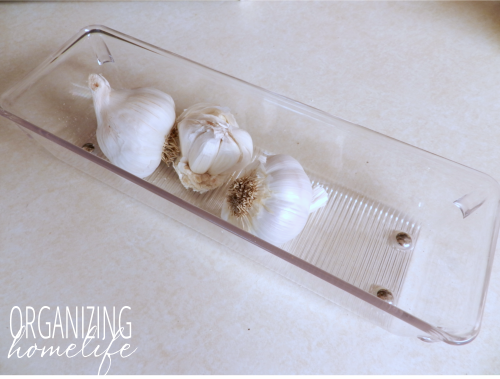 I ordered 2 packs of these SpiceStor Spice Organizing Clips from Amazon (my affiliate link).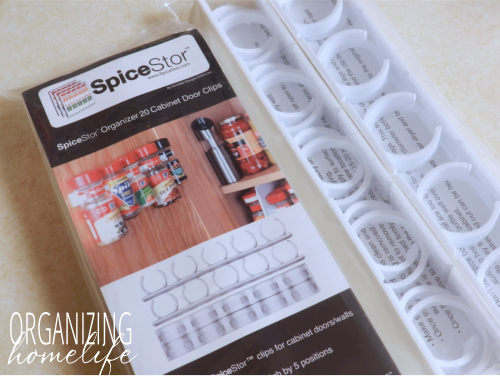 But instead of sticking them to the door, I decided to stick them together back to back.  That way I could slide them in the cupboard underneath the cookie rack.  However, once I put the spices in the clips, they bowed a lot and I realized that the sticky would never hold under that pressure.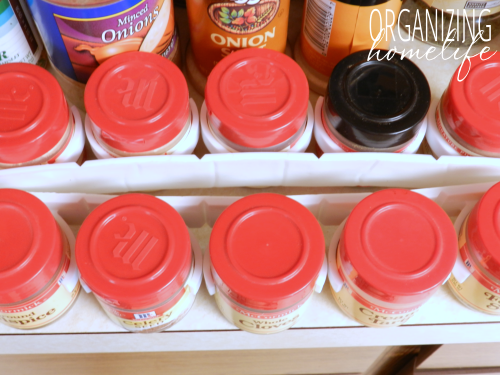 So I got my cheap-o package of zip ties that I had previously bought at Walmart.  I love these things.  They are fabulous for attaching laminated labels to almost anything.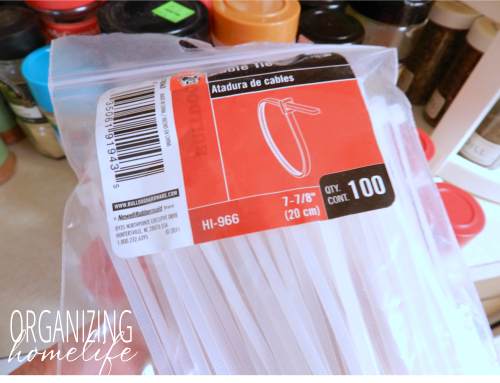 I lined up the two clips, flipped them upside down, and zip tied them together.  Voila!  It worked great!  And now I don't have to worry about them coming apart.  Note: snip the end off of the zip tie after you tighten it.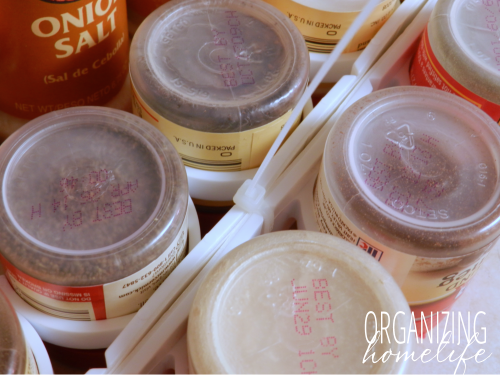 Next, I slid the mini spice jars under the cookie rack and slid the taller jars on top.  No need for unstacking spices ever again!  There was even a perfect space for my garlic container under the cookie rack.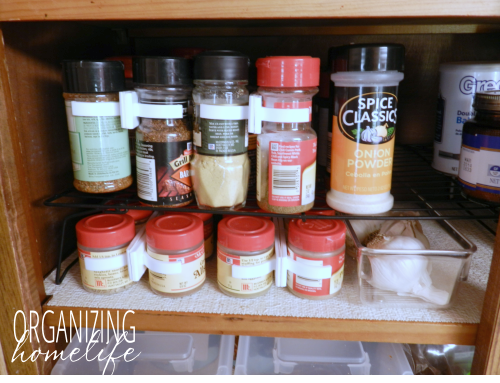 Now when I need a spice, I simply pull out a row of spices, open the lid and use it.  You can easily pull it out of the clip, but most of the time I find it easier to just lift the lid, dump out the spice, and put it back.  Easy peasy.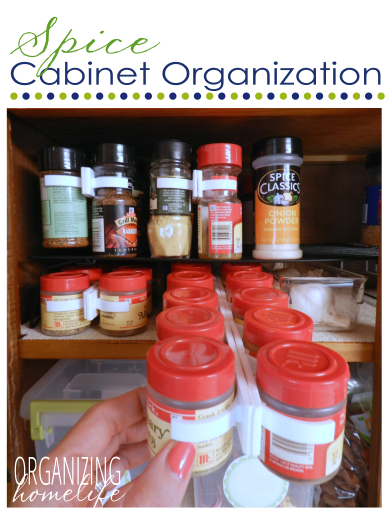 By the way, these spices are still alphabetized according to their sizes from left to right.
I took apart my two tiered lazy susan and used the bottom to organize my cooking oils and sprays.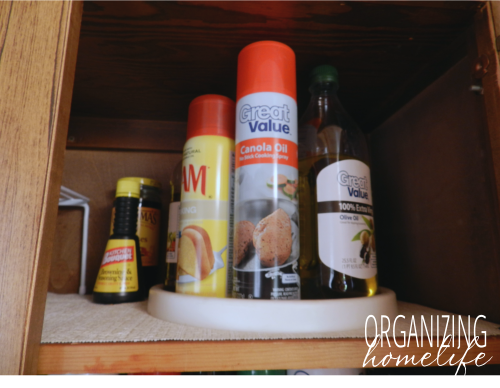 The other part of the lazy susan I used for some matching spice jars.  Easy access to items you use most frequently makes it simple to put away after use.  I also put the medium shelf rack above those spices to maximize the space.  Just in case you're wondering, that's my hubby's candy stash.  Shhh. 😉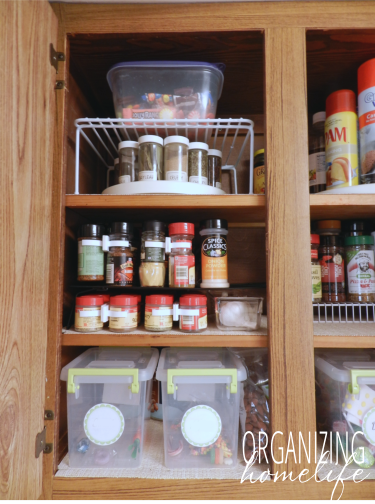 Most of my spices could fit in the clips, but there were a few larger jars that were just too big, so I kept my stair step rack and organized them on that.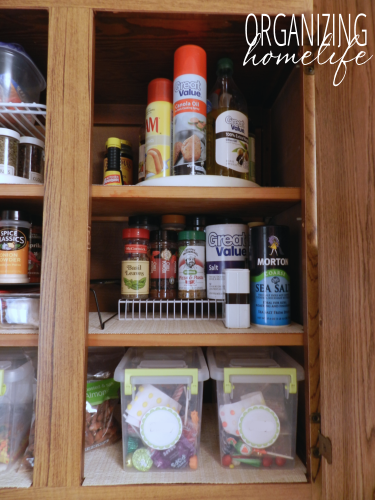 And that's how I organized my spice cupboard frugally.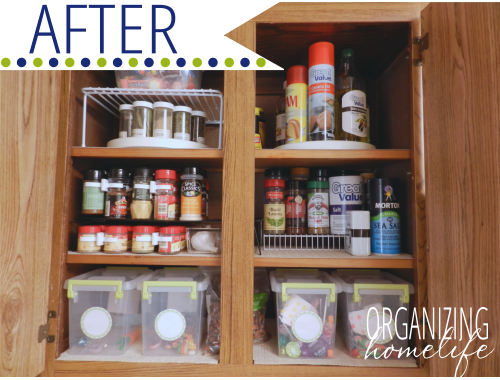 Here's a little before and after for you.  By the way, I'll tell you about the bins on the bottom shelf another day. 😉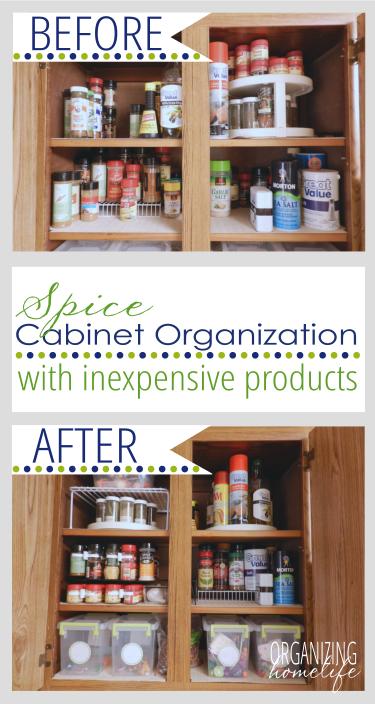 I hope you enjoyed today's post.  Join me tomorrow as I show you how I organize some of my dishes and breakfast area.