Welcome to Day 4 of my month long series "How to Organize Your Kitchen Frugally in 31 Days".  Every day during the month of October I will be sharing an organized space in my kitchen with you.  My goal is to inspire you and give you ideas on how you can organize your kitchen.
If you missed it, you may want to read why I'm embracing my outdated kitchen.  It might give you a little perspective on why the pictures of my kitchen organization won't be "magazine worthy", but helpful for real life organization.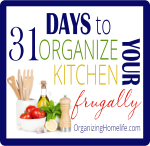 I decided to expand my previously planned post on organizing breakfast dishes because I realized that some of you may not have an overall picture of the organizational plan of your kitchen and how you can strategically place things to make your kitchen function well.
This past summer my family had the privilege of vacationing in two different rental houses.  BOTH rental house kitchens had absolutely no strategy for organization.  I realize they were rentals and people move things, but I'm talking about the overall plan.  Yes, there were cupboards with glasses and bowls neatly stacked, but they weren't strategically placed.  They appeared to have just been put in a cupboard with no thought as to which one would have been the best choice.  In one of the rental kitchens, the cooking utensils were in a drawer on the opposite side of the kitchen from the stove!  I assume it was because it was a large drawer so they could fit all their utensils in one drawer.  I won't even get into what was in the drawers next to the stove.  But it got me thinking that some of you may struggle with not knowing where to put things.
Planning out a well organized kitchen saves so much time in the long run!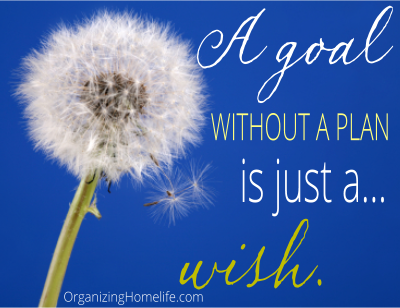 I'm still going to show you my dishes and breakfast area, but I thought it would be more important to discuss planning a good strategy of organization before we get further into this series.
I like to think of my kitchen as being divided into zones.  Granted, depending on the size of your kitchen you may not have many choices, but try to keep in mind some of the planning strategies to see which ones apply to your situation.
One thing I do differently than most people I know is that I don't keep the bowls in the same cupboard as the plates.  Why?  Because 95% of the time we use bowls at breakfast time.
I store my bowls in the cupboard above the silverware drawer which is above the cupboard that holds the cereals.  Think about how you use things and plan your kitchen accordingly.  Do you often eat soup for dinner?  Then keeping your bowls in the breakfast zone may not work well for you.  But you can still use the "zone" strategy for your own personal situation.
Using zones prevents you from having to retrieve items from all over your kitchen during meal preparation and makes cleanup a breeze.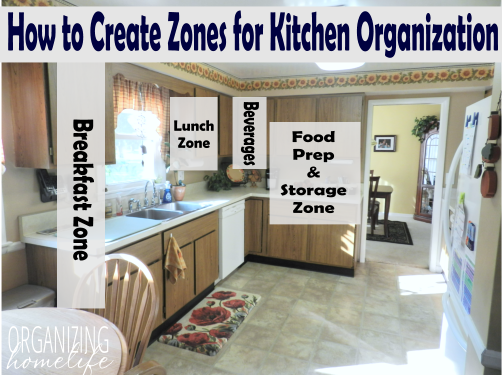 So here is the basic plan of how I have "zoned" my kitchen.
Let me show you what I mean.  Today we're looking at the Breakfast Zone.  During the 31 days, we'll be talking about each of these cupboards and zones.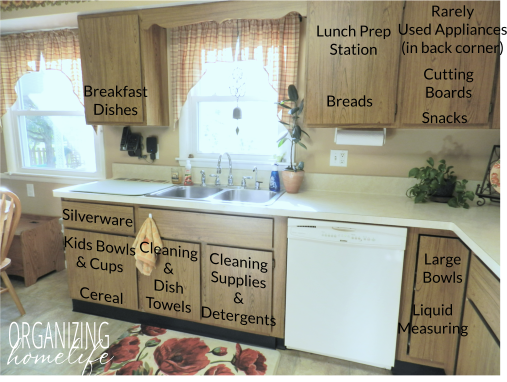 In the "Breakfast Zone", I store the breakfast dishes, sugar (for hubby's Cheerios), and vitamins.  I also keep the napkins and salt & pepper in this cupboard because it is right next to the table.  (Are you wondering why we have so many bowls?  I'll address that in an upcoming post. 😉 )  I keep dessert glasses and sports water bottles on the top shelf out of the way since these don't get used every day.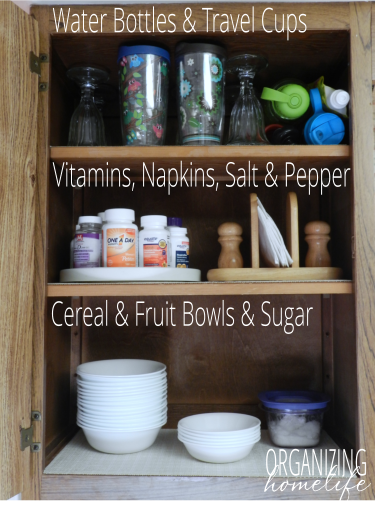 I use the top shelf of the cereal cupboard for my kids' plastic cups and bowls.  That way they have easy access to what they need and can get their own breakfast together, or get a drink for themselves.  I am all about teaching independence.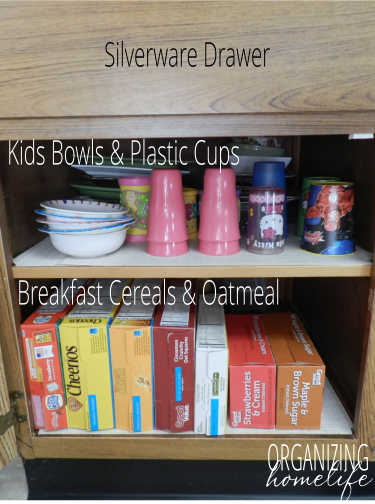 Do you have fewer cabinets than I do?  Don't worry!  I totally understand.  Remember, our family of five lived in a tiny apartment for years and our kitchen was super tiny.  Your goal is to look at the space you have.  Get rid of what you don't use and place the items in your kitchen where you use them.  Don't clog up your easy to access, every day spaces with things you rarely use.
I have some dishes that I only use once in a while for entertaining.  I like them well enough that I don't want to get rid of them, but I don't use them very often.  I store them in a harder to reach spot so they don't take up prime cabinet space.  They are stored in the back of the cereal cupboard of all places.  Because I rarely get them out, it's not a big deal.  That space wouldn't be a great space for almost anything we use daily because of it's location.  I'd much rather have them stored out of sight than clogging up the cupboards I use every day.
Remember the rules for what to keep and what to get rid of.  If you like it and use it and have space for it, then keep it.  If it doesn't fit one of those three criteria, you should seriously think about letting it go.  Another good way to look at it is to ask yourself this question: "Would I buy this item again if I saw it in the store today?"  If the answer is yes, keep it.  If not, let it go!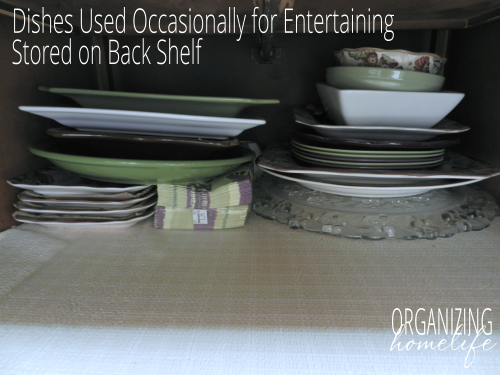 We will be looking in each cupboard and learning more about zones as we go through the series.  The below pictures will give you a basic idea of where I keep everything so you can begin thinking about the plan for your own kitchen.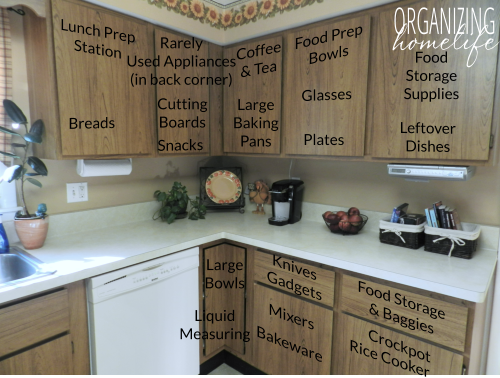 By the way, I didn't post a picture of this zone, but it's pretty obviously the "Cooking Zone". 😉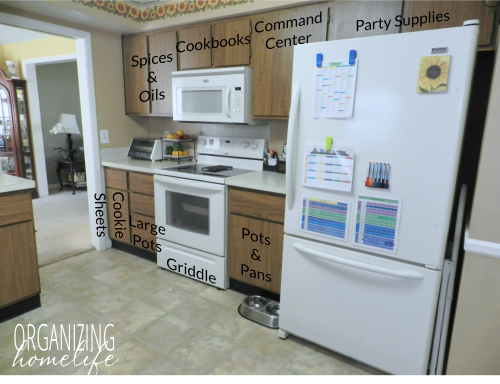 I hope you are inspired to think strategically about your kitchen organization.  I promise tomorrow's post wont be so long.  We'll be taking a look at the "Lunch Zone".