Today I have a tip to share with you that is one of my all time favorites. This is a very simple way to keep your (or your childrens') shoes tied without having to tie an old-fashioned double knot!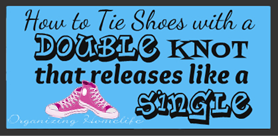 My hubby's grandmother taught him how to tie his shoes like this when he was a boy. He showed me how, and I've never gone back!
I decided to do a video because it's a little hard to share pictures of yourself tying shoelaces! 🙂
For those of you who would rather have a visual reminder, I grabbed some snapshots from the video and included instructions. I hope it's clear. I'd love to hear what you think!