Thanks to Kirkland's for sponsoring this post.
When Kirkland's contacted me about sharing how to resolve to organize in the New Year, I decided it would be a perfect opportunity to organize my guest bathroom and share with you how to make a bathroom more inviting for guests. Psst…Kirkland's is giving away a $100 gift card to one of you! See details at the end of the post.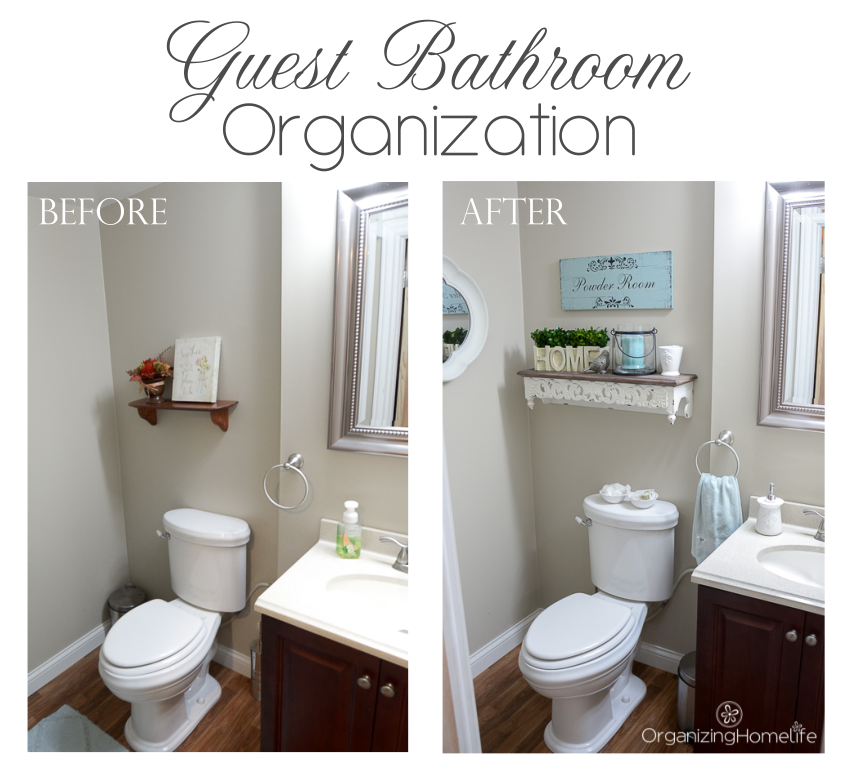 Ever since we moved far from our families, we have had a steady flow of visitors. We love when our family and friends visit and are thankful we were able to create a guest space for them to stay.
We added a little powder room so our guests could have their own bathroom. Sadly, the space has been left very basic for the last several years as we've been updating other parts of our home. Has it been functional? Yes. Welcoming? Not so much.
As you can see, the bathroom was pretty simple and not very inviting. I literally had the bare minimum in this bathroom: cleaning supplies, a trash can, extra toilet paper, and hand soap. Yikes.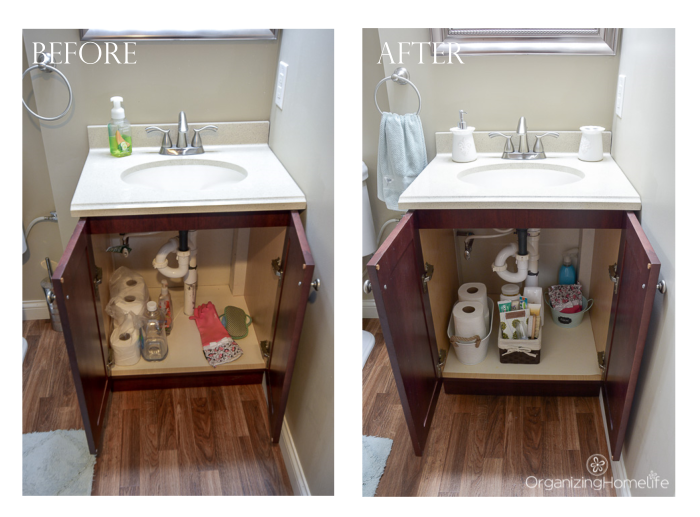 Previously, I had very plain decor and not much else to make my guests feel at home.
I wanted to make it into a more welcoming space, so I started thinking about what I would like if I was a guest in someone else's home.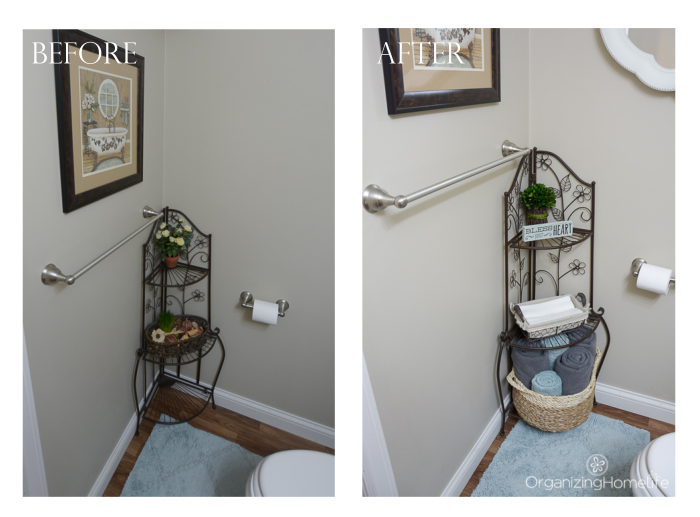 6 Tips for Making a Guest Bathroom Welcoming:
 
1. Think about what you might need or like if you were the guest.
As soon as I saw this Powder Room sign and this shelf, I knew they would be perfect for this bathroom. Pretty things are nice, but adding decor and a place to keep necessities makes your space feel welcoming. Adding a shelf to a small room offers a place for practical storage like this cup for cotton swabs: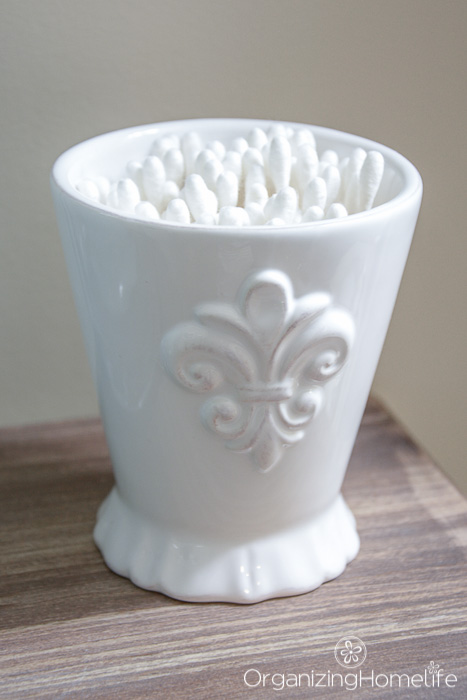 I also added a second mirror so guests could position the medicine cabinet mirror to see the back of their hair.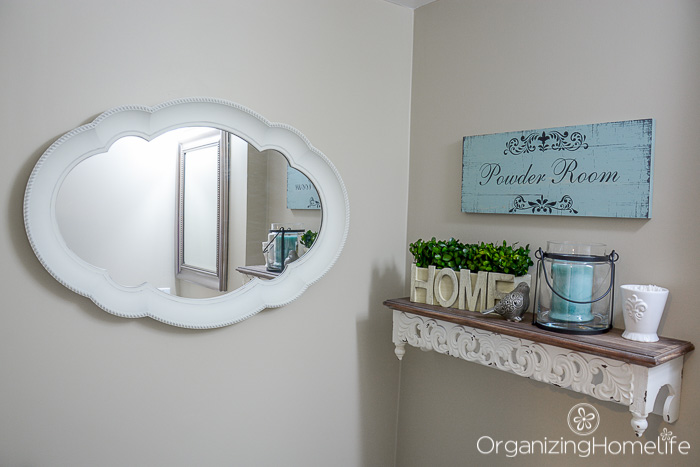 I found a cute little wire basket that fits tissues perfectly. It looks nice but is also practical.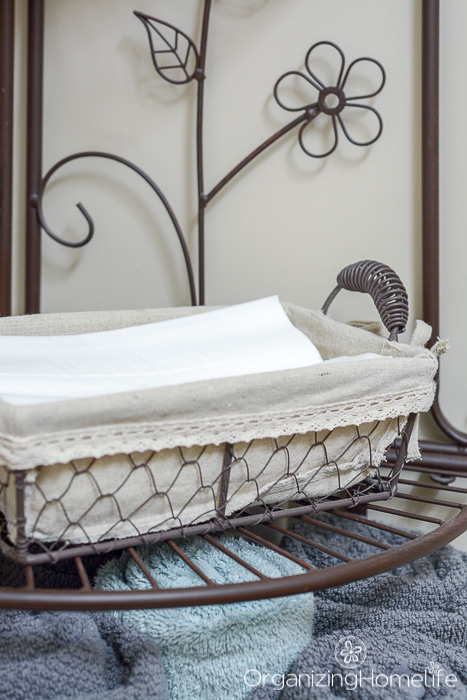 2. Include extra toiletries in the event your guests forget something.
Your family might not mind asking for forgotten toiletries, but making them available ahead of time is a nice gesture all of your guests will appreciate.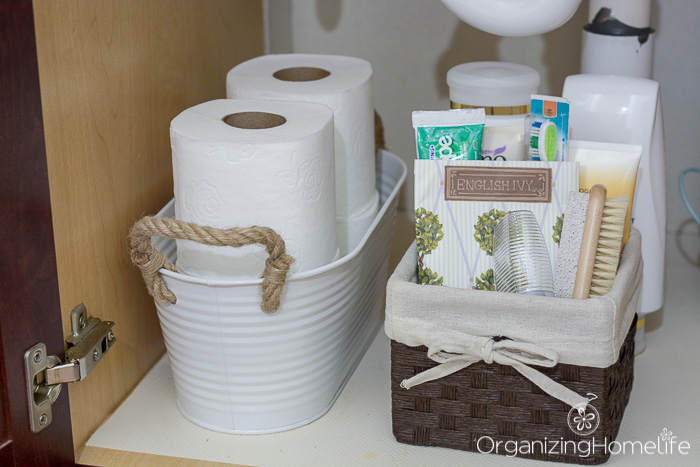 3. Put things within reach.
Don't store things you intend for your guests to use out of sight. If the only space is out of sight, make sure you point them out to your guests.
4. Include extra towels.
Don't assume one towel or washcloth per person is enough. Some guests, especially those with long hair, may like an extra towel.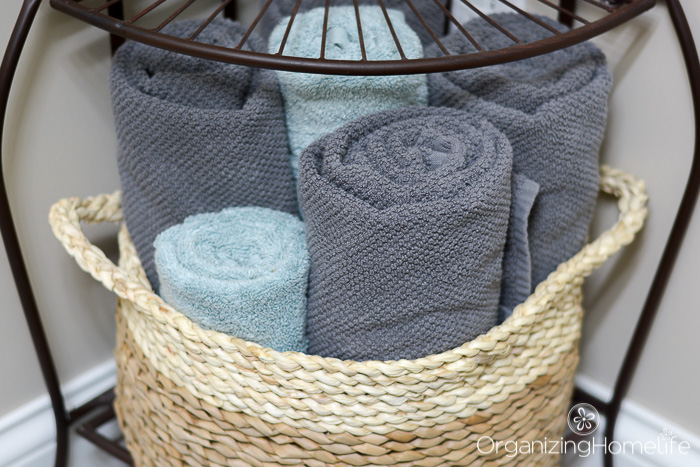 5. Keep it clean.
Naturally, you will clean your bathroom before your guests arrive, but putting cleaning supplies within easy reach makes it nice if guests spill something or just need a little quick clean.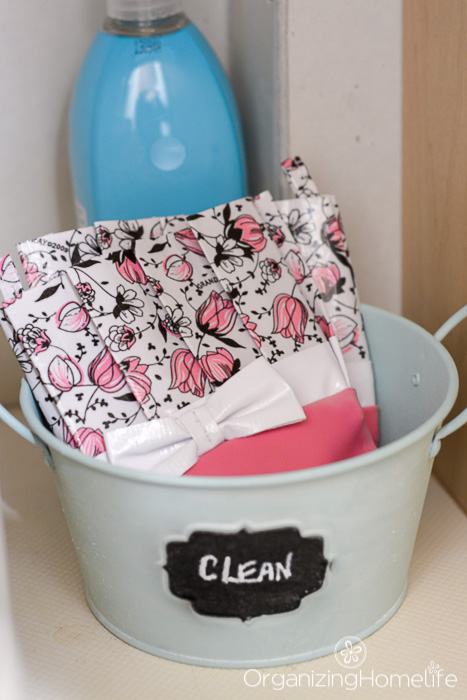 6. Add special touches.
Candles and gently-scented sachets add a nice touch that help make the space feel pleasant.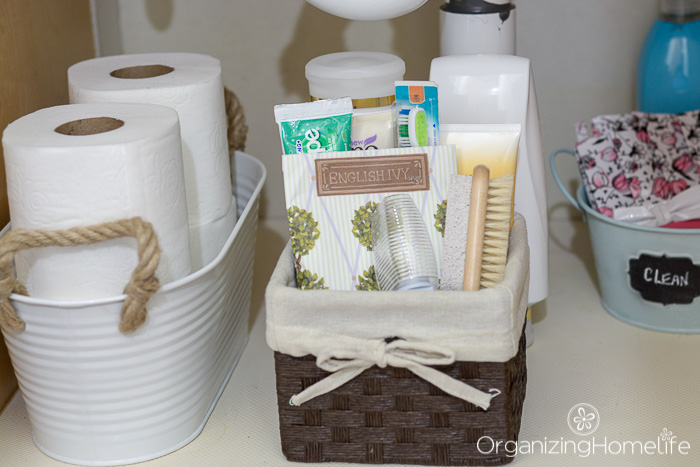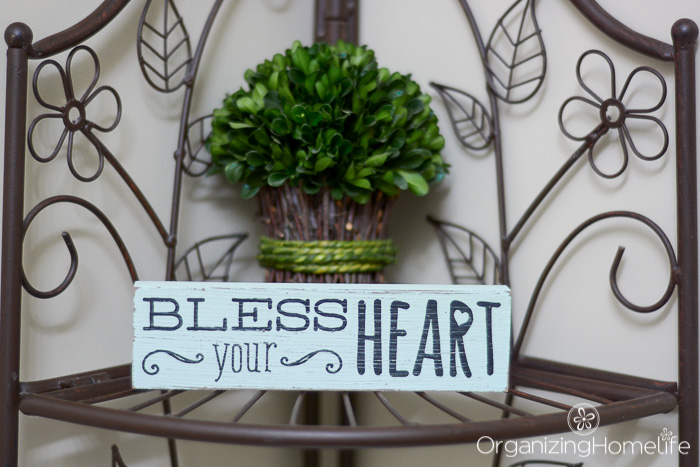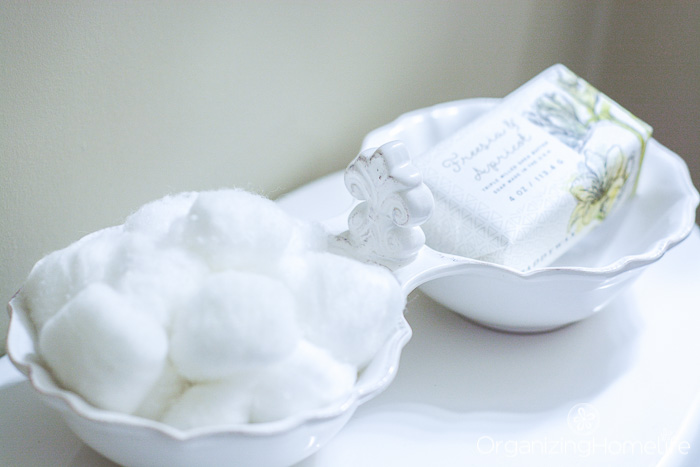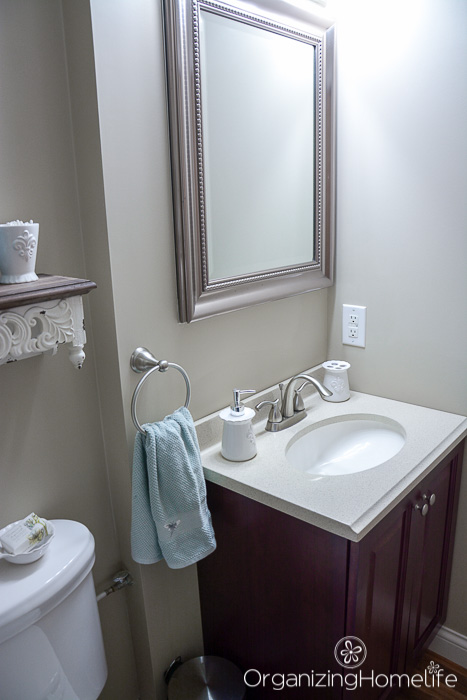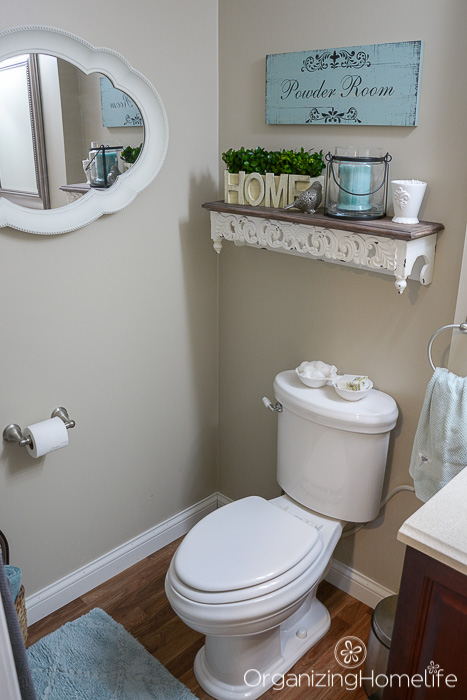 Products in this post:
Giveaway!
How will you resolve to organize this year?
Check out the other bloggers who are resolving to organize as well!
We're working together with Kirkland's and making it easier for you to get a jumpstart on your resolution by giving away a $100 gift card to Kirkland's!
How Do I Enter?
Simple!  At the end of the post, either use your Facebook or your email to log into the Rafflecopter entry form.  Entries are explained in the Rafflecopter form.
The Details
Winner will be chosen randomly using Rafflecopter.com to receive a $100 gift card to Kirkland's.
No purchase necessary.
Giveaway is open to U.S. residents only.
Entrants must be 18 years or older.
Giveaway ends at 11:59 p.m. eastern time Sunday, January 22, 2017.
Winner will be emailed and announced here. Winner has ten days to respond to email or a new winner will be chosen.
If you're anything like me, you probably love checklists! So I thought it would be helpful to list the items I included to organize the guest bathroom.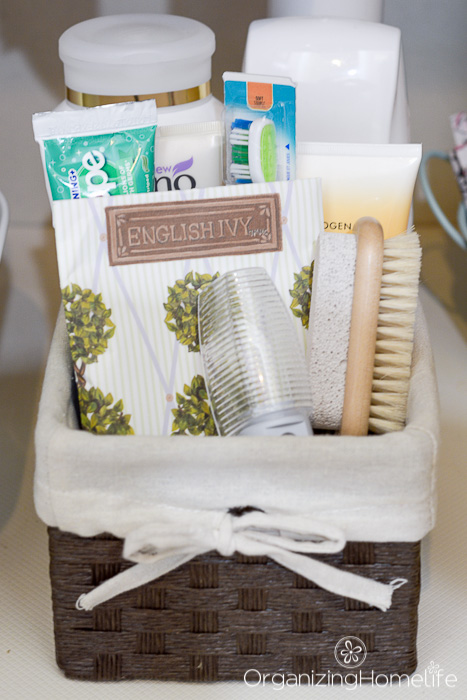 Nightlight
Bar Soap
Hand Soap
Cotton Balls
Cotton Swabs
Tissues
Extra Toilet Paper
One Towel per Guest Plus Extra Towels
Toothpaste
Extra Toothbrush
Toothbrush Holder on Sink
Floss
Mouthwash
Shampoo
Conditioner
Lotion
Face Wash
Nail File / Clippers
Ibuprofen or Acetaminophen
Cleaning Supplies
Candle
Disclaimer: Kirkland's sponsored this post and provided a gift card for me to purchase products to review. I was not influenced in any way to provide a positive review. All opinions are 100% my own. I only recommend products to my readers that I use in my own home. See my full disclosure policy here.