As you know, I've been working on updating my son's room. Up until now, he has had the dresser that my in-laws passed onto us when he was little. It worked great for baby and toddler clothes, but things have been a bit cramped for his bigger boy clothes. I want this room to work for him for years to come, so I decided to get rid of his small dresser and do a closet makeover.

We kept his everyday clothes in the dresser and his nicer shirts and sweaters in the closet. Honestly, his closet has more than enough space for one boy, so it wasn't much of a problem, but I knew the space could be maximized so much better.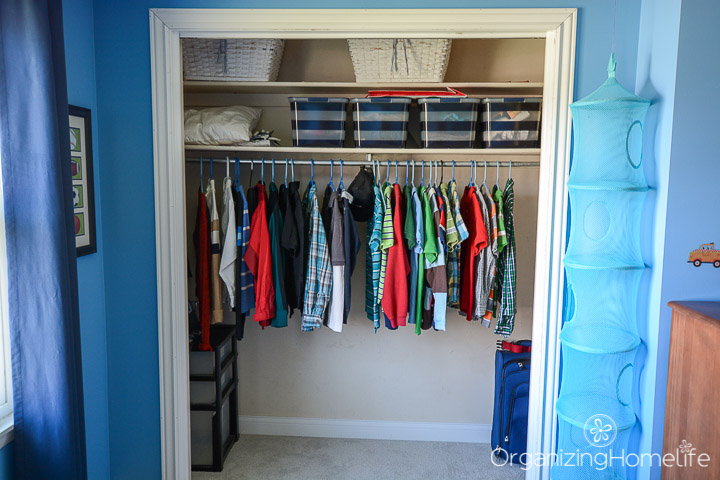 I decided to renovate his closet and move all of his clothes there instead of investing in a new, larger dresser. Plus, I wanted to use the space where his dresser was for something else, like a desk.
I've had such a great working experience with EasyClosets, so I asked them if they would be interested in working with me again. Happily, they were thrilled to.
Their closet organizational systems are superior from start to finish. If you know me, you know I do not recommend products or companies unless I really like their products and use them in my own home.
I really like EasyClosets.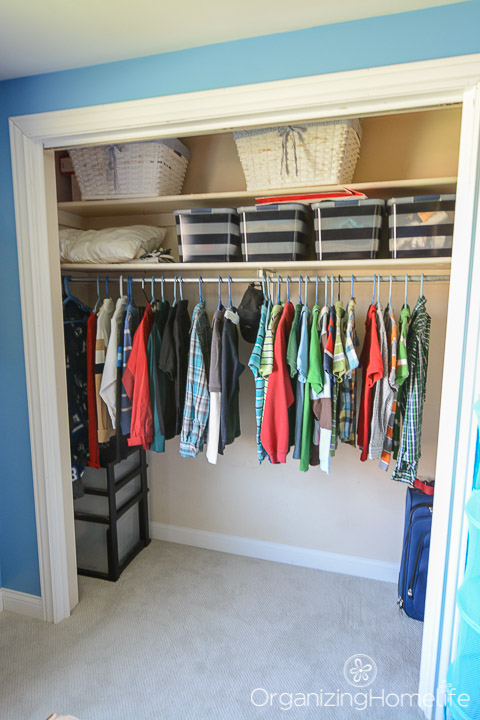 If you are thinking of fixing up, organizing, or renovating a closet in your home and don't know where to start, I highly suggest thinking through your plan before you start.
I always evaluate the needs of the closet in the room I am organizing before I make any changes. Ask yourself the following:
What things must be stored in this closet?
If there's something I'm not using in this room, why am I storing it here? Is there a better location for it?
Is there anything I'm not using that can be donated?
After you evaluate what does need to be kept in the closet, think about things you would like to add to the closet.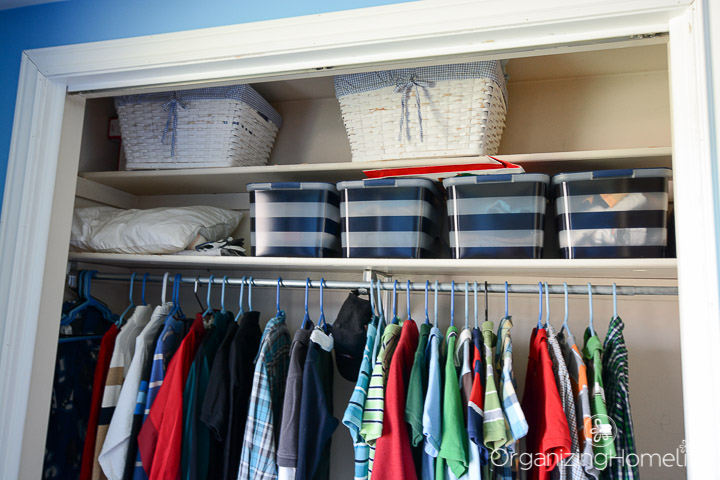 Boy's Room Closet Makeover Plans
In evaluating my son's closet and the changes in his needs, I found some things that could have been given better homes to make space for the things I wanted to store there.
What didn't belong:
Extra pillow
Baskets of extra sheets and blankets
A few outgrown pieces of clothing
What did belong:
Current clothing, plus clothing from his dresser
Bins for out of season clothing
A place for his suitcase
A place for his sports gear
A place to neatly store shoes
A place for ties and belts
I donated the outgrown clothing and moved the extra pillow and sheets to an under-bed storage container.
Then I started the planning process. This is the fun part!
After realizing what he needed in his closet, I began playing with the design tool on the EasyClosets website. Just so you know, if you do not find this process to be "fun" like I do, EasyClosets offers designers to help you for FREE!
If you would like additional help, they even put together a video to help:
To start, go to easyclosets.com and select Get Started->Start a Design. From there you can choose to design it yourself (or just play around with different designs) or request help from a designer.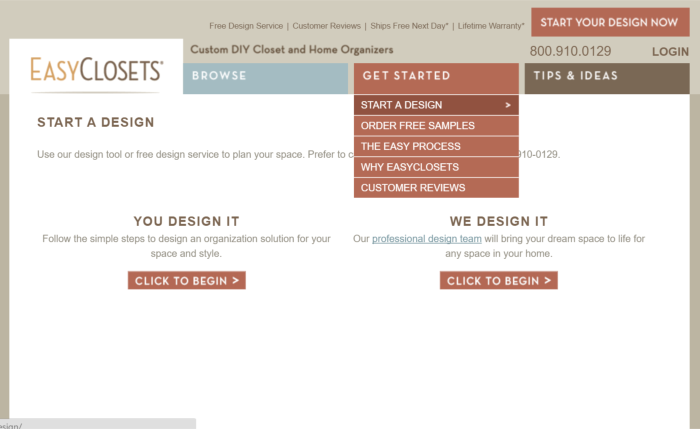 If you choose to do it yourself, it will walk you through some general questions such as the shape of your closet. My son's closet is a reach-in style.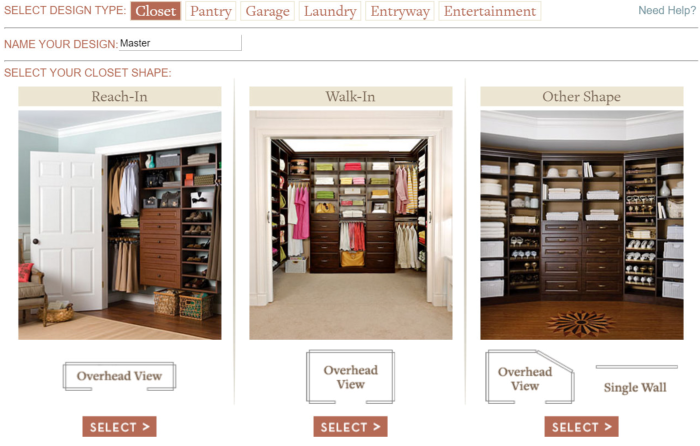 Next, enter the measurements.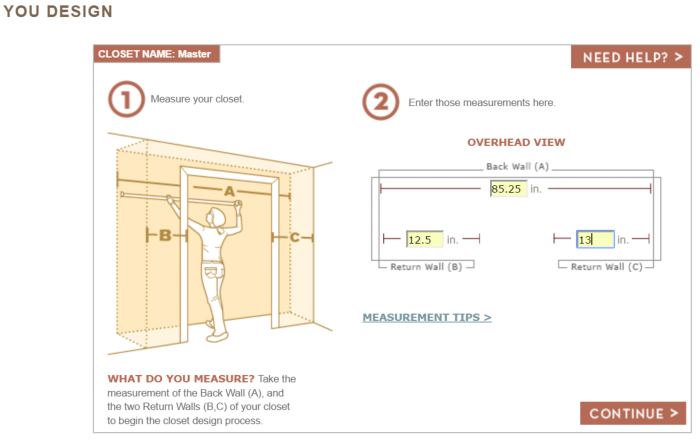 Finally, the design tool will automatically choose a starting design to give you an idea of what will work well in your closet. Don't like it? – not a problem. Just change the sections however you want.
Here's what they came up with for me: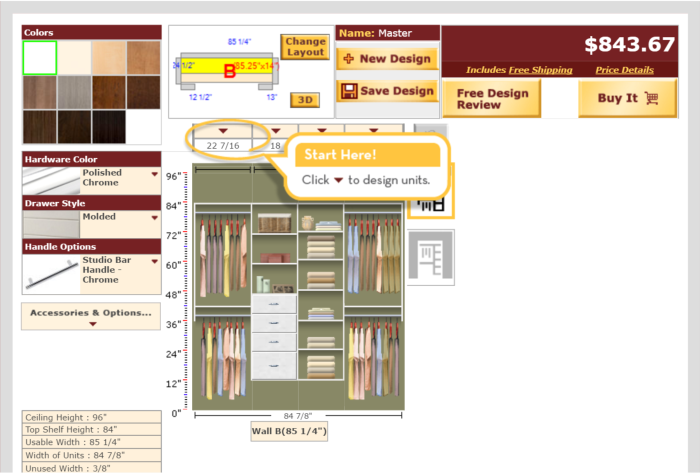 Seriously, an entire closet organizational system for not much more than a new dresser would have cost! Plus, closet systems definitely add to the value of your house.
I looked at the sample design they gave me and started making changes based on my son's needs now, but kept in mind the way his closet would need to change as he grows.
THAT is just one reason why I love EasyClosets – it is seriously easy to make changes as they are needed.
For now, I wanted:
Separate areas to hang short-sleeved and long-sleeved shirts
An area for jackets and sweaters
An area to hang pants
Places for his out-of-season clothes bins
Drawers for his everyday clothes
Shoe shelves
Extra spaces for storage
So here's the design I came up with for him: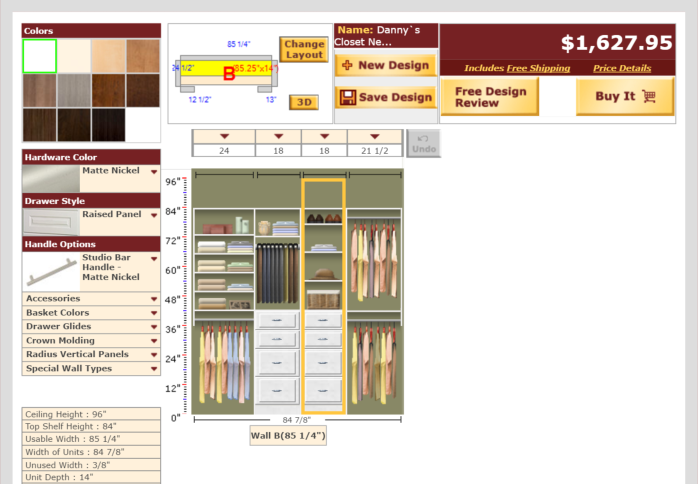 You'll notice that the price went up from the first design plan, but I made a number of upgrades such as raised-panel style drawers. Plus, the more drawers you add, the more your closet system will cost. But, I still think the trade-off for having a place to store everything neatly and gain extra space in his room is well worth it!
Once I ordered the closet system, I started working on his closet.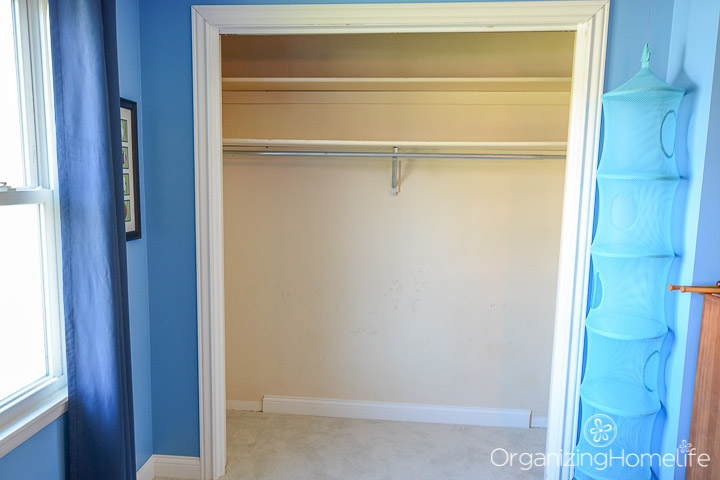 We put up new molding and baseboard after the carpet was installed so the next step was to empty the closet.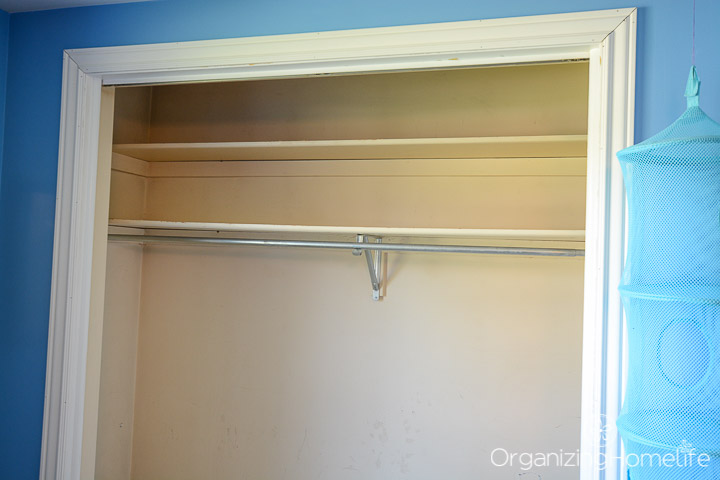 We dismantled the old shelves and hanging rod and patched the walls in preparation for paint. (Please excuse the low quality cell phone pics – apparently I was so busy patching and painting I forgot to take pics with my good camera).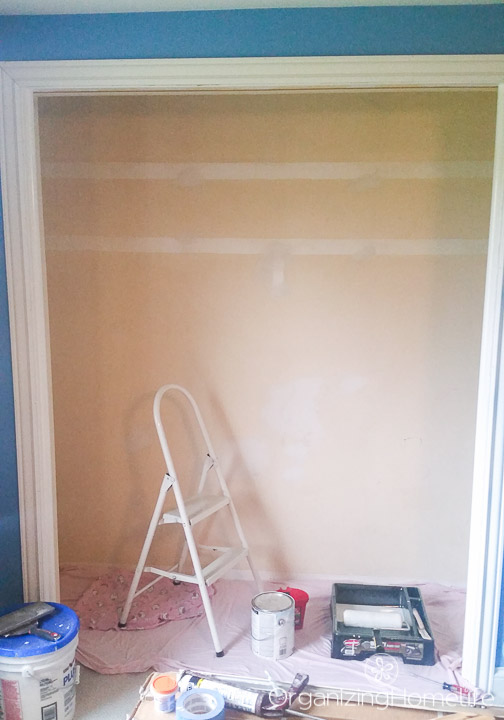 I am SO ready to see that yellowish beige paint covered up with a fresh coat of white paint!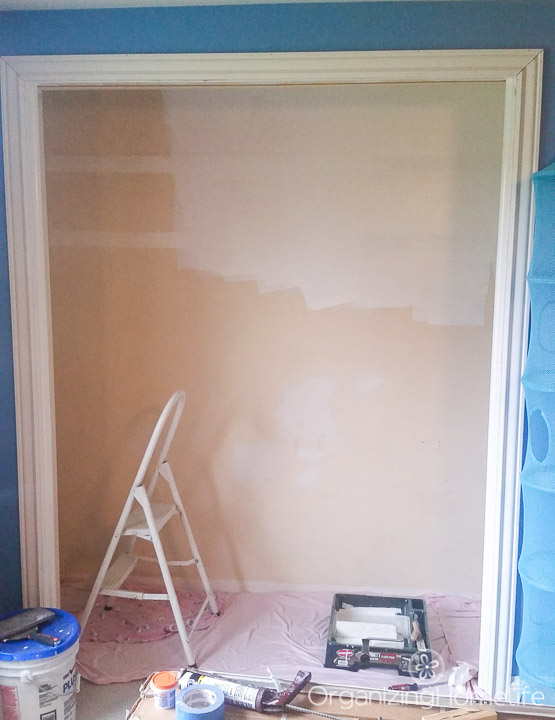 In a couple days, I'll show you how I put the new closet together. Plus I have awesome news for you!!!
You will have a chance to win an EasyClosets custom closet system of your own! Watch for details early next week.
Disclosure: EasyClosets provided this closet for me in exchange for an honest review. I was not influenced to offer a positive review. All opinions are 100% my own. I only offer my readers reviews of products I love and use in my own home. See my full disclosure policy here.