This post brought to you by Kohler Co. All opinions are 100% mine.
I have to admit: one of my favorite things about blogging besides getting to interact with so many amazing people is that I am offered opportunities to try out new products.  I turn down many, but some really catch my eye, and in this case, it really caught my ear!
I am a big fan of Kohler because of the style and quality they put into their products.  Recently I was contacted about reviewing the new KOHLER Moxie Showerhead with wireless Bluetooth speaker.  Yes, you read that right: a speaker in the showerhead!  Are you kidding me?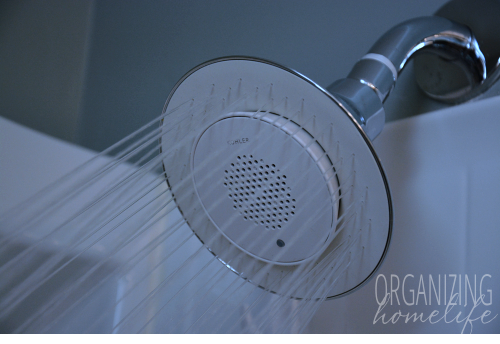 You should have seen my teen daughter's face when I told her we were going to try one.  I may never see my phone again. 😉  Let me tell you how it works.
The KOHLER Moxie Showerhead lets you stream your favorite music right into the shower using Bluetooth wireless technology.  Simply pair your phone or tablet and you're all set.  Now you can easily listen to your favorite music, news, or talk radio right in the shower!  When you're finished showering, simply pop the speaker out of the showerhead and set it on the counter or take it into your room while you get ready for your day.
There's nothing like taking a relaxing shower listening to your favorite music.  I love pop Christian worship music, and have it set in Pandora on my phone, so all I have to do is turn it on and sing my heart out. 🙂
It takes literally minutes to install, no plumbing knowledge required.  Start by loosening your existing showerhead with a large wrench.  I covered it with a rag so it wouldn't get scratched.  Once it's loose, you can just twist it off.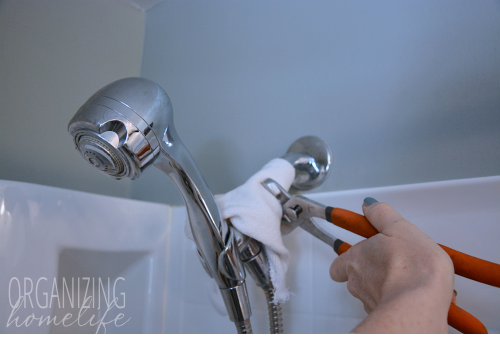 Wrap some new teflon tape around the pipe.
Then, twist on the KOHLER Moxie and tighten it with your wrench.  That's it!  Don't forget to cover it with a rag to protect the surface from scratching.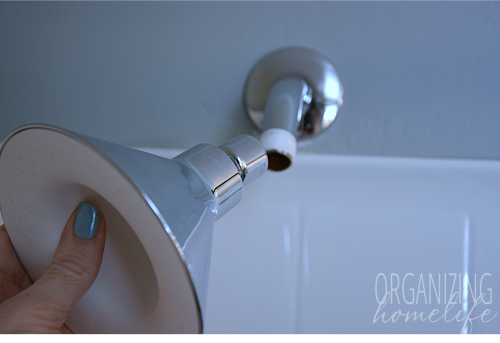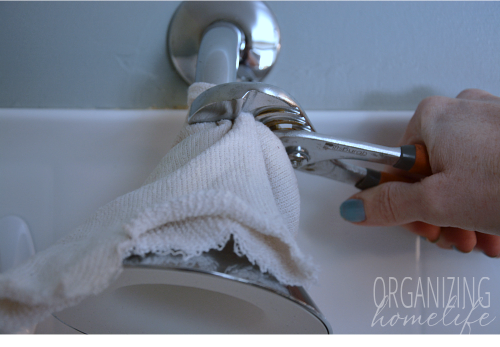 The whole process took minutes.  It was so easy to install and even easier to pair with my phone.  I just made sure the Bluetooth feature in my phone was turned on, pushed the power button on the Moxie, and instantly it showed up in the list.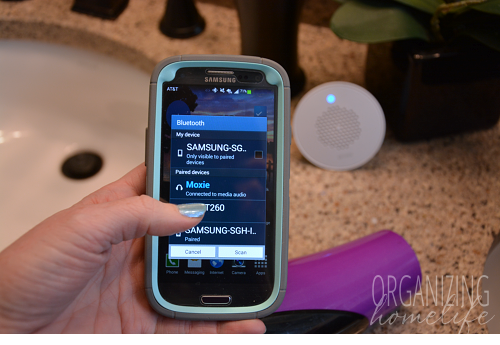 I LOVE that I can leave my phone in my bedroom down the hall and the Moxie still picks up the signal perfectly and has awesome sound quality.  Now I don't have to worry about the humidity from the shower damaging my phone or tablet!  My daughter loves taking her shower with the Moxie now and I love that I don't have to worry about her accidentally dropping it into the tub or sink.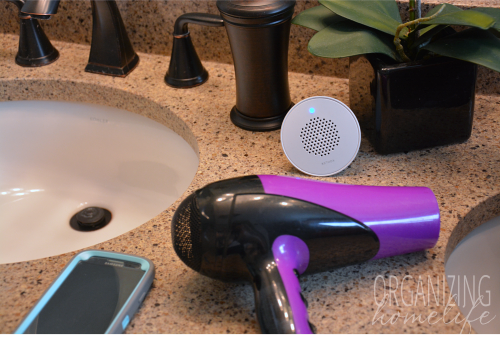 The speaker stays in place by a magnet, so it's simple to just pull it off of the showerhead.  If you want it in the shower, pop it in place.  If not, the showerhead still works perfectly and offers a full coverage spray.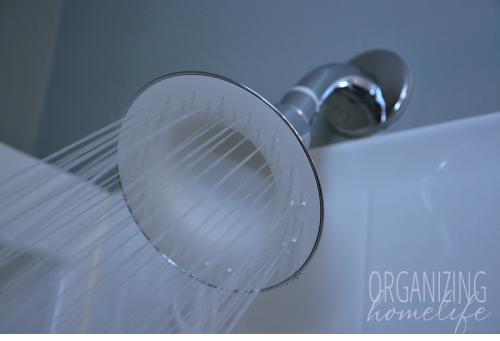 The other fabulous thing about the Moxie is that it comes in several different colors.  So, for my daughter's birthday, she might just get her very own Moxie speaker in her favorite color.  Then she'll be able to use it when she showers and take it with her into her room when she's getting ready.  It doesn't just have to be used in the shower, and family members can have their own speakers!  Check out all the colors in this video:
I knew I would like having this showerhead, but I did not realize how much I would LOVE it!  I use the KOHLER Moxie speaker almost every time I get a shower.  If you are looking for a great gift for your hubby, your teen or any other music lover you know, you should definitely consider the Moxie.  They'll love it!
If you had a Moxie, what kind of music would you sing to in the shower?
Check out Kohler on Facebook and on Twitter.