Do you ever lose track of leftovers in your fridge?
For years, I've been keeping what's left of our dinners in my favorite glass containers.  And, by years, I mean almost 15.  Yep, I've gotten my money's worth with these, and then some!
Besides stacking neatly in my cupboard and cleaning up quickly, I love that they are clear glass, so I can see what's in them.
There's only one problem…
Sometimes I wind up with leftovers and I can't remember how old they are.  If I'm not sure, I dump it – wasting money and the time spent cooking it in the first place.
Over the years, I've thought of labeling the containers, but couldn't come up with an easy way that would survive the dishwasher.  I didn't feel like peeling off sticky label residue.
Then one day it dawned on me…thanks to the chalkboard label craze, I thought of an idea and it works wonders!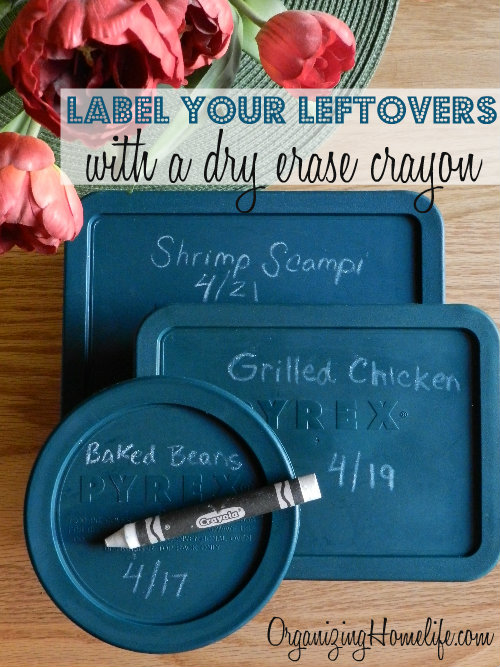 I thought about the lids on my containers and realized they're not too different from a chalkboard texture.  So I promptly headed out to the store to find a chalk marker.  I checked several places and no one had them.  Michael's told me they've been discontinued.  What!?  I found some markers on Amazon here, but in the meantime, I found another solution and it works superbly!
I was walking through Walmart one day and it dawned on me that dry erase CRAYONS would be perfect!  You can find them at Walmart for around three bucks or on Amazon here.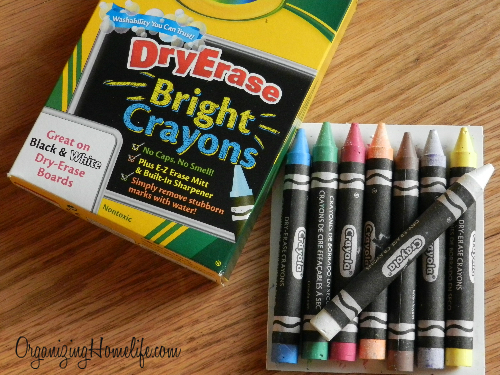 Have you seen them?  Crayons for a white board OR a black board.  I have used them with my kids in the past, but decided to try them for my leftover labeling idea.
They work fabulously!!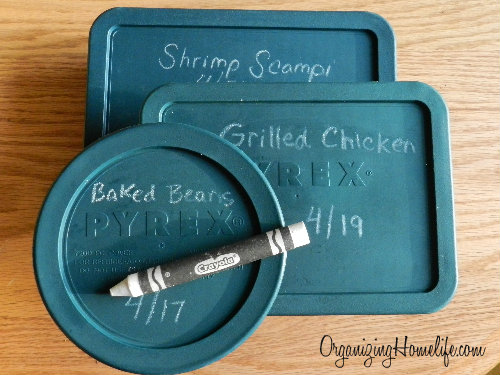 I love that they are different from real chalk in that they do not smudge off, but also clean easily.  I rubbed the letters in this picture several times and they didn't fade at all.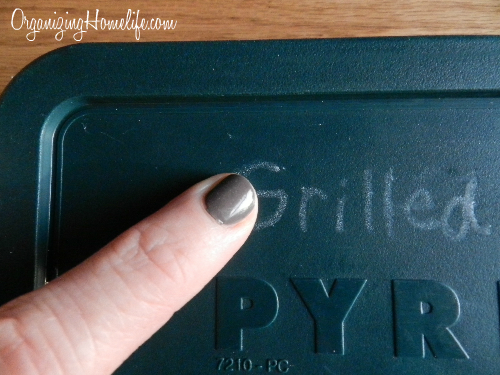 Here's the best part – they are SO easy to clean!  I just used a damp paper towel and the water took it right off with no residue.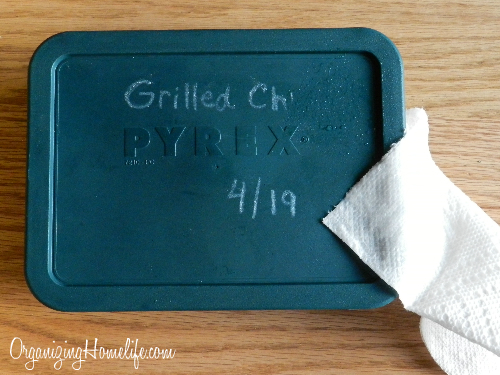 See?  Clean without a trace of the label!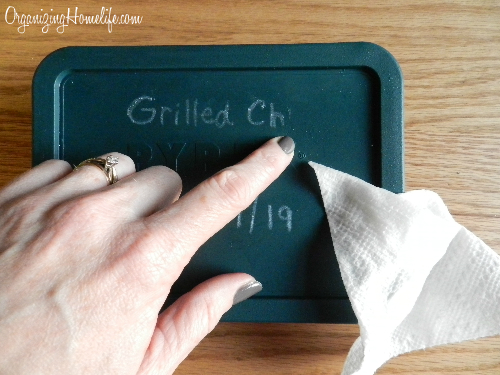 The crayons come in 8 different colors, so lids of all colors (including clear) can be labeled.  I tested it on a Glad container like these: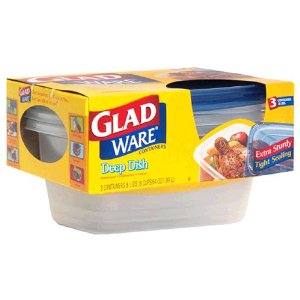 Guess what?  It worked great, too!  Mine had a red lid, so I used the dark blue crayon and it showed up perfectly.
One thing I should mention is that the crayons work best on lids at room temperature.  I found that they didn't write as smoothly or as dark on lids that came right out of the fridge.
Now, everyone in the family can easily see what day the food was placed in the fridge.  This has eliminated so much waste because I don't need to toss things when I can't remember how long they've been there.  I label every leftover container this way even if it's not holding last night's dinner.  It helps me keep track of miscellaneous things like onions, olives, cheese, sauce, etc.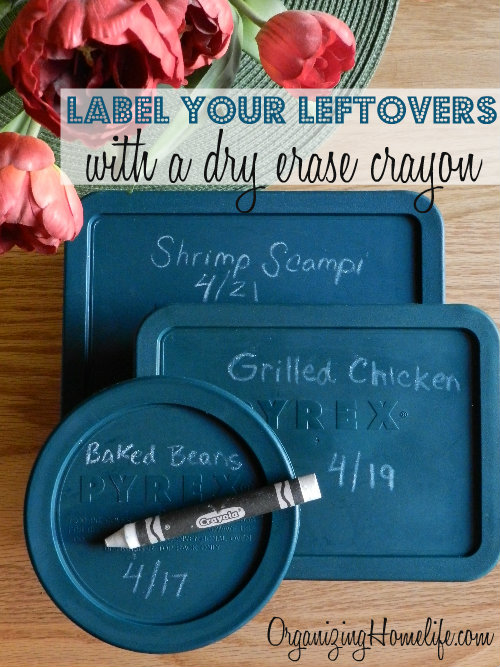 If you missed my fridge organization post, you can see it (and my leftover containers in use) here: